Chef notes
Eggplant is one of summer's superstar ingredients. At its peak from July to October, the vegetable, which belongs to the nightshade family with tomatoes and peppers, is wonderfully versatile. It can be baked or fried, cooked down into a ragú, blitzed into dips and so much more. The flesh absorbs flavor like a sponge, making it the perfect canvas for spices, herbs and sauces. Here, eggplant is stir fried with a sweet-salty sauce to make a tasty side dish or vegetarian entrée. 
The stir-fry sauce is made with a handful of ingredients, most of which are readily available at major supermarkets and great flavor boosters to have on hand. Hoisin sauce gives the dish a slight sweetness that's balanced by the umami saltiness of soy sauce and zippy rice vinegar. A cornstarch slurry helps the sauce thicken up.
For faster cooking, dice the eggplant into small chunks. Add to a large skillet or wok, cut side down, and allow the pieces to brown before tossing them around. Stir fry until the eggplant is soft and tender, then set aside. Garlic, scallions and ginger are then cooked in the empty pan with a bit of oil to bring out their fragrance before the eggplant and sauce are added.
Serve with a grain like rice or quinoa or even use as a topping on noodles.
Technique Tip: For extra tender eggplant, salt it first to draw out the moisture. 
Swap Option: If you're sensitive to soy or wheat, swap it out for gluten-free tamari.
Ingredients
1/4

cup hoisin sauce

3

tablespoons low-sodium soy sauce

1

tablespoon sesame oil

1

tablespoon rice vinegar

5

tablespoons canola oil

3

small to medium eggplants, diced
3

cloves garlic, minced

3

scallions, white and light green parts only, very thinly sliced, plus more for garnish

1

tablespoon peeled and minced fresh ginger

1

tablespoon cornstarch
Toasted sesame seeds, for garnish
Preparation
1.
In a small bowl, whisk together the hoisin sauce, soy sauce, sesame oil and rice vinegar.
2.
In a large sauté pan or wok, heat 3 tablespoons of the canola oil over high heat. Add the eggplant and stir-fry until tender, 6 to 8 minutes. Transfer the eggplant to a plate or bowl and keep nearby.
3.
Return the pan to high heat and add the remaining 2 tablespoons canola oil. Add the garlic, scallions and ginger and stir-fry until fragrant, about 30 seconds. Return the eggplant to the pan and stir to combine. Add the hoisin sauce mixture and stir to coat the eggplant. In a small bowl, whisk the cornstarch into 3 tablespoons water, making sure the cornstarch is fully dissolved, then add it the pan and stir until the sauce is thickened, about 30 seconds. Transfer to a serving bowl and garnish with sesame seeds and additional scallions.
4.
Serve this stir-fry over white or brown rice to turn it into a main course. 
How to shop TODAY recipes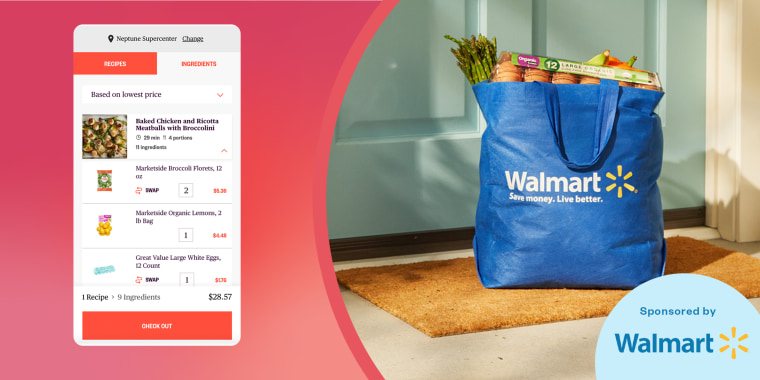 How to shop TODAY recipes
Here's everything you need to know about the cool new feature.
Learn More