Chef notes
If you prefer your pasta salad mayo-free, this recipe is for you. Inspired by eggplant caponata, this pasta salad is punchy, deeply savory, herbaceous, nutty and the perfect make-ahead dish for summer. Eggplant caponata, which comes from Sicily, is essentially cooked eggplant in a tomato-y, sweet and sour, agrodolce-esque sauce, typically packed with a myriad of ingredients that bring savory, salty, sweet or brine-y flavors to round out the dish (the specific ingredients used vary from cook to cook). Core ingredients you'll often come across include eggplant, olive oil, tomatoes or tomato paste, celery, olives, capers, vinegar and sugar. Other ingredients you might find:  pine nuts, raisins, onion, garlic, parsley and basil. This combination of ingredients is fit for turning into a deeply flavorful pasta salad. 
Caponata, when made traditionally, is really wonderful for turning into a hot pasta dish. However I opted to make a dish that was a naturally cool pasta salad and less of a "hot pasta that went room temperature." To make it, I took the elements that you usually find in the sauce (vinegar, sugar, oil, garlic, tomato paste) and whisk them together to make a dressing. Rather than cook the eggplant over the stove with tomatoes and celery until it becomes saucy, the eggplant is tossed with oil, dry seasonings, extra tomato paste and some of the dressing and then roasted in the oven with diced onions until tender and browned. When roasted this way, the eggplant takes on flavor without losing its shape or becoming overly saucy. Capers are added to the eggplant while still warm, which mellows their sharp bite. The eggplant mixture is then tossed with cavatappi (though any corkscrew-shaped pasta will work), the remaining dressing, a few traditional ingredients (basil, pine nuts, olives) and a couple of non-traditional ingredients (cherry tomatoes and mozzarella) to create a vibrant pasta salad.
It's hard to resist (not to mention delicious) when made fresh, but this pasta salad gets better as it sits in the fridge. Make it a day ahead for the best flavor and top with more basil and pine nuts before serving. I promise it'll keep you going back for more!
Technique Tip: The dressing can be made ahead of time and stored in an airtight container or jar in the refrigerator until ready to use. 
You can prepare the roasted eggplant mixture a day ahead of making the pasta salad. Make the eggplant mixture and let it cool completely, transfer to an airtight container and store in the refrigerator until ready to use. 
Swap Option: If you can't find the smaller, nonpareil capers, you can use two tablespoons chopped capote capers. The mozzarella pearls can be swapped for eight ounces of mozzarella, either torn by hand or cubed into 1/2-inch pieces. I like Sicilian Castelvetrano olives here, but you can swap for any green olive. 
Ingredients
6

tablespoons red wine vinegar

3

tablespoons granulated sugar

2½

tablespoons tomato paste, divided

2-3

cloves garlic, peeled and grated

2

teaspoons kosher salt, divided, plus more for salting pasta water

1

teaspoon freshly ground black pepper, divided

7

tablespoons extra-virgin olive oil, divided

1½

pounds globe/American eggplant, cut into 1/2 to 3/4-inch cubes

1/8

teaspoon crushed red pepper flakes (optional)
1

small yellow onion, peeled and diced

2

tablespoons nonpareil capers

8

ounces cavatappi

10

ounces cherry tomatoes, halved

8

ounces mozzarella pearls

1/2

cup Castelvetrano olives, pitted and halved

1

cup fresh basil, roughly chopped, plus more for topping as desired

1/3

cup pine nuts, toasted, plus more for topping as desired
Preparation
1.
Position a rack in the middle of the oven and preheat the oven to 425 F.
2.
In a large bowl, whisk together red wine vinegar, sugar, 1 1/2 tablespoons tomato paste, grated garlic, 1 teaspoon salt, and 1/2 teaspoon freshly ground black pepper. Slowly stream in 5 tablespoons olive oil until emulsified. Set aside.
3.
On an unlined, rimmed baking sheet, toss the eggplant with crushed red pepper (if using), 3 tablespoons of the dressing, the remaining 2 tablespoons olive oil, 1 tablespoon tomato paste, 1 teaspoon salt and 1/2 teaspoon freshly ground black pepper until the eggplant is evenly coated. Arrange the eggplant in a single layer.
4.
Roast the eggplant on the middle rack for 12 minutes. Remove the sheet pan from the oven, add the onion and another 3 tablespoons dressing to the eggplant, toss with a heatproof spatula or tongs to coat and spread into an even layer. Continue to cook until the eggplant is fork tender and browned in spots and the onion is softened and translucent, 12 to 15 minutes more.
5.
Remove the pan from the oven, add the capers to the eggplant and toss. Let cool slightly.
6.
Meanwhile, bring a large pot of water to a boil and season generously with salt. Add the cavatappi and cook to firm (typically 1 to 2 minutes past al dente) according to the package directions. Drain the pasta in a colander, rinse under cold water until room temperature, and transfer to the bowl with the rest of the dressing. Toss well to coat the pasta.
7.
Add the eggplant mixture, cherry tomatoes, mozzarella and olives and toss to combine. Add the basil and pine nuts and toss until just combined. Serve right away at room temperature or let chill in the refrigerator for the flavors to meld, covered, up to overnight. Top with more pine nuts and basil before serving if desired.
How to shop TODAY recipes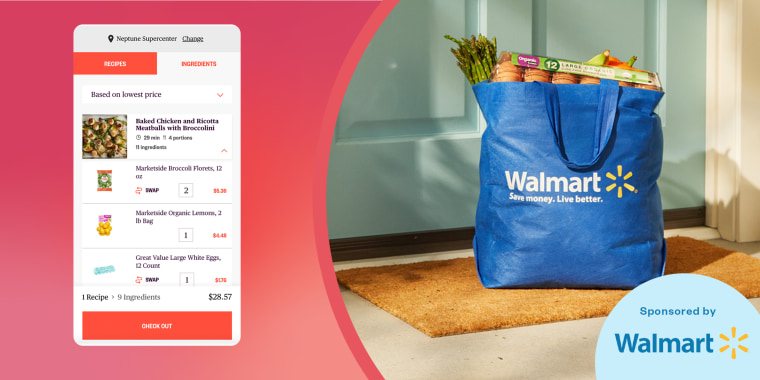 How to shop TODAY recipes
Here's everything you need to know about the cool new feature.
Learn More