Ingredients
Burger
2

tablespoons corn oil

2

large yellow onions, finely chopped
Thousand Island Sauce (see below)

2

pounds ground beef chuck (preferably 80 percent lean)

4

hamburger buns, split

1/4

cup sliced dill pickles
3/4

cup shredded iceberg lettuce

4-8

thin slices tomato
Fresh ground pepper
Salt, to taste

8

slices American cheese
Thousand Island Dressing
2

cup mayonnaise

1/2

cup pepperoncini, minced

4

teaspoons ketchup, for color

1/4

cup pickles, minced

1/4

cup capers, minced
1/2

teaspoon lemon juice

1/4

red onion, minced

1/4

teaspoon salt

1/4

teaspoon ground black pepper, to taste
Fries
2

large russet potatoes (about 1½ lbs), cleaned

1/2

cup chopped fresh parsley

1/4

chopped fresh rosemary
Kosher

Salt

Fresh

black pepper

Truffle

salt
Preparation
To make Thousand Island sauce:
Combine all ingredients in a large bowl. Fold together until mixed evenly.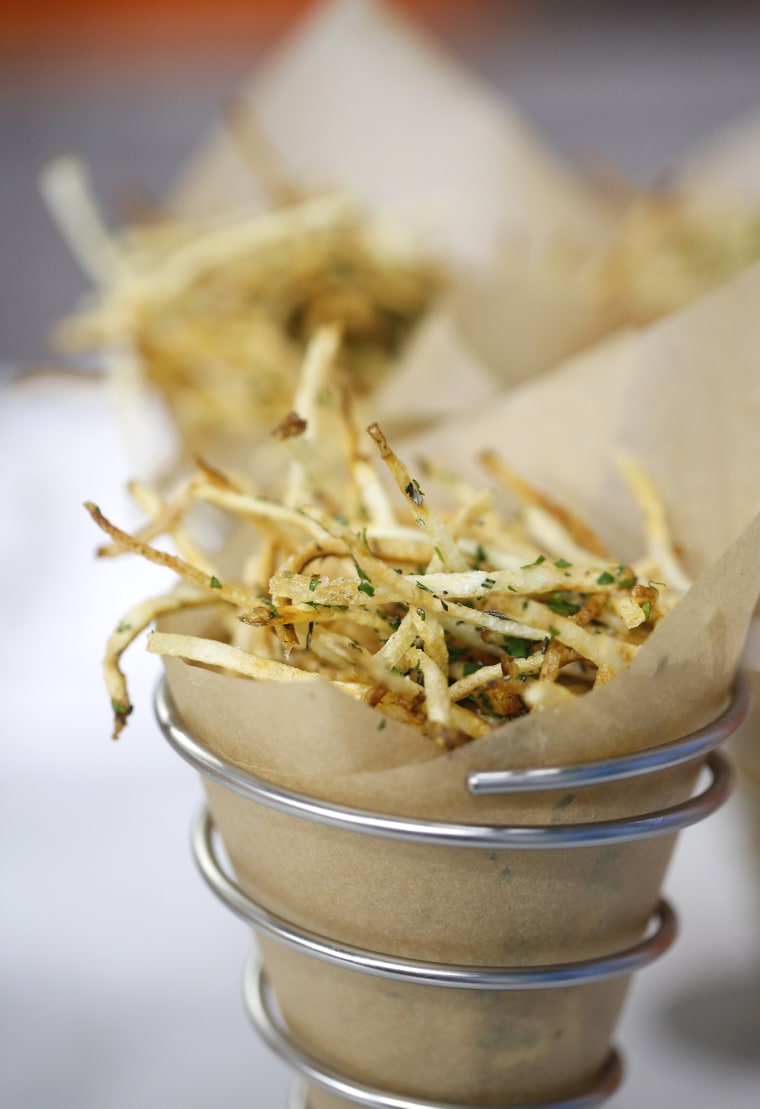 To make French fries:
Cut potatoes into shoestrings, or matchsticks, using a mandolin at the thinnest julienne setting. Rinse cut potatoes through water to remove starch and transfer them to a paper towel–lined baking tray. Pat them as dry as you can. In a heavy bottomed pot, heat 2 to 3 inches of oil to 350 degrees F.  Fry the shoestrings in batches until the potatoes are crisp and golden brown, about 2 to 3 minutes per batch. As each batch comes out, transfer to a large mixing bowl and toss with some of the chopped herbs, truffle salt and pepper. Transfer to a paper towel lined baking sheet.
To make burger:
In a large skillet over medium heat, add vegetable oil. Add onions, and 3/4 teaspoon salt, cover and cook, stirring occasionally until golden and soft for about 20 minutes. Uncover, increase the heat to medium high and continue to cook, stirring often until caramelized, about 8 minutes. Add 1/4 cup water to skillet, scraping browned bits from bottom of the pan.
Simmer and stir, until the water evaporates, for about 2 minutes. Transfer to a bowl and set aside. Heat a griddle or skillet over medium heat; lightly brush with vegetable oil. Toast buns on the griddle, split-side down. Lather each toasted bun bottom with about 1 1/2 tablespoons of the Thousand Island sauce. Top with a few pickles, lettuce, two tomato slices (make sure to season with salt and pepper), another dollop of sauce, then set aside.
Keeping the griddle hot, form eight patties from the ground beef and season both sides of the patties with salt and pepper. Put the seasoned patties on the griddle (or a cast iron for the best sear) and cook 3 minutes, then flip and top each with 1 slice of cheese. Continue cooking about 2 more minutes for medium-rare to medium doneness. Top 4 of the patties with caramelized onions, then cover with the remaining patties, cheese-side up. Sandwich the double patties on the bun, serve and enjoy!