Ingredients
1 1/2

cups all-purpose flour

1 1/2

cups rice flour

1

teaspoon baking soda

1

teaspoon baking powder
1

teaspoon salt

1

liter bottle sparkling water

4

cups vegetable oil (for frying)

4

chilled (not frozen) full-size candy bars (Snickers, Mars, Twix, Milky Way, 3 Musketeers..), or 8 fun-size bars
Preparation
Mix all the dry items in a medium sized bowl. Slowly stir in water, careful to not over mix, forming a thin batter that will stick and coat the candy bars, but not too thin that it will drip off.
Heat vegetable oil in a high walled skillet (oil needs to be deep enough to totally submerse bar), dutch oven, medium pot, or electric table top deep-fryer to 350 degrees.
Set 1/2 cup flour aside on a plate to dust the chilled candy bars with a light coat of flour.  Then dip them into the batter (coat of flour helps batter stick to the bar), coating completely.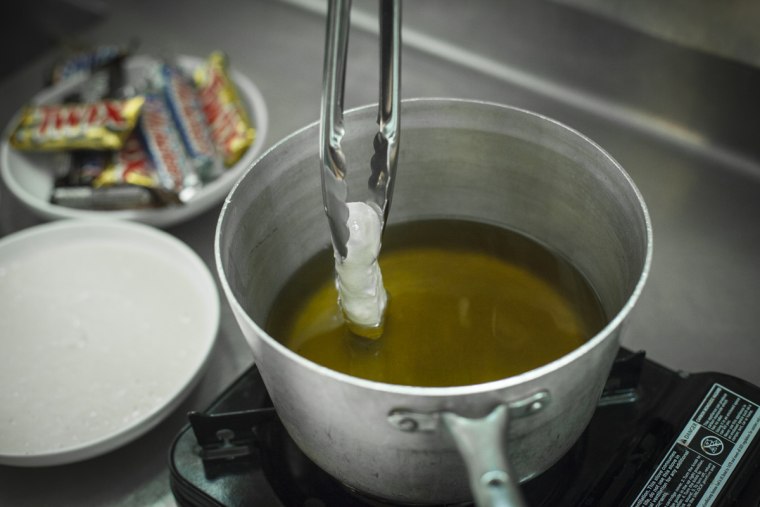 Once the oil has reached desired temperature, carefully and slowly place the coated candy bars into the oil, fry until golden brown (normally 2-3 min).  Tip: hold half the bar in the frying oil for 5-10 seconds to cook before dropping it in (so doesn't sink and stick to bottom), and carefully lay the rest into oil away from you (so doesn't splash on you).