Ingredients
Dressing
1/4

cup tahini

2

tablespoons fresh lemon juice

1

clove garlic, finely grated
3

tablespoons water, plus more as needed

1/8

teaspoon kosher salt

1/8

teaspoon freshly ground black pepper
Salad
3

Persian cucumbers, thinly sliced

4

radishes, thinly sliced

1/2

small red onion, thinly sliced
tablespoons distilled white vinegar

1/2

teaspoon granulated sugar
kosher salt and freshly ground black pepper

2

(15-ounce) cans chickpeas, rinsed and drained
5

tablespoons extra-virgin olive oil, divided

2

tablespoons harissa paste

1

(10-ounce) bunch curly kale, stems removed, leaves torn into bite-size pieces

2

(8-inch) pitas, torn into bite-size pieces

1/2

cup cherry tomatoes, halved

1/3

cup pitted Greek olives

1/4

cup fresh herb leaves, such as mint and parsley
Chef notes
Falafel is pretty much a weekly staple for me. The crispy balls of fried falafel are a perfect match for warm pita bread, tahini sauce and endless fresh toppings like cucumbers, tomatoes, olives and herbs. When I want something a little less heavy for lunch, I turn to this Deconstructed Falafel Salad. It has all the spicy flavors and fresh elements that you expect from your favorite falafel cart, but it is a bit lighter and more nutritious.
Harissa paste helps mimic the smoky and spicy flavor of the falafel. It is tossed with canned chickpeas, which provide the protein in this salad. To get them extra crispy, pat the beans dry and add them to a preheated baking sheet. A quick turn in the oven will ensure they are golden and crisp all over, with slightly caramelized bits of harissa here and there. The base of this salad is a bed of warm roasted kale. You could keep it fresh and simply massage some of the lemon-garlic tahini dressing into raw kale leaves, but I love the texture of roasted kale — it's perfect year-round, but particularly in the colder months.
A pickled cucumber, radish and red onion salad adds some brightness and acidity to this dish. The best part is that it can be made a few days ahead and stored in its brine in the refrigerator. Any leftover pickles are great on top of tacos, grain bowls or simply for snacking. This salad is fully plant-based, but you could add some extra flavor with briny feta or more protein by serving with hard-boiled eggs.
Technique Tip: Quick pickling is a great way to add a pop of flavor to a salad. Try it with any thinly sliced vegetables, like carrots or beets.
Swap Option: Distilled white vinegar works well for this quick pickling technique, but use whatever you have on hand — cider vinegar or lemon juice will work fine. 
Preparation
Make the vinaigrette
In a small bowl, whisk together tahini, lemon juice, oil, garlic, water, salt and pepper until smooth and a spoonable consistency (add more water 1 teaspoon at a time to thin out if needed).
Make the salad
1. In a medium bowl, combine cucumber, radish, onion, vinegar, sugar and ⅛ teaspoon salt. Let stand at room temperature at least 20 minutes.
2.
Meanwhile, preheat oven to 425 F with a rimmed baking sheet on the center rack; heat for 15 minutes. Pat chickpeas dry, then toss with 2 tablespoons oil, harissa and ½ teaspoon salt. Carefully spread into a single layer on the preheated baking sheet. Roast, tossing once, until crisp, about 10 minutes.
3.
Push chickpeas to one side of the baking sheet; toss pita with 1 tablespoon oil, ½ teaspoon salt and ⅛ teaspoon pepper; add to other side of baking sheet. Toss kale with remaining 2 tablespoons oil, ½ teaspoon salt and ⅛ teaspoon pepper and spread onto a second baking sheet. Continue roasting both sheets until pita is crisp and kale is tender and golden in places, 8 to 12 minutes more. Let cool slightly.
4.
Drain pickle mixture from brine and arrange on a serving platter, along with roasted kale, chickpeas, pita, tomatoes and olives. Scatter herbs over salad and drizzle tahini dressing over the top.
How to shop TODAY recipes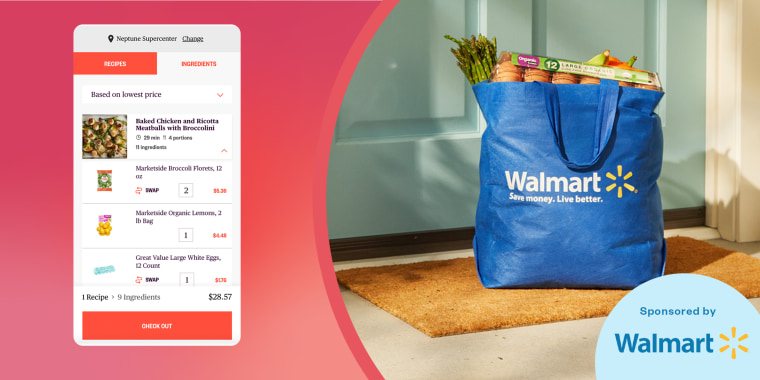 Here's everything you need to know about the cool new feature.