Ingredients
Chicken
1½

pounds thinly sliced boneless skinless chicken breasts (about 4-6 pieces)

4

cloves garlic

1

large lime, juiced

1/4

cup orange juice
1/3

cup extra-virgin olive oil, plus more for cooking

2

teaspoon kosher salt

2

teaspoons dried oregano

1/4

teaspoon ground cumin
Avocado Salad
2

cups salad greens such as watercress, baby arugula or mesclun

2

ripe Hass avocados, sliced

1

large ripe tomato

1/2

red onion, peeled and thinly sliced

1

large lime, juiced
1

tablespoon red or white wine vinegar

3

tablespoon extra-virgin olive oil

1/4

teaspoon ground coriander
flaky sea salt (such as malden) or kosher salt
freshly ground black pepper
Chef notes
This Latin "mojo"-style marinade made with plenty of garlic and citrus juice adds tons of flavor to a simple weeknight chicken dinner. Instead of making a separate marinade, the ingredients are added right into a mixing bowl along with the chicken, which sit for a few minutes while you assemble an easy avocado salad. Using thin chicken breasts helps them absorb the marinate quickly and also cuts down on the cooking time. 
Technique Tip: You can save extra time by buying thin-cut chicken breasts at the store, or make your own by slicing regular boneless skinless chicken breasts lengthwise to create thin even slices. Depending on the size of your chicken, you should be able to get 2 to 3 slices per breast.  
Preparation
1.
Place the chicken breasts in a large mixing bowl. Use a microplane to grate the garlic cloves directly over the chicken. Add the lime juice, orange juice, olive oil, kosher salt, oregano and cumin. Use a fork to toss the chicken in the marinade, making sure to fully coat the chicken on all sides in all the ingredients. Set aside while you make the salad.
2.
Spread the mixed greens on a large platter or a large shallow bowl. Alternate slices of avocado, tomato and red onion around to create a layered pattern on top of the greens.
3.
In a small bowl, whisk together the juiced lime, vinegar, 1/4 cup olive oil and coriander. Drizzle the dressing over the salad. Season generously with the flaky salt and cracked black pepper.
3.
Cook the chicken: heat a heavy-bottomed skillet or grill pan over medium-high. Drizzle with 1 to 2 teaspoons of oil and add the chicken breasts, 2 at a time. Cook for about 3 minutes, until the chicken is golden and easily releases before flipping. Cook for an additional 2 to 3 minutes, or until a meat thermometer inserted in the thickest part of the breast reaches 165 F.
4.
Serve the chicken with the salad.
How to shop TODAY recipes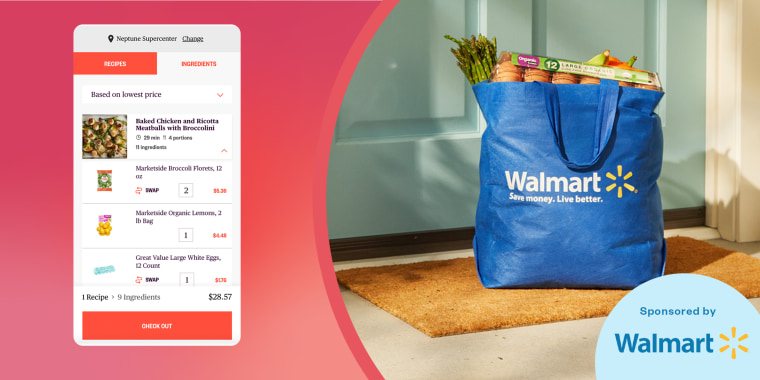 How to shop TODAY recipes
Here's everything you need to know about the cool new feature.
Learn More