Ingredients
2

(14-ounce) blocks extra-firm tofu, torn or sliced into 1- by 2-inch pieces
kosher salt

2/3

cup milk (if using nondairy, ensure it's unsweetened and unflavored)

1

tablespoon apple cider vinegar

2

tablespoons soy sauce

1/2

cup plain panko breadcrumbs

1/4

cup nutritional yeast
3

tablespoons garlic powder

2

tablespoons sesame seeds

2

tablespoons sweet, hot or smoked paprika

1/2

cup cornstarch

1/2

cup neutral oil, such as vegetable, for frying, plus more as needed
ketchup, barbecue sauce, Sriracha, and/or mustard, for serving
Chef notes
While having frozen nuggets (chicken or otherwise) on hand is certainly necessary for dinner emergencies, there is a case to be made for DIY nuggets — tofu nuggets, specifically. Does making your own nuggets take longer than ripping open a package and dumping into the air fryer? Sure. But if you have a bit of extra time — and some eager little kitchen helpers — these vegan tofu nuggets are far more fun to make than heating up the frozen version, and equally tasty. 
The secret to these vegan nuggets' meaty texture? Freeze the tofu. Once frozen (and subsequently) defrosted, tofu takes on a spongier texture that becomes firm and chewy like meat. (Bonus: It's better at absorbing marinades too.) Tofu should be frozen for at least two hours for the change in texture, but you can prep it in advance (see Step 1 of the recipe) and then you're less than an hour away from nuggets. 
While adults should, of course, handle the frying, kids can get right in on plenty of nugget-making action: Have them stir together the panko mixture and; and then make an assembly line for dredging the nuggets. Someone tosses tofu pieces in cornstarch, another dunks in the buttermilk, and then finish off with the breadcrumbs. Who says you shouldn't play with your food?
Note: While the best way to get the crispiest, tastiest nuggets is to pan-fry per the recipe below, you can also bake the nuggets. Arrange two racks in the upper and lower thirds of the oven, and preheat to 400 F. Line two sheet pans with parchment paper. Divide coated nuggets evenly between sheet pans. Lightly spray the nuggets on both sides with nonstick cooking spray. Bake for about 30 minutes, flipping the nuggets and rotating the pans between racks halfway through baking, until dry to the touch and slightly golden.
Preparation
1.
Place the tofu on a parchment-lined sheet pan in a single layer. Freeze until solid, about 2 hours (after 2 hours, transfer tofu pieces to an airtight container and freeze indefinitely).
2.
Remove the tofu from the freezer and place half on a paper towel-lined plate. Defrost tofu using the "defrost" setting of the microwave in 2-minute intervals until totally defrosted, 6 to 8 minutes (alternatively, leave out at room temperature, sitting on a kitchen towel, until totally defrosted, 2 to 4 hours). Repeat with second half. Press tofu with a kitchen towel to absorb excess water. Season the pieces of tofu evenly with salt.
3.
 While defrosting tofu, in a shallow bowl, whisk together the milk and apple cider vinegar and let sit for at least 5 minutes, then stir in soy sauce. In another shallow bowl, whisk together panko, nutritional yeast, garlic powder, sesame seeds, paprika and 2 teaspoons salt. Place cornstarch in another shallow bowl.
4.
 Place a large plate or sheet pan near your work surface and line another sheet pan with paper towels. Working with a few pieces of tofu at a time, toss the tofu in the cornstarch and tap off excess. Dunk in the milk mixture and let excess drip off, then toss in the panko mixture, pressing to adhere coating all over. Place coated nuggets on the large plate or sheet pan.
5.
 Heat ½ cup oil in a medium nonstick skillet over medium-high until shimmering. Fry the nuggets in batches of about 8 for 5 to 6 minutes, turning the nuggets every 2 minutes or so, until deeply golden. Transfer to the paper towel-lined sheet pan and sprinkle with more kosher salt. Use a fine mesh skimmer to remove any burning coating from the pan, then repeat with remaining nuggets (it should take about 4 batches total). Serve warm with preferred condiments.
6.
 Though they won't be as crispy as the originals, leftovers can be stored in an airtight container and reheated on a parchment-lined sheet pan in a 400 F oven for 5 to -10 minutes.
How to shop TODAY recipes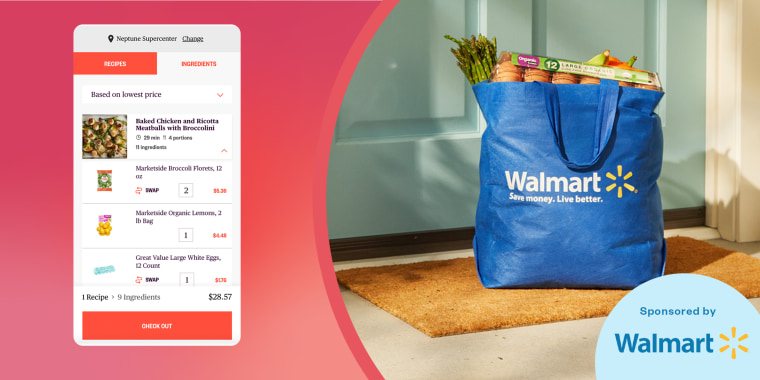 Here's everything you need to know about the cool new feature.