Ingredients
2

yellow onions

1

quart buttermilk

1

tablespoon Old Bay seasoning

1

cup all-purpose flour

2

large eggs
1/3

cup milk

1

cup Italian-style bread crumbs

1/3

cup yellow cornmeal

1/2

teaspoon salt
Preparation
Peel the onions and slice thickly into 6-8 slices per onion, discarding the tip and root ends. Separate the slices into individual rings (save the very small inner rings to use for another meal).
Place the onion rings in a gallon-size zip-top bag. Add the buttermilk and Old Bay to the bag and seal closed, pressing gently to remove as much air as possible. Refrigerate for at least 1 hour or up to 24 hours.
Drain the onions in a large mesh strainer and discard the seasoned buttermilk.
Preheat the oven to 425 degrees F and line 2 large baking sheets with parchment paper or silicone liners.
Make a breading station by pouring the flour into a wide, shallow bowl, whisking the eggs and milk together in a second bowl, and stirring the bread crumbs, cornmeal, and salt together in a third bowl.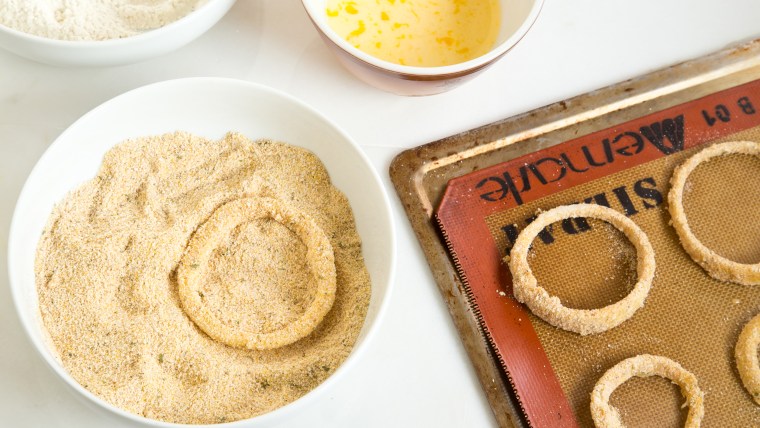 Dip an onion ring into the flour, tapping it lightly against the side of the bowl to remove excess flour. Then dip the onion into the egg, again letting any excess coating drip off, and finally into the bread crumbs. Place the coated onion ring on the baking sheet and repeat with the remaining rings.
Bake for 20-30 minutes, until the onions are crispy and starting to brown at the edges.
Serve immediately with your favorite dips and/or dressings.