Chef notes
These homemade onion rings rival your favorite bar or pub snack, but they're way less greasy. That's because they're battered in buttermilk and a light coating of flour, Italian-style breadcrumbs and cornmeal. The result is a light and crispy exterior that's better for you. That's the other thing that makes these onion rings so good — they're oven-baked, not deep-fried. Not only is this a healthier way to prep this popular appetizer, but it also creates less mess. Say goodbye to hot oil splatters and hello to your new favorite sheet-pan recipe.
For even more flavor, Old Bay seasoning is mixed into the buttermilk marinade, which the onions soak in for at least an hour and up to 24 hours. The longer they marinate, the more flavorful they'll taste. Want to kick it up a notch? Add a dash of hot sauce or cayenne pepper to the marinade, too. Once the onion rings are baked, season them immediately with a little bit of kosher salt (do this while they're still hot so that the salt adheres to the coating).
Try this batter with other fried favorites too like calamari and spicy peppers, broccoli and cauliflower, summer squash and more. 
If you don't have everything you need on hand, you can easily purchase all of the ingredients (just click the orange button below that says 'Get Ingredients'). You can pick and choose exactly what ingredients you need based on what's in your pantry and they'll be on your doorstep before you know it.
Ingredients
2

yellow onions, peeled and sliced thick

1

quart buttermilk

1

tablespoon Old Bay seasoning

1

cup all-purpose flour

2

large eggs
1/3

cup milk

1

cup Italian-style bread crumbs

1/3

cup yellow cornmeal

1/2

teaspoon kosher salt
Preparation
1.
Separate the sliced onion into individual rings (save the very small inner rings to use for another meal). Place the onion rings in a gallon-size zip-top bag. Add the buttermilk and Old Bay to the bag and seal closed, pressing gently to remove as much air as possible. Refrigerate for at least 1 hour or up to 24 hours.
2.
Drain the onions in a large mesh strainer and discard the seasoned buttermilk.
3.
Preheat the oven to 425 degrees F and line two large baking sheets with parchment paper or silicone liners.
4.
Make a breading station: in a wide, shallow bowl, add the flour. In a second bowl, whisk the eggs and milk together. In a third , and stirring the bread crumbs, cornmeal, and salt together in a third bowl.
5.
Dip an onion ring into the flour, tapping it lightly against the side of the bowl to remove excess flour. Then dip the onion into the egg, again letting any excess coating drip off, and finally into the bread crumbs. Place the coated onion ring on the baking sheet and repeat with the remaining rings.
6.
Bake for 20 to 30 minutes, until the onions are crispy and starting to brown at the edges. Serve immediately with your favorite dips and/or dressings.
How to shop TODAY recipes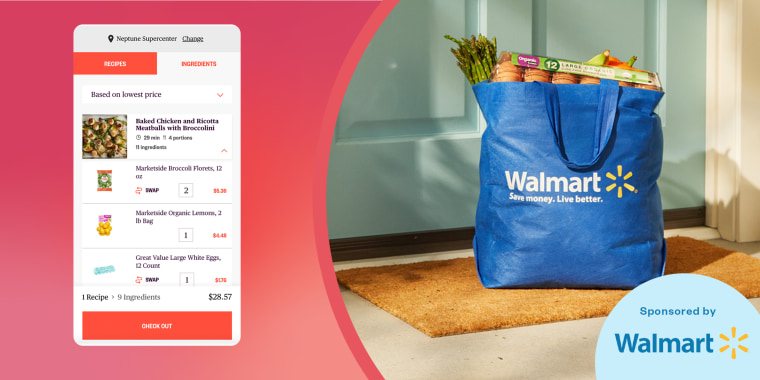 How to shop TODAY recipes
Here's everything you need to know about the cool new feature.
Learn More