Chef notes
Fresh garden zucchini and tomatoes are the stars of this simple summer pasta dish. The creaminess comes from Greek yogurt, which creates an almost instant lovely sauce as it melts into the hot pasta — no roux or cornstarch needed. The slightly tangy flavor contrasts beautifully with the delicate sweetness of summer squash and ripe cherry tomatoes. Fresh herbs like basil and mint, and a generous shower of lemon zest add flavor while keeping the dish light. It's a simple but satisfying dish that's perfect for those days when you need to keep things easy.
Get Ingredients: If you don't have everything you need on hand, you can easily purchase all of the ingredients (just click the orange button below that says 'Get Ingredients'). You can pick and choose exactly what ingredients you need based on what's in your pantry and they'll be on your doorstep before you know it. 
Technique Tips: Skip the chile flakes if you don't like spice, or add more if desired. This pasta reheats well and also works as a cold pasta salad due the yogurt-based sauce. Reserve some of the pasta water to thin out the dish after chilling the next day.
Swap Options: Add in other vegetables such as mushrooms, roasted eggplant, carrots or bell peppers. Add chickpeas or cooked chicken to increase the protein.
Ingredients
kosher salt, to taste

1

pound orecchiette, cavatelli or other similar short-cut pasta shape

2

tablespoons extra-virgin olive oil

4

tablespoons unsalted butter, divided

1

medium yellow onion, diced

4

cloves garlic, peeled and finely sliced

1/2

teaspoon red chile flakes

2½

pounds zucchini or yellow squash (or a mix of both), trimmed and diced
1½

cups cherry or grape tomatoes
zest of 1 large lemon, divided

2

cups full-fat Greek yogurt

1

small bunch fresh basil leaves, finely chopped

1

small bunch fresh mint leaves, finely chopped
freshly ground black pepper, to taste
grated Parmesan or pecorino Romano cheese, for serving (optional)
Preparation
1.
Bring a large pot of water to boil and salt generously. Add the pasta and cook until 1 minute less than package directions.
2.
While pasta cooks, heat 2 tablespoons olive oil and 2 tablespoons butter in a large deep skillet set over medium heat. Add the onions and sauté until soft, 3 to 5 minutes. Add the garlic and chile flakes and cook, just until fragrant. Add the zucchini and tomatoes and season with a generous sprinkle of kosher salt. Cook, stirring occasionally, until zucchini is tender, the tomatoes have softened and burst, and some of the water has reduced, 5 to 7 minutes.
3.
When the pasta is cooked, remove one cup of pasta water from the pot and set aside. Drain the pasta and add to the pan with the zucchini. Add half the lemon zest, yogurt, remaining butter, and 1/4 cup of the reserved pasta water, and stir until all ingredients are evenly distributed and the pasta is fully coated by the sauce. Add additional pasta water if the sauce is too thick.
4.
Stir in the basil, mint and remaining lemon zest. Season with black pepper. Taste and adjust seasoning as needed.
5.
Remove from heat and serve immediately. Serve topped with grated cheese, if desired.
How to shop TODAY recipes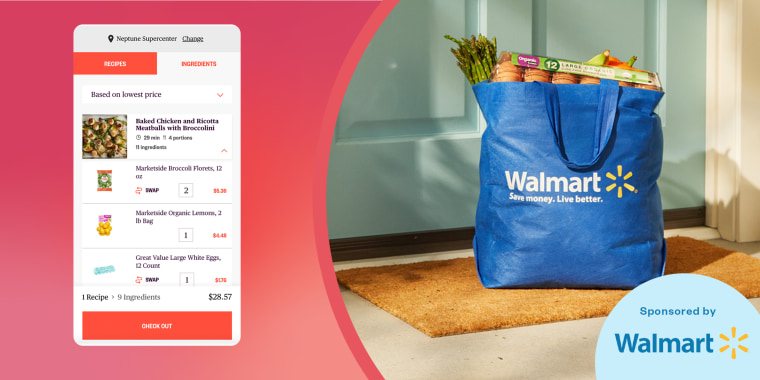 How to shop TODAY recipes
Here's everything you need to know about the cool new feature.
Learn More