Chef notes
It's hard to go wrong with eggs in any form for breakfast or brunch. Creamy scrambled eggs or a lacey fried egg is the perfect accompaniment to golden pancakes or French toast. Eggs Benedict or a slice of bacon-studded quiche are decadent and celebration-worthy all on their own. A large-format strata or frittata serves a crowd with minimal effort. But there's something especially comforting, yet elegant about creamy baked eggs served in individual ramekins.
Also known as shirred eggs, this simple preparation calls for baking eggs in a flat, shallow dish (like the kind you'd use for crème brulée) until they're just set. The beauty of baked eggs is in its versatility. Here, the eggs are cracked atop a bed of fragrant cooked leeks and spinach. Other vegetables and even added cheese work well, too. Top each dish with spoonfuls of heavy cream, but leave some space at the top as the mixture will bubble as it cooks.
Garnish with a sprinkle of chives and freshly cracked pepper before serving. The resulting eggs with just-set whites and still-runny yolks are perfect for dipping into with slices of baguette or other crusty bread of your choice. 
Technique Tip: Pull the eggs from the oven while they're still jiggly so they don't overcook — they'll continue to set in the hot dish.
Swap Option: This recipe is endlessly customizable. Substitute mushrooms and olives in place of the leeks and spinach for an antipasti-inspired baked egg. Add diced pepperoni or Italian sausage and mozzarella for a kid-friendly breakfast pizza take. 
Ingredients
butter or nonstick baking spray

1

tablespoon extra-virgin olive oil

1

small leek, trimmed, rinsed well and thinly sliced

1

small bunch fresh spinach, rinsed and torn into bite-size pieces
kosher salt and freshly ground black pepper
4

large eggs

1

cup heavy cream
fresh chives, for garnish (optional)
toasted baguette slices or other crusty bread, for serving
Preparation
1.
Preheat the oven to 400 F.
2.
Grease four 6-ounce ramekins with butter or spritz with nonstick baking spray, and place on a rimmed baking sheet.
3.
Heat the olive oil in a large skillet over medium heat. Add the leeks and cook, stirring occasionally, for 8 to 10 minutes, until the leeks are tender and translucent. Add the spinach and cook for 1 to 2 minutes more, until the spinach is wilted. Season with salt and pepper to taste.
4.
Divide the leeks and spinach between the ramekins. Crack an egg into each ramekin, then top with 3 to 4 tablespoons heavy cream per ramekin. Don't fill the ramekins all the way to the top, as the cream will bubble up in the oven.
5.
Bake for 15 to 20 minutes, until the yolks and the white immediately surrounding each yolk are just barely set and still have some jiggle to them. The eggs will continue to cook for a few minutes after they leave the oven.
6.
Sprinkle chives and additional salt and pepper over each ramekin, if desired, and serve immediately with toasted baguette slices.
How to shop TODAY recipes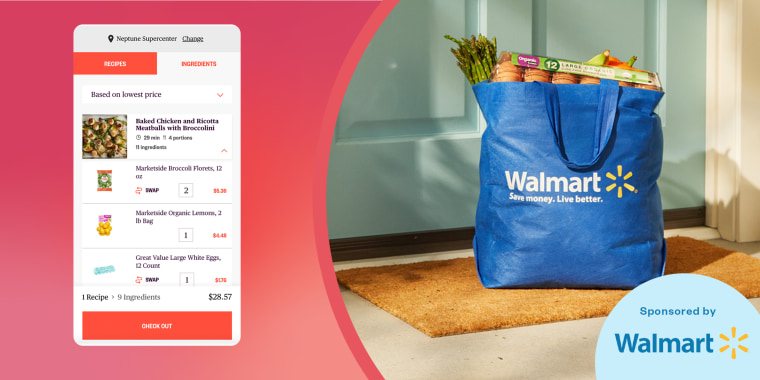 How to shop TODAY recipes
Here's everything you need to know about the cool new feature.
Learn More