Ingredients
Herb Gnocchi
3/4

cup all-purpose flour, plus more for dusting

15

ounces ricotta, drained

1

tablespoon onion powder

2

tablespoons fresh Italian parsley (flat leaf parsley), finely chopped

2

tablespoons fresh tarragon leaves, finely chopped
4

eggs

1/2

cup grated Parmesan
Salt and pepper

1

pinch nutmeg
Corned Beef
3-4

pounds corned beef with spice packet

4

carrots, peeled cut into small dice, 1/2 inch by 1/2 inch

1

onion, peeled cut into small dice, 1/2 inch by 1/2 inch
1/4

green cabbage, shredded (about 2 cups)

4

cups beef broth
Parsley Sauce
4

tablespoons unsalted butter

4

tablespoons all-purpose flour

1 1/2

cups milk

3

tablespoons parsley, minced

1/2

teaspoon strong Irish mustard (or English mustard)
1

pinch nutmeg
Salt and pepper

1

cup cooking liquid from the brisket

1/2

cup onion, finely minced
Chef notes
I love this recipe because in my mind it modernizes one of the all-time classic Irish dishes and showcases what Irish cuisine can become. It's also funky and cool to serve at home for dinner parties.RELATED: Get more shoppable recipes for St. Patrick's Day
Technique tip: Regardless of the cooking method, corned beef is best when cooked over low heat. A low, gentle simmer on the stovetop or in the slow cooker are two excellent methods for cooking up soft, tender slices of corned beef every time. Cooking corned beef takes patience as it's a tough cut of meat that benefits from a lengthy cook time. For stovetop cooking, plan on at least three hours for a three-pound corned beef or eight to 10 hours for a three- to four-pound cut that's cooked on low in the slow cooker. Use reserved cooking liquid to cook the gnocchi and thin out the parsley sauce. You can also use the reserved liquid to cook cabbage for added flavor.
Preparation
For the Herb Gnocchi
In a large bowl, combine the flour, ricotta, onion powder, nutmeg, parsley, tarragon, eggs, Parmesan, and season with salt and pepper. Continue stirring until a sticky dough forms.
Form the gnocchi by portioning out the dough into small balls with a 1 ½ ounce (45 ml) scoop.
Flour hands and roll the balls gently to form smooth logs or balls .
Refrigerate dough if not using right away.
For the Corned Beef
Place brisket into slow cooker. Add beef broth. Sprinkle meat with seasoning packet.
Cook brisket on low setting for 8-9 hours.
Add carrots and onions diced one about one hour before cabbage is finished. During the last 30 minutes of cooking, add shredded cabbage.
Remove corned beef from the slow cooker and sliced as desired. Reserve all cooking liquid to cook the gnocchi and the cooked vegetables for serving.
For the Parsley Sauce
Melt the butter in a small saucepan over medium heat. Add minced onion. Cook for about 1 minute.
Whisk in the flour and cook for about 1 minute more.
Add the reserved cooking liquid, milk, parsley, mustard, nutmeg, and salt and pepper to taste. Whisk the ingredients together until smooth. Cook 4 or 5 minutes more, whisking constantly, until the sauce thickens.
To Serve
Bring reserved cooking liquid to a boil. Add gnocchi. Cook for about 4 to 5 minutes, until they begin to float to the surface.
In another sauce pot, add the shredded corned beef, parsley sauce, reserved cooked cabbage, onion and carrots, pinch of tarragon, and a pinch of parsley. Bring this mixture to a simmer to heat thru.
To plate: Spoon sauce onto the bottom of a shallow bowl. Place gnocchi on the bottom and top with corned beef mixture. Finish with a few dollops of strong Irish mustard.
How to shop TODAY recipes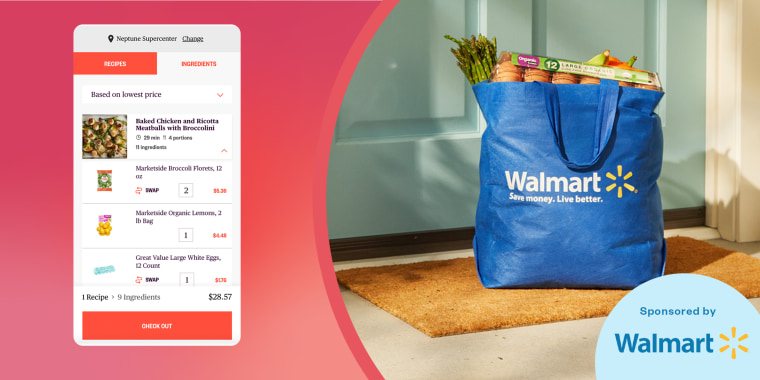 How to shop TODAY recipes
Here's everything you need to know about the cool new feature.
Learn More