Ingredients
Sauce
¼

cup lukewarm water

2

tablespoons low-sodium tamari

2

tablespoons oyster sauce

2

tablespoons mirin
3

tablespoons hoisin sauce

1

tablespoon coconut sugar

1

teaspoon arrowroot powder
Fried rice noodles (OPTIONAL but included in macros)
⅓

cup avocado oil for frying
Filling
1½

pound chicken thighs, ¼-inch dice

⅛

teaspoon sea salt
Freshly ground black pepper
Pure avocado oil spray

1

tablespoon sesame oil

8

ounce canned water chestnuts, drained and diced into ¼ inch pieces
2

cups portobello mushrooms, ¼-inch dice

2

garlic cloves, minced

1

tablespoon fresh ginger, minced (OPTIONAL)

3

green onion stalks, ¼-inch dice

1-2

heads butter lettuce (or romaine, if unavailable), washed, core removed and separated into individual leaves
Chef notes
These make great appetizers for a party or can be a low-carb entrée.
Technique Tip: Cook the chicken in batches so that you do not have too much moisture or liquid in the skillet, which makes searing more challenging, especially if you are using previously frozen chicken.
Swap Option: There's a few smart swaps for the sauce. I like using tamari because it's naturally gluten-free but you can also use soy sauce. Mirin is a specialty type of rice wine that's popular in Japanese cooking but if you don't have that on hand, feel free to use rice wine vinegar. And if you can't find arrowroot powder, use cornstarch to thicken the sauce.
Preparation
1.
In a medium-sized bowl, add all of the ingredients for the sauce and whisk to combine. Set aside.
2.
If you would like the vibrant white crispy noodles like the traditional recipe, in a small pot set over medium-high heat, add about 1/3 cup avocado oil. Once the oil is hot (350 F to 365 F), slowly add the noodles, breaking them up, and fry for 2 to 4 seconds. Remove the noodles using a fork or spider ladle.
3.
Set a large wok over medium-high heat. Once hot, spray with avocado oil and, cooking in batches, add about 1/3 of the diced chicken, salt and pepper. Cook the chicken until it's crispy and no longer pink, about 8 to 10 minutes. Remove from the wok and set aside. Repeat with two more batches.
4.
Once all of the chicken is cooked, heat spray avocado oil and sesame oil. Add water chestnuts and mushrooms, cooking for 2 to 3 minutes. In the last minute, add garlic, ginger, if using, and green onions, and toss to combine. 
5.
Add the chicken (and its juices) back to the wok and continue tossing everything together for 1 minute. Reduce the heat to low, add the prepared sauce and continuously stir as the sauce thickens. As soon as it thickens, remove the wok from the heat.
Build the wraps
Take a leaf of lettuce, add 1 tablespoon of crispy noodles and 1 to 2 tablespoons of chicken mix.
How to shop TODAY recipes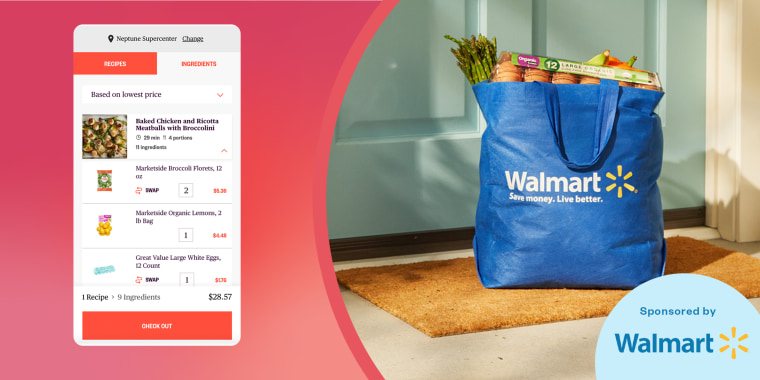 Here's everything you need to know about the cool new feature.