Ingredients
1

tablespoon olive oil

2

bone-in, skin-on chicken breasts

1

large yellow onion

3

large carrots

3

ribs celery, sliced 1/4-inch thick

2

quarts low-sodium chicken broth
1

bay leaf
thyme sprigs

2

teaspoons salt

1/2

teaspoon freshly ground black pepper

8

ounces egg noodles

2

tablespoons chopped fresh flat-leaf parsley
Preparation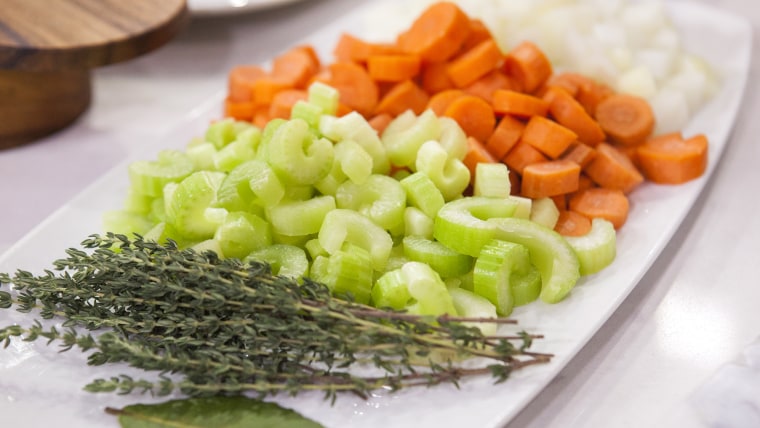 Heat olive oil in a medium Dutch oven or stock pot over medium high heat. 
Add chicken, skin side down and cook until browned, about 3 to 4 minutes.  Flip and cook another 2 minutes. Remove from pan and add onions, carrots, and celery. Saute for 2 minutes, using a wooden spoon to scrape up any browned bits on the bottom of the pan. Season with salt and pepper.
Pour in broth, bay leaf, and thyme. Bring to a low boil, then reduce heat to low. If a foam forms, skim off the top and discard. Cover and let simmer for 25 minutes.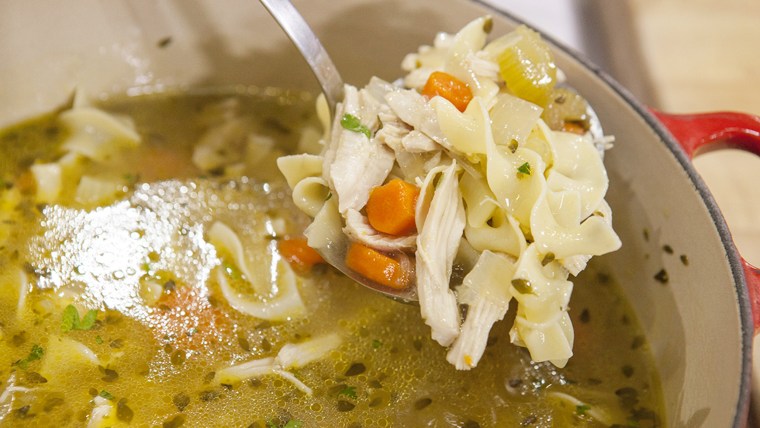 Remove chicken. Remove and discard skin. Shred meat with a fork, add back to pot with noodles. Bring to a low boil and cook until noodles are just done, about 8 minutes. Stir in parsley and serve.