Ingredients
Butter, for greasing the pan

1 1/2

cups all-purpose flour

1

teaspoon baking soda

1/2

teaspoon salt

1

teaspoon cinnamon

3/4

cup brown sugar
1/2

cup canola oil

1/2

cup buttermilk

1

egg

1/2

teaspoon vanilla extract

2

cups diced rhubarb

1/2

cup chopped pecans
Chef notes
Everyone raves about this easy-to-make quick bread, which has a lovely warmth from the cinnamon and brown sugar, balanced by nuggets of tart rhubarb scattered throughout. Chopped pecans add a great little crunch. It's fantastic for breakfast or as an afternoon snack and makes a nice gift, too.
RELATED: Get creative with rhubarb! 3 sweet recipes to try (that aren't pie)
Preparation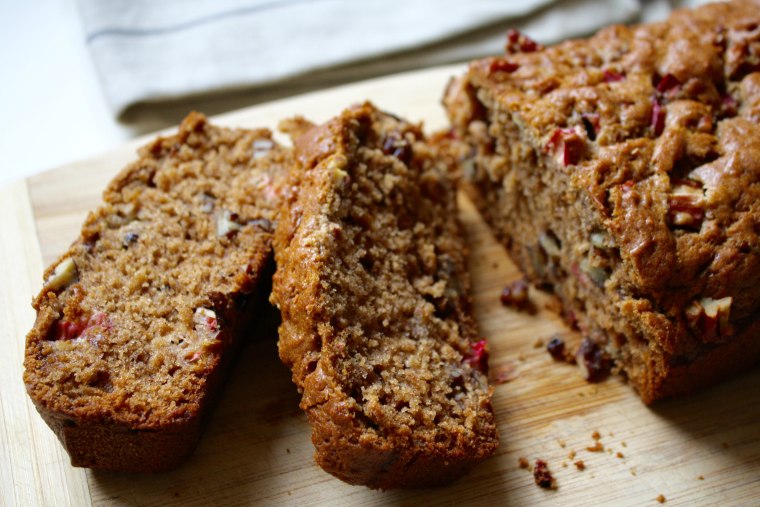 Preheat the oven to 350 degrees F. Grease an 8 x 4-inch loaf pan.
In a large bowl, whisk together the flour, baking soda, salt, and cinnamon. Stir in the brown sugar, oil, buttermilk, egg, and vanilla, combining thoroughly. Fold in the rhubarb and pecans.
Pour the batter evenly into the prepared loaf pan. Bake for 50 to 55 minutes, until a toothpick inserted into the center comes out dry. Let cool in the pan slightly, then cool completely on a rack before slicing.