Chef notes
Whether you call them subs, heroes, hoagies, torpedoes, grinders or wedges, I know you know and love them. In northern New Jersey, the Italian sub is the king of sandwiches. I can't recall a backyard celebration where I wasn't greeted by a 6-footer filled with Italian meats, finely shredded lettuce, plenty of dried oregano and flanked with red wine vinegar and olive oil.  When my "For You Page" (FYP) on TikTok was filled with home cooks and chefs alike chopping up Italian subs, I knew I had to roll up my sleeves and grab a knife. 
This recipe is great because it doesn't require any fancy kitchen gadgets — just a very sharp knife and the biggest cutting board you have.
Chopped salads are popular because you get the entirety of the salad flavors in every single bite. Thanks to TikTok user @big_erics_bbq, who came up with this idea,  I'm not sure I'll ever eat a whole Italian sub again. I took the liberty of adding two ingredients that I think no sub sandwich should be without — sweet cherry peppers and potato chips. 
These chopped subs are perfect for the beach, a lunchbox or a road trip. Leftovers hold up overnight, but I recommend keeping the sub filling separate from the roll until you're ready to serve. So chop up a few Italian subs, pour yourself an ice cold beer and get ready to celebrate in your backyard. 
Technique Tip: A very sharp, large chef's knife and large cutting board are the best tools to get this chopped up quickly and easily. Double the dressing recipe and shake in a jar with a tight lid  to enjoy on other sandwiches or salads. It will keep in the refrigerator for up to 7 days.
Swap Option: Sub in or out your favorite deli meats and toppings. If you're gluten free, ditch the bread and eat the filling with a fork (or shovel…). If you're vegan, substitute a meat alternative, vegan cheese and mayo. This would be great with some roasted veggies and giardiniera.
Ingredients
For the Italian-Style Salad Dressing
1

teaspoon Dijon mustard

1/4

cup red wine vinegar

1/4

cup extra-virgin olive oil

1

tablespoon honey

1

clove garlic, peeled and finely chopped or grated
1/2

teaspoon dried oregano

1/4

teaspoon dried basil

1/2

teaspoon kosher salt

1/2

teaspoon freshly ground black pepper
For the Sandwich Filling
1

medium head iceberg lettuce, core removed

2

medium tomatoes, sliced

1/4

cup sliced red onion

1/2

teaspoon kosher salt

1/2

teaspoon freshly ground black pepper

1/2

teaspoon dried oregano

1/4

pound Genoa salami, deli sliced

1/4

pound pepperoni, deli sliced
1/4

pound ham, deli sliced

1/2

pound sharp or mild provolone, deli sliced

1

cup banana pepper rings

1/4

cup sweet cherry peppers, chopped or sliced

1/2

cup mayonnaise

6

sub rolls, split

1

(8-ounce) bag potato chips, for serving
Preparation
1.
In a medium-size mixing bowl, add all of the ingredients for the dressing and whisk together. Set aside.
2.
On a large cutting board, coarsely chop lettuce until it's cut into 1-inch pieces. Layer tomatoes and red onion over the chopped lettuce, season with salt, pepper and oregano and coarsely chop. Use your knife to scoop the salad into a pile in the middle of the cutting board and finely chop.
3.
Layer salami, pepperoni, ham and provolone over the chopped mixture and finely chop, reincorporating ingredients with knife as needed.
4.
Top sub filling with banana peppers and cherry peppers and chop to combine.
5.
Once the sub filling is uniformly and finely chopped, add mayonnaise and prepared salad dressing. Using tongs or a large spatula, mix the mayonnaise and salad dressing into the sub filling until it is well combined. Use tongs or spatula to separate the filling into 6 equal portions. Top each section with 1/4 cup of chips each and place the split portion of the sub roll over the top of the chips and sub filling. Squeeze the sub roll around the sub filling while also using a spatula to get under the filling, and flip the sub roll over, using the spatula to spread any remaining sub filling into the roll. Serve with remaining potato chips on the side.
How to shop TODAY recipes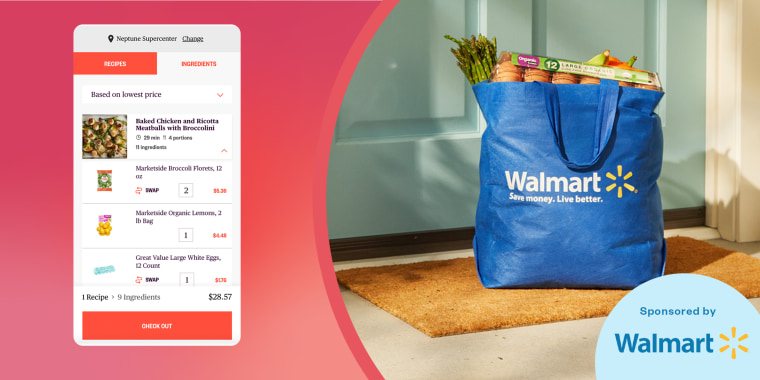 How to shop TODAY recipes
Here's everything you need to know about the cool new feature.
Learn More