Ingredients
Pam or other nonstick baking spray

3/4

cup (about 1⁄2 pound) chopped cooked chicken

4

ounces cream cheese, at room temperature

1⁄4

cup diced onion, scallions, or shallots
1

teaspoon kosher salt

1⁄4

teaspoon black pepper

1

(8-ounce) tube refrigerated crescent rolls

1

cup Italian seasoned bread crumbs
Preparation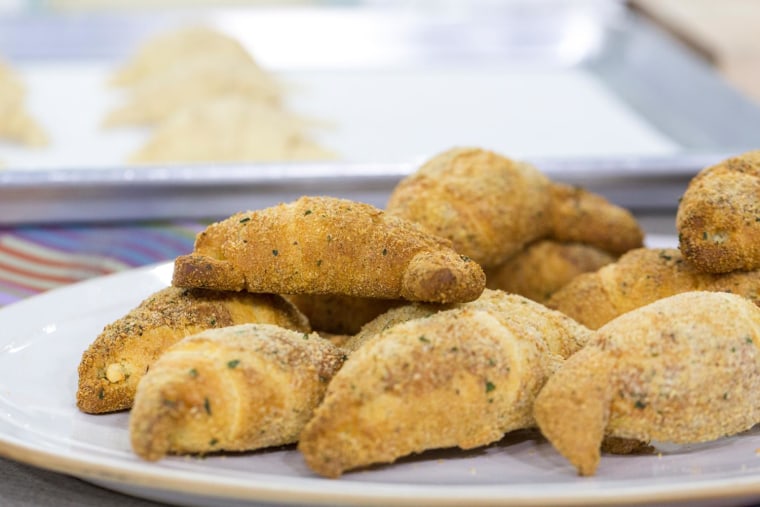 While I like digging through cookbook collections, I live for rifling through people's recipe card indexes. That is how I discovered this gem in my Aunt Sylvia's stash. Somehow this light and airy lunchtime favorite had fallen off my family's greatest hits list, and I can't for the life of me figure out why. I include it here to restore it to its lost glory.
1.
Heat the oven to 350°F. Grease a baking sheet with the baking spray.
2.
Mix the chicken, cream cheese, onion, salt, and pepper in a medium bowl.
3.
Unroll the crescent rolls and lay out on the counter. Divide the chicken mixture evenly among the 8 pieces of dough, spooning it into little clumps in the center of each unfurled roll. Wrap the dough up around the chicken, pinching the sides to seal the seams. Roll the puffs in the bread crumbs and put on the prepared baking sheet.
4.
Bake the puffs for 15 minutes, or until golden brown. Serve hot out of the oven.