Ingredients
3

cups chopped cooked chicken breast (from a rotisserie chicken) or 2 boneless, skinless chicken breasts (about 1 pound), cooked and chopped

1

pound spaghetti

1

tablespoon, plus 1 teaspoon olive oil, divided

4

large eggs, beaten
1/2

cup shredded mozzarella cheese

1/3

cup fresh ricotta cheese, plus more for topping the pie

1/4

cup prepared pesto

1/2

teaspoon salt
Chef notes
Who says spaghetti pie can't be elegant? Grab a rotisserie chicken and a jar of pesto to make this easy toss-together pie. Leftovers never looked so good.
Preparation
Preheat the oven to 350°F.
If your chicken isn't yet cooked, place on a foil-lined baking sheet or in a shallow casserole dish and bake for 20-25 minutes, until the interior temperature hits 165 degrees on a meat thermometer and the juices run clear. Let rest for 5 minutes, then chop into bite-size chunks.
Cook the spaghetti according to package directions, then drain and toss with 1 tablespoon olive oil. Let cool for about 10 minutes.
Lightly grease a deep 9- to 10-inch pie pan or cast iron skillet with the remaining teaspoon olive oil.
In a large bowl, add the beaten eggs, mozzarella, 1/3 cup ricotta, pesto and salt. Stir to combine.
Add the cooked pasta and chopped chicken. Stir well until all of the ingredients are combined and the pasta strands are evenly coated with the sauce.
Pour the pasta mixture into the prepared pie pan and dot the top of the pie with small dollops of ricotta cheese, if desired.
Bake for about 30 minutes, until the pie is sizzling around the edges and the top of the pie is golden brown.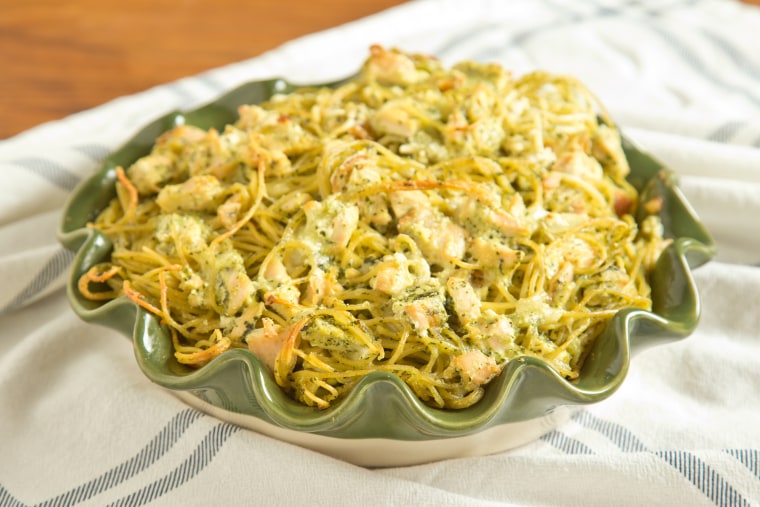 Let the pie rest for 10 minutes before slicing and serving.