Chef notes
This recipe takes one of our favorite things — pasta — and turns it into a rib-sticking dinner for any day of the week. It makes it easy to repurpose leftovers and a few store-bought ingredients into a full, satisfying meal. Bonus: everyone will ooh and aah when dinner comes out in a pie dish. Spaghetti pie is an Italian-American weeknight dinner staple on par with casserole. It's similar to lasagna (think pasta, ground beef, ricotta, tomato sauce and basil) but is so much easier to assemble. Rather, you toss the cooked pasta with all of the other ingredients, pile it into the pie dish and bake it in the oven. 
This particular spaghetti pie recipe is a little different flavorwise. We use one of the most convenient store-bought ingredients — rotisserie chicken — as our protein. Instead of cooking ground beef or any other meats, you can skip the hassle and use shredded, pre-cooked chicken instead. If you have some leftover cooked chicken from another recipe or you like to meal prep your proteins ahead of time, go for it! Either way, toss it with cooked spaghetti, ricotta cheese, shredded mozzarella, your favorite prepared pesto and a few beaten eggs to bind the mixture together.
As the eggs and cheese meld together in the oven, they make the inside of the spaghetti pie creamy, smooth and almost custard-like. Meanwhile, the heat of the oven creates a golden brown crust on the top of the pie, so while the noodles inside are tender, it develops a crunchy texture. The eggs stabilize the pie enough that you can cut it into clean slices to serve.
This is a full meal on its own, but it's also delicious paired alongside a light green salad.
Ingredients
3

cups chopped cooked chicken breast (from a rotisserie chicken) or 2 boneless, skinless chicken breasts (about 1 pound), cooked and chopped

1

pound spaghetti

1

tablespoon, plus 1 teaspoon olive oil, divided

4

large eggs, beaten
1/2

cup shredded mozzarella cheese

1/3

cup fresh ricotta cheese, plus more for topping the pie

1/4

cup prepared pesto

1/2

teaspoon kosher salt
Preparation
1.
Preheat the oven to 350 F.
2.
If your chicken isn't yet cooked, place on a foil-lined baking sheet or in a shallow casserole dish and bake for 20 to 25 minutes or until the internal temperature reaches 165 F on a meat thermometer and the juices run clear. Let rest for 5 minutes, then chop into bite-size chunks.
3.
Cook the spaghetti according to package directions, then drain and toss with 1 tablespoon olive oil. Let cool for about 10 minutes.
4.
Lightly grease a deep 9- to 10-inch pie pan or cast iron skillet with the remaining teaspoon olive oil.
5.
In a large bowl, add the beaten eggs, mozzarella, 1/3 cup ricotta, pesto and salt. Stir to combine.
6.
Add the cooked pasta and chopped chicken. Stir well until all of the ingredients are combined and the pasta strands are evenly coated with the sauce.
7.
Pour the pasta mixture into the prepared pie pan and dot the top of the pie with small dollops of ricotta cheese, if desired.
8.
Bake for about 30 minutes, until the pie is sizzling around the edges and the top of the pie is golden brown. Let the pie rest for 10 minutes before slicing and serving.
How to shop TODAY recipes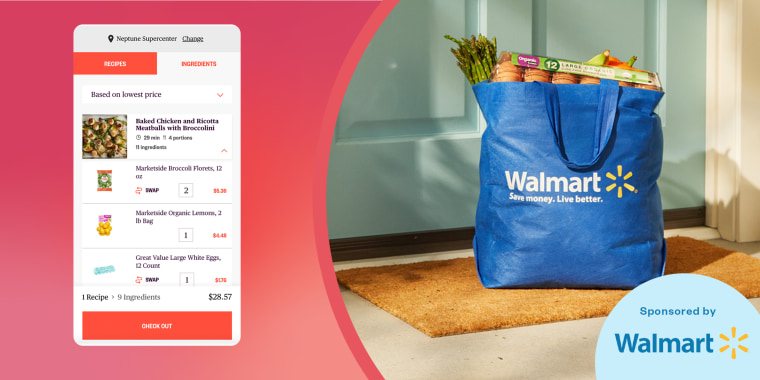 How to shop TODAY recipes
Here's everything you need to know about the cool new feature.
Learn More