Chef notes
So many easy, delicious chicken recipes start with store-bought or pre-roasted rotisserie chicken, and this recipe for chicken taquitos is no exception. The Mexican-inspired dish is perfect for parties or a fun and quick weeknight dinner. The Greek yogurt-based sauce, which is made with salsa, cilantro and lime, is a cool, creamy complement to the crunchiness and gentle heat of the taquitos. Shreds of pre-cooked chicken can be used to make enchiladas, chicken noodle soup, cheesy baked pasta dishes and so much more. These easy, family-friendly chicken-filled taquitos fit that bill perfectly. Tacos can step aside because we're embracing Taquito Tuesday from now on.
Beyond the rotisserie chicken, we use a lot of other flavor-packed ingredients to make this Tex Mex-inspired recipe. Canned green chiles and store-bought salsa verde (or homemade if you're feeling adventurous) add a slightly spicy and smoky flavor to the filling. And the creamy dipping sauce, made with Greek yogurt, fresh cilantro and a squeeze of lime juice, is a zesty contrast. We like the tang that you get from yogurt, not to mention the fact that it's on the lighter side, but if you have sour cream or crème fraîche on hand instead, that will work great. 
While taquitos are usually deep-fried, we bake these in an oven instead. They still get nice and crispy, and it makes post-dinner cleanup a little easier. To form the taquitos, combine the chicken, chiles, salsa verde and cheese to make the filling. From there, lay out the tortillas and start adding the filling. Then seal them up like burritos and arrange them on a baking sheet. Make sure to place the taquitos seam-side down so that the filling doesn't spill out. If you do notice that the tortillas are unrolling and the filling is bursting, take a couple of toothpicks and use them to pin the taquitos together. Once they're baked, you can just toss the toothpicks and enjoy.
If you don't have cooked chicken on hand, bake two small chicken breasts in a 375 F oven for about 20 minutes or poach for 10 to 15 minutes on the stovetop or in the microwave, until a thermometer inserted into the thickest part of the breast registers 165 F. Chicken can be cooked up to one day in advance.
Get Ingredients: If you don't have everything you need on hand, you can easily purchase all of the ingredients (just click the orange button below that says 'Get Ingredients'). You can pick and choose exactly what ingredients you need based on what's in your pantry and they'll be on your doorstep before you know it.
Ingredients
1/2

pound cooked shredded chicken (from half a rotisserie chicken or 2 small cooked chicken breasts)

1

4-ounce can diced green chiles

1/2

cup shredded Mexican cheese blend

3

tablespoons plus 1 tablespoon salsa verde, divided

3/4

teaspoon kosher salt, divided

12

(6-inch) flour tortillas
1

teaspoon neutral oil

1/2

cup plain 2% Greek yogurt

1

tablespoon chopped fresh cilantro or parsley

1

tablespoon fresh lime juice (from 1 lime)
salsa, for serving
Preparation
1.
Preheat the oven to 400 F. Line a large baking sheet with parchment paper or a silicone liner.
2.
In a large bowl, combine the chicken, chiles, cheese, 2 tablespoons salsa verde, and 1/2 teaspoon salt.
3.
Place a tortilla on a cutting board or other clean work surface. If your tortillas are more brittle than bendable, place them between 2 damp paper towels and heat for a few seconds in the microwave to soften them.
4.
Spread about 2 tablespoons of the filling onto the tortilla about 1/3 of the way in from the edge — not down the center of the tortilla. Fold the edge over the filling and tightly roll the tortilla into a tube.
5.
Place the rolled tortilla seam-side down on the baking sheet and repeat with the remaining tortillas and filling.
6.
Brush each rolled tortilla with oil and bake for about 20 minutes, until the tortilla is crispy and browned.

7. While the taquitos bake, stir the yogurt, remaining 1 tablespoon salsa verde, cilantro, lime juice, and remaining 1/4 teaspoon salt in a bowl to make the dipping sauce.

7. Serve the taquitos with the sauce and additional salsa.

MAKE AHEAD: 
If you're refrigerating the taquitos to reheat within 48 hours, bake for 12 to 15 minutes. Cool to room temperature on a rack, then refrigerate in a sealed container or bag. Reheat in a 350 F oven for 5 minutes to heat through and finish browning the tortillas.

If you're freezing the taquitos to reheat within 3 months, bake for only 10 minutes. Cool to room temperature on a rack, then freeze on a wax paper-lined baking sheet in a single layer for about 1 hour until frozen through. Transfer to a freezer bag or wrap in foil until ready to reheat. Reheat in a 350 degree F oven for 8-10 minutes to heat through and finish browning the tortillas.


How to shop TODAY recipes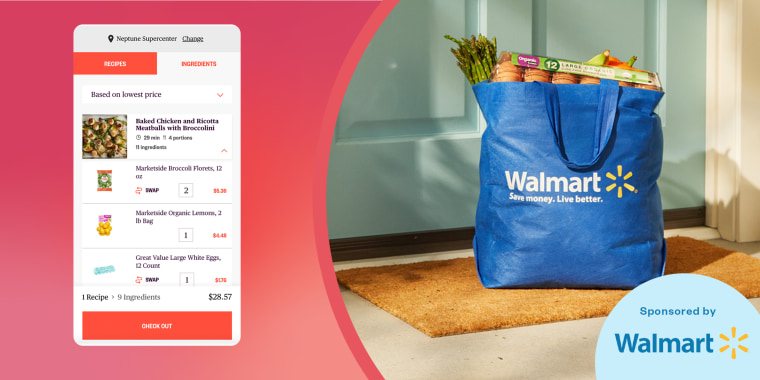 How to shop TODAY recipes
Here's everything you need to know about the cool new feature.
Learn More