Chef notes
Transform Thanksgiving extras into a second day snack by mixing chopped leftover turkey with leftover mashed potatoes, cheese, scallions and eggs. Then simply roll the mixture into balls, coat the balls in breadcrumbs and fry them until golden brown and crispy. And don't forget leftover cranberry sauce or gravy for dipping!
Ingredients
3

cups leftover mashed potatoes

1

cup finely chopped leftover turkey

1/3

cup chopped scallions

2/3

cup shredded cheddar cheese
2

large eggs

2

cups seasoned breadcrumbs
Vegetable oil, for frying
Leftover cranberry sauce or gravy, for serving
Preparation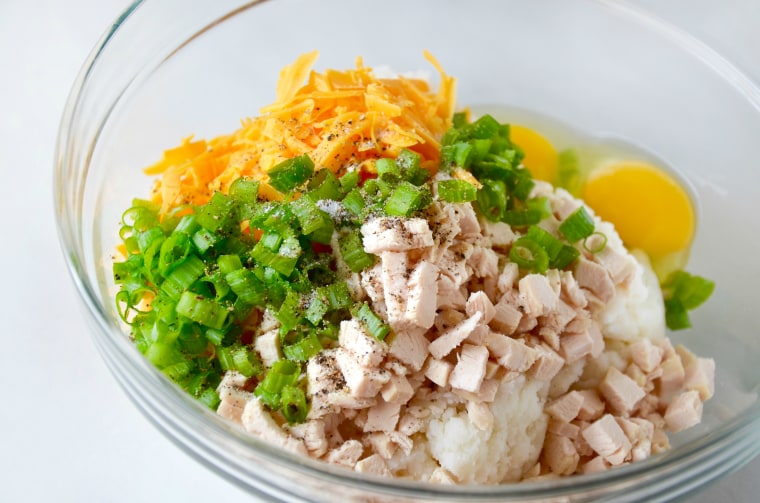 In a large bowl, stir together the mashed potatoes, turkey, scallions, cheese and eggs until well combined. Place the breadcrumbs in a separate large bowl.
Using a small ice cream scoop or spoon, scoop out about 3 tablespoons of the mashed potato mixture and roll it into a ball. Roll the ball in the breadcrumbs, shaking off any excess. Repeat the scooping, rolling and breading process with the remaining mashed potato mixture.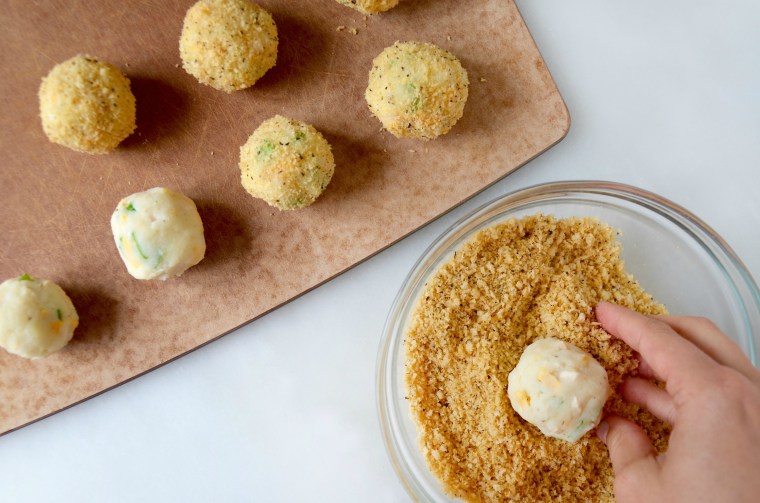 Line a baking sheet with paper towels. Add the vegetable oil to a large heavy-bottomed stockpot and attach the deep-fry thermometer to the side. Heat the oil until it reaches 360°F. Carefully add a few of the mashed potato balls to the oil and cook them, turning occasionally, until they're golden brown. Using a slotted spoon or colander, transfer the mashed potato bites to the paper towel-lined plate and immediately season them with salt. Add the remaining mashed potato balls to the oil, returning the oil to 360°F between each batch.
Serve the mashed potato bites with leftover cranberry sauce or gravy for dipping.
Note: All leftover mashed potatoes will vary in texture and taste. If your mashed potatoes are thinner in consistency, add additional flour until the mixture is cohesive. Similarly, season the potato mixture with salt and pepper to your personal taste preferences.