Ingredients
1/4

cup extra-virgin olive oil

4

cloves garlic, peeled and thinly sliced

6

oil-packed anchovy filets, finely chopped

1/2

teaspoon crushed red pepper flakes

1

(28-ounce) can whole peeled tomatoes

1/2

cup kalamata olives, pitted and chopped
2

tablespoons capers, drained and rinsed
kosher salt
freshly ground black pepper

1

(20-ounce) package or 2 (9- to 10-ounce) packages refrigerated or frozen cheese ravioli, such as Giovanni Rana

1/2

cup chopped flat-leaf Italian parsley
Chef notes
Pasta puttanesca, created in Naples in the mid-20th century, is a powerhouse pasta dish worth getting to know. Though its exact origins are disputed, there are a few characteristics that aren't up for debate: the weeknight-friendly sauce is made with pantry staples, packed with punchy flavor and comes together in less than 30 minutes. 
Puttanesca sauce relies on anchovies, olives, capers and red pepper flakes to give it its signature briny flavor and pungent aroma. The pasta shape, however, is where you can have a little fun. Though traditionally made with a long dried noodle like spaghetti, this version calls on fresh or frozen cheese ravioli for a playful, quicker-cooking twist. To meld the flavors and ensure each noodle is slicked with sauce, you'll finish cooking the ravioli directly in the puttanesca. 
Of course, you could also skip the pasta altogether. Puttanesca is an equally perfect pairing for crispy chicken thighs, mild white fish filets and all types of roasted vegetables, from cauliflower to green beans. The recipe below can easily be doubled, so serve it with pasta tonight and reserve the leftover sauce for later in the week, when you can spoon it over whatever you're cooking. 
Even if you're not a fan of anchovies, I encourage you to give this dish a try. Finely chopping them allows them to  melt into the sauce, infusing the dish with umami flavor without making the sauce taste fishy. Use up the rest of the tin by making Melissa Clark's anchovy-garlic butter, or Bobby Flay's eggplant rollatini with anchovy breadcrumbs.
Technique Tip: Adding a splash of the pasta's starchy cooking water will bind and thicken the sauce and help it cling to the ravioli. 
If you prefer smaller chunks of tomato, take a pair of kitchen shears and cut through the tomatoes in the can before adding them to the skillet. 
Swap Option: Use cheese tortellini in place of ravioli. Use oil-cured black olives in place of kalamata. Use fresh basil in place of parsley. Use diced tomatoes in place of whole peeled. 
Preparation
1.
Bring a large pot of water to a boil.
2.
Meanwhile, make the sauce: Heat the oil in a large, high-sided skillet over medium heat until shimmering. Add the garlic, anchovies and red pepper flakes and cook until the garlic is pale golden and the anchovies have melted, about 1 minute.
4.
Add the tomatoes, olives and capers and simmer, uncovered, until the sauce has thickened, 5 to 10 minutes, crushing the tomatoes with your spoon as it cooks. Season to taste with salt and black pepper.
5.
Heavily salt the boiling water, add the pasta and cook until al dente according to package directions. Before draining, reserve 1 cup of pasta water.
5.
Add the cooked pasta to the skillet with the sauce. Add a splash of the pasta water and stir, adding more pasta water as needed until the sauce reaches your desired consistency. Season again to taste.
6.
Remove from the heat and toss with the parsley. Serve immediately.
How to shop TODAY recipes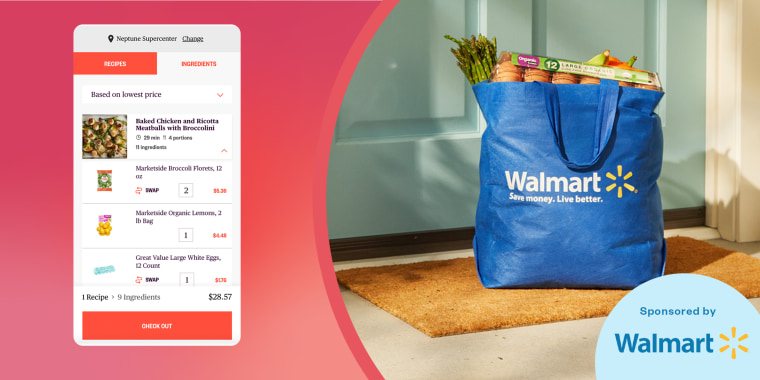 How to shop TODAY recipes
Here's everything you need to know about the cool new feature.
Learn More