Ingredients
Chicken polpette
2

eggs

1

pound ground chicken

1

cup ground prosciutto

2

tablespoons minced garlic

1

cup Italian style bread crumbs, preferably Progresso

1

cup grated Parmesan
1/2

cup chopped parsley

2

tablespoons chopped rosemary

2

tablespoons chopped thyme
Salt, to taste
Olive oil
Chicken brodo
4

boneless, skinless chicken thighs
Olive oil

1

large Spanish onion, diced

1

carrot, peeled and diced

2

cloves garlic, chopped
4

quarts good quality chicken broth

1

Parmesan cheese rind
Freshly ground black pepper, to taste
Salt, to taste

1

sprig thyme
Soup
Olive oil

1

cup diced celery

1

cup diced onion

1

cup diced carrot

6

cups chopped escarole
Chicken brodo (recipe above)
Chicken polpette (recipe above)

1/2

pound of your favorite cooked pasta
Chopped fresh parsley
Chef notes
Contrary to what the name might suggest, this soup does not get its name because it is served at Italian weddings. The nuptial name actually refers to the marriage of the fresh leafy greens and rich broth in this robust and rustic soup.
Swap option: At Carbone, we use a house made agnolotti for the pasta in this soup. But you can substitute any pasta you like, just be sure to par cook it if it is a dry pasta.
Preparation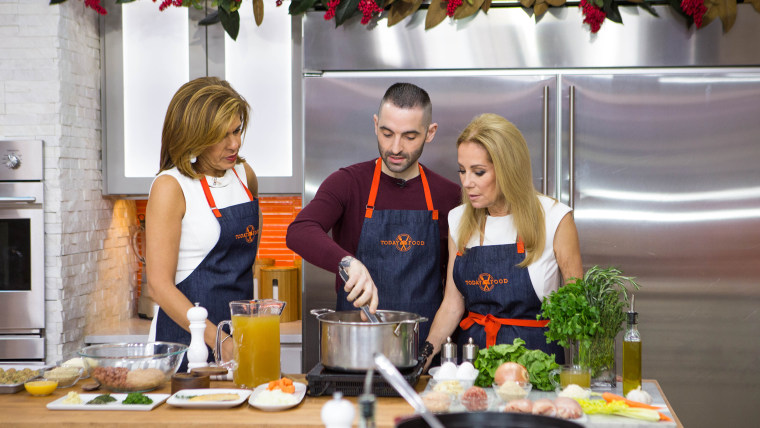 For the chicken polpette:
1.
In a bowl, lightly beat the eggs. Add in the chicken, prosciutto, garlic, bread crumbs, parmesan, parsley, rosemary and thyme and mix well by hand, being careful not to overwork the meat. Season with salt to taste.
2.
Roll the mixture into small balls and brush with oil.
3.
Heat sauté pan with a few tablespoons of oil over medium-high heat.
4.
Fry the meatballs until browned on all sides, but not full cooked (they will finish cooking in the broth). Remove from pan and set aside.
For the chicken brodo:
1.
Season chicken thighs with salt and pepper.
2.
In a medium pot, heat a few tablespoons of olive oil over medium-high flame. Brown the chicken on both sides. Once browned, remove the chicken from the pot and set aside.
3.
In the same pot, add the onions, carrot and garlic and cook, stirring frequently, for about 6-8 minutes.
4.
Add the chicken back to the pot and cover with the chicken broth. Add the Parmesan rind and season with salt and pepper.
5.
Simmer for 20 minutes, add the thyme sprig and simmer for 10 minutes more. 6. Strain the liquid and discard the chicken and vegetables.
For the soup:
1.
In a soup pot, heat a few teaspoons of olive oil over medium-high heat. Then add the celery, onion and carrot and gently sauté for 6-8 minutes.
2.
Add the escarole, season with salt and cook until it wilts. At this point, add the brodo and bring to a simmer.
3.
Add the chicken polpette and pasta and cook for 5 minutes.
4.
Serve the soup in bowls, drizzled with olive oil and sprinkled with the fresh parsley.