Ingredients
Sauteed cherry tomatoes
3

tablespoons olive oil

2

pints cherry tomatoes
Salt and freshly ground black pepper

3

tablespoons finely sliced fresh chives
Strata
6

cups of cubed day old French bread (with crust)

2

tablespoons unsalted butter

1

tablespoon canola oil

2

large Spanish onions, halved and thinly sliced

1

tablespoon finely chopped fresh thyme

2

cups grated aged Gruyere cheese

10

large eggs
1

box frozen chopped spinach, thawed and squeezed dry

3

cups whole milk

1

cup heavy cream

2

teaspoons Dijon mustard

1

teaspoon kosher salt

½

teaspoon freshly ground black pepper

1/8

teaspoon freshly grated nutmeg
Chef notes
Strata, a savory bread pudding, is an excellent brunch dish to prepare for a crowd. To start, it's nice to have something that can be served family-style - bring it to the table, and you're done! No need to be tied to the stove flipping omelets for 20. Additionally, the strata is best when made in advance. Assemble it the night before your gathering, and simply transfer from the fridge to the oven the next morning. Paired with a simple green salad, this would also be a wonderful light dinner option. Eggs can be for dinner, too!
Preparation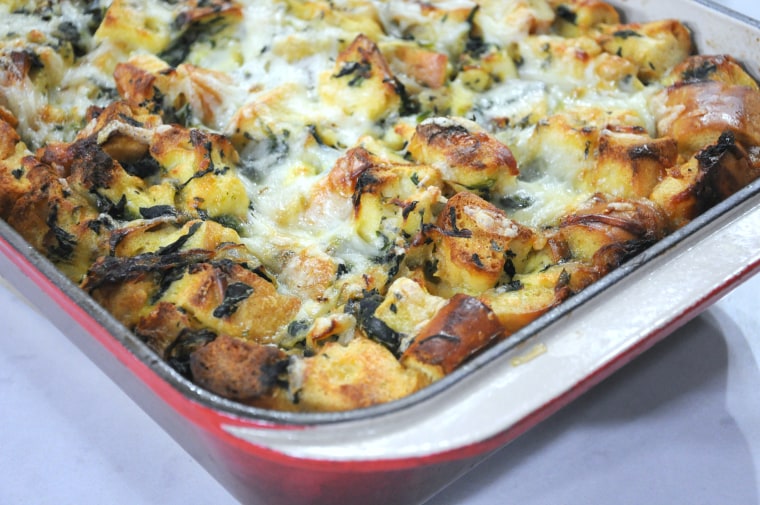 Sauteed tomatoes:
Heat oil in a large sauté pan over high heat until it begins to shimmer. Add the tomatoes, season with salt and pepper and cook until the tomatoes softened. Remove from the heat, stir in the chives. 
Strata:
Preheat oven to 325 degrees F.  Put bread on a baking sheet and toast until lightly golden brown on both sides, about 10 minutes.  Remove and let cool.
Combine the butter and oil in a large sauté pan over medium heat and cook until it begins to shimmer. Add the onions, toss to coat in the butter and season with salt and pepper.  Cook the onions, stirring occasionally, until golden brown and caramelized, about 30 minutes. Stir in the thyme, remove from the heat and let cool slightly.
Butter a 9 x 13-inch decorative baking dish. Put the bread cubes in the dish and sprinkle them with 1 ½ cups of the cheese, the onions and the spinach. In a large bowl, whisk together the eggs, milk, heavy cream mustard, salt, pepper and nutmeg. Pour the egg mixture over the bread cubes and press down to make sure the bread is totally submerged. Cover and chill for at least 2 hours and up to 24 hours.
Preheat oven to 350 degrees F. Uncover the baking dish and bake for 60 minutes, until the mixture has puffed up slightly and is golden brown on top, and the strata doesn't shimmy with uncooked custard when you shake the pan. Sprinkle the remaining ½ cup of the cheese over the top during the last 10 minutes of baking. Let cool for 5 minutes before serving. Serve large spoonfuls onto plates and top with sautéed tomatoes.