Yields:
Makes 45 to 50 cake pops
Chef notes
Cake pops popped up right around the same time as Instagram's debut, so it's no surprise that the colorful confection caught on quickly. They are easy to make, instantly customizable and the perfect small treat. If we fell head over heels for cupcakes, we were surely going to love their tiny, extra-frosted cousin on a stick.
These adorable hand-held treats are ideal for kid-friendly events, baby showers, bridal showers or just to make as a fun baking activity with delicious rewards. You can decorate them with sprinkles, powdered sugar, edible sparkles or whatever strikes you to make them pretty, elegant or even silly.
Special equipment: Lollipop sticks and a Styrofoam block or other instrument to hold the pops.
Ingredients
8

ounces cream cheese

6

tablespoons butter

1

cup powdered sugar

1

(9- by 13-inch) cake or 2 (9-inch round) cakes
24

ounces chocolate chips (white, milk or dark), divided
vegetable oil, as needed
sprinkles, sugar, chopped nuts, chopped candy or spices, to decorate
Preparation
1.
Fully mix together the cream cheese, butter and sugar (you can do this in a stand mixer, with an electric mixer or by hand if you need to).
2.
Crumble the cake into pieces (make sure it has cooled completely if you are baking it that day) in the bowl with the cream cheese mixture.
3.
Roll the mixture into individual balls. They should be about a tablespoon in size and a consistent scoop will work best. Place the balls on a sheet tray lined with parchment paper.
4.
Take a handful of the chocolate chips and melt them in the microwave for 30 seconds. Stir, and if you need a few more seconds, microwave them a bit more. Dip the ends of the lollipop sticks in the chocolate and then put the stick into the cake ball, making sure to not go more than halfway through. Place all the cake balls in the freezer for 15 minutes to firm them up.
5.
While you are waiting for the cake pops to cool, get your toppings ready. Melt the rest of your chocolate (if you are doing different flavors, make sure to melt them in separate bowls). Be careful as you melt them because you do not want them to get too hot, so melt for 30 seconds at a time and stir in between. You should also add a dash of vegetable oil to help loosen the chocolate up if it feels too thick. Also prep other toppings into different bowls so you can easily dip your cake pops in. Toppings should be small enough to not overwhelm and topple the cake pops.
6.
When your cake pops have chilled, remove them from the freezer and start dipping them. You want to dip them once into the chocolate coating and then give them a moment to drip off before sitting them upright. If the chocolate feels too thick, add a bit more vegetable oil to loosen it up just a little bit. This part will take time, so don't worry if it seems like it is going slowly.
7.
Immediately add any toppings. It is easiest to just roll the cake pop in the topping. Stick the cake pop in the Styrofoam (or whatever contraption you are using) to allow them to dry.
8.
Let them dry for at least an hour. You can either eat them that day at room temperature or store them in the fridge for up to a week.
How to shop TODAY recipes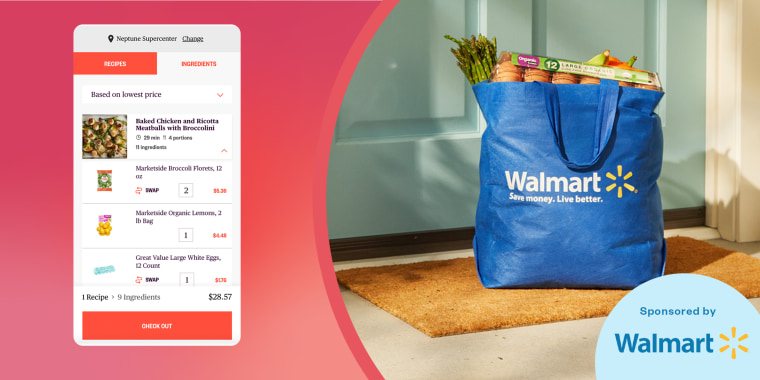 How to shop TODAY recipes
Here's everything you need to know about the cool new feature.
Learn More