TODAY Table is sponsored by Walmart. Our editors independently created this recipe. If you purchase the ingredients through our links, we earn a commission. Learn more about Shop TODAY.
Ingredients
Salad
1

pound shrimp, peeled, deveined and chopped into 1-inch pieces

2

tablespoons low-sodium Cajun seasoning

1

teaspoon avocado or olive oil
olive oil cooking spray

5

cups romaine lettuce, chopped
1

medium cucumber, peeled and chopped

3

Roma tomatoes, diced

1/2

cup red onion, sliced

1

large avocado, chopped
Dressing
3/4-1

cup 2% Greek yogurt

1-2

tablespoons Louisiana hot sauce (or favorite hot sauce)

1-2

tablespoons dried chives
juice from 1/2 lemon

2

tablespoons olive oil
sea salt and cracked pepper, to taste
Chef notes
Cooking shrimp takes minimal effort and time since it's a lean protein. You can customize the salad with your favorite leafy greens and other veggies you enjoy. Using Greek yogurt for a dressing is also a way to ensure all yogurt you purchase at the top of the week doesn't go to waste.
Technique tips: Keep the dressing separate and add it only when you're going to eat the salad. Add the avocado the day that you're going to eat the salad to reduce browning.
Swap option: Swap shrimp for 1 pound of chicken breasts or extra-firm tofu, chopped into 1-inch pieces. 
Discover more 30-minute meal ideas.
Preparation
1.
Season shrimp with low-sodium Cajun seasoning and olive oil, then set aside to marinate while you prepare the salad.
2.
Mix together all of the salad ingredients into a large mixing bowl.
3.
Mix together the ingredients for the dressing in a separate bowl until thoroughly combined. 
4.
Set a carbon steel skillet on medium-high heat. Once hot, lightly spray with avocado oil, then add the shrimp. Sear and toss the shrimp until it is cooked through, about 6 to 8 minutes.
5.
Toss it all together in a large salad bowl, and enjoy! (For meal prep, evenly divide the salad, shrimp and dressing among containers.)
How to shop TODAY recipes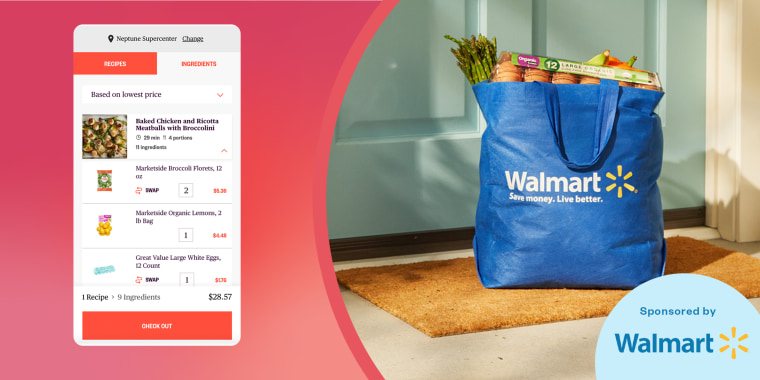 Here's everything you need to know about the cool new feature.