YIELDS
6 large or 12 medium popovers
Ingredients
1½

cups whole or 2% milk

4

large eggs

3

tablespoons extra-virgin olive oil, plus more for greasing the pan

1½

cups all-purpose flour
1

ounce Pecorino Romano cheese (1/2 cup firmly packed freshly grated or 1/3 cup store-bought grated)

2

teaspoons freshly ground black pepper

1/2

teaspoon kosher salt
Chef notes
Popovers are a treat that are as fun to make as they are to enjoy. They rise high in the oven and almost topple over before they're enjoyed warm and steamy. They're crisp and golden on the outside while almost custardy on the inside. Traditionally, popovers are best served slathered with butter and jam as a morning treat, but this savory iteration takes cues from Italy instead. 
These popovers are inspired by the classic Roman pasta dish cacio e pepe, which is a simple combination of pasta tossed with salty Pecorino Romano cheese and spicy black pepper. Here, grated Pecorino and fresh ground black pepper are added to the popover batter to infuse it with sharp, pleasantly pungent flavor. While Pecorino, a hard sheep's milk cheese, is classic in cacio e pepe and does lend a particular flavor to both the pasta and these popovers, you can swap it in for Parmesan cheese if that's what you have on hand.
There are endless ways to serve these cheesy popovers. I particularly love them alongside scrambled, fried or poached eggs but they're equally as perfect paired with dinner. They're a natural match with tomato soup, minestrone and Italian wedding soup, too. Or serve them alongside saucy meatballs, where they're great at swiping up every last bit of marinara. 
Perhaps the best part about this recipe? While many popover recipes require a special popover pan, this one doesn't. All you need is a standard muffin tin. Though, if you do happen to have a popover tin, you can definitely put it to use here. You'll get 6 large popovers if you use it, while you'll get 12 medium popovers in a regular muffin tin.
Technique Tip: Popovers are best enjoyed fresh out of the oven but you can make the batter up to a day ahead of time and store it, covered, in the refrigerator. Let the batter come to room temperature as the oven preheats and whisk until frothy before pouring it in the tin.
Swap Option: An equal amount of grated Parmesan cheese can be used in place of Pecorino Romano cheese.
Preparation
1.
Arrange a rack in the lower third of the oven and place a 12-cup regular muffin tin or a 6-cup popover tin on the rack. Heat the oven to 450 F.
2.
Whisk the milk, eggs and olive oil in a large bowl until well-combined. Add the flour, grated cheese, freshly ground black pepper and salt and whisk until lightly frothy; a few small lumps are okay. Let the mixture rest for 10 minutes.
3.
Carefully remove the hot pan from the oven and brush the inside of the cups, edges and the area between the cups with olive oil. Divide the batter evenly so that each cup is about two-thirds to three-quarters full.
4.
Return the pan to the oven and bake for 15 minutes. (Do not open the oven door during baking as it will cause the popovers to deflate.) Reduce the oven temperature to 350 F and continue to bake until the popovers are golden-brown and have risen quite high, 10 to 15 minutes more.
5.
Remove from the oven and turn the popovers out onto a wire cooking rack. (Use a knife to pop out any popovers from the pan that might have stuck) Pierce the bottom of each popover with a knife or fork to allow steam to escape. Enjoy immediately, while still warm.
How to shop TODAY recipes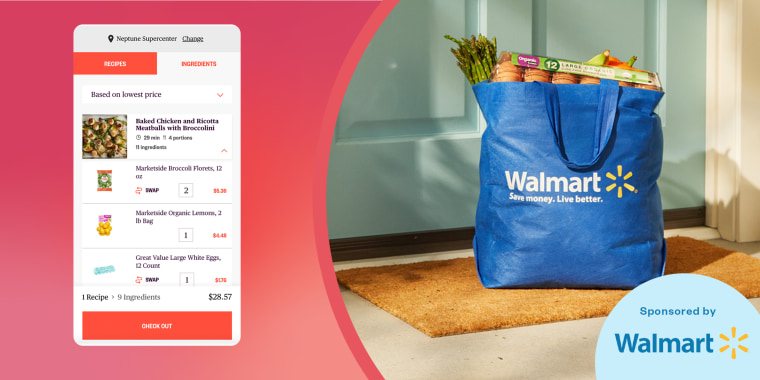 Here's everything you need to know about the cool new feature.