Ingredients
12

ounces ziti, penne, or other short pasta

4

tablespoons unsalted butter

1/4

cup all-purpose flour

4

cups whole milk

2/3

cup Buffalo wing sauce
2

cups chopped celery

3

cups chopped or shredded cooked chicken

3/4

cup crumbled blue cheese

1/4

cup panko or plain bread crumbs, optional
Kosher salt
Chef notes
Buffalo wings and football night go hand-in hand. But with all the dripping sauce, sticky fingers, and bones piled everywhere, eating wings at home can create a big mess. Change up your game night strategy with a Buffalo chicken casserole that has all the saucy, spicy, blue-cheesy goodness of the original in a fork-friendly format (plus, there's pasta!). I like to sprinkle the dish with bread crumbs before baking to add a little extra texture, but it's completely your call.
Preparation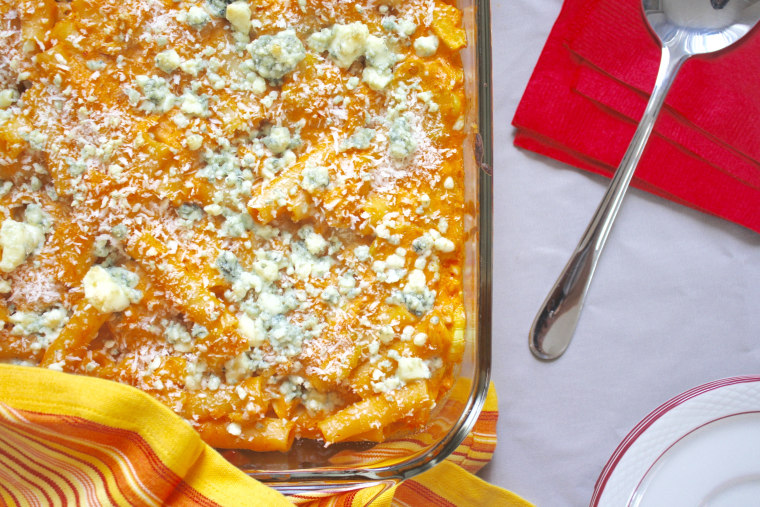 1.
Preheat the oven to 400°F.
2.
Bring a large pot of boiling salted water to a boil. Add the ziti and cook until al dente, according to the package instructions. Drain and return to the pot.
3.
Meanwhile, in a large saucepan, melt the butter over medium heat. Whisk in the flour and cook until foamy, about 2 minutes. Gradually whisk in the milk and bring to a simmer. Continue to whisk at a simmer until the mixture thickens, about 5 minutes. Remove from the heat and whisk in the Buffalo wing sauce and 1 teaspoon salt.
4.
Pour the milk mixture into the pot with the pasta. Add the celery and chicken and stir to combine thoroughly. Pour the pasta mixture into a 9 x 13-inch casserole dish, spreading evenly. Scatter the blue cheese and bread crumbs, if using, evenly over the top.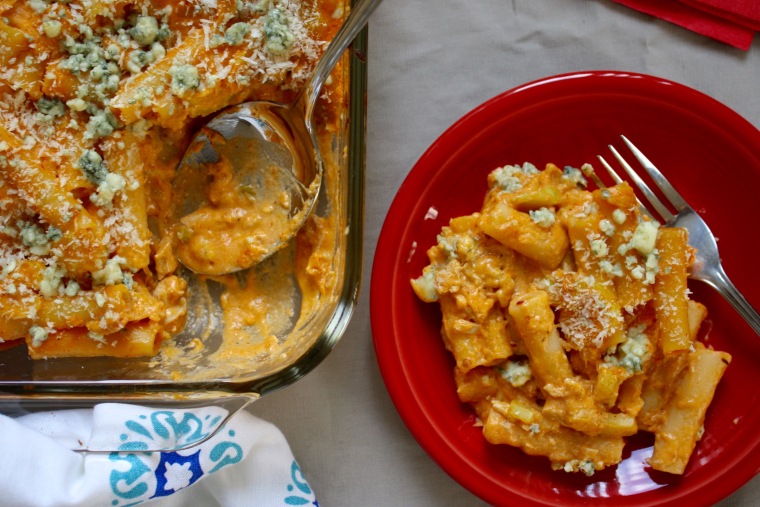 5.
Bake until the mixture is bubbling and the cheese starts to melt, about 12 minutes. Let stand for a few minutes before serving.