Ingredients
Garlic Croutons
2

sticks salted butter

4

cloves garlic, peeled, crushed
1/2

teaspoon ground anise seed

1

baguette
Bouquet Garni
1

teaspoon fennel seed

1

teaspoon anise seed

1

teaspoon freshly ground pepper

2

bay leaves
3

cloves

1

pinch thyme

2

cloves garlic, crushed
Broth
1/3

cup olive oil

1/2

cup finely chopped onion

1/2

cup finely julienned leeks

1/4

cup finely julienned celery

1/2

cup finely julienned carrots

1

tablespoon minced shallots

1½

cups chopped fresh tomatoes
1/2

cup tomato paste

1

cup dry white wine

3

cups fish stock (or clam juice or vegetable broth)
Sea salt and freshly ground pepper

1

Bouquet Garni (see above)

1/2

teaspoon saffron
Bouillabaisse
12

fingerling potatoes, halved (or small red potatoes)

18

littleneck clams, rinsed in cold water

30

mussels, rinsed in cold water, barnacles and beards removed, half-open shells discarded

1

pound (20-24 count) raw shrimp, peeled and de-veined

1

pound sea scallops, rinsed in cold water
2

pounds red snapper, sea bass or swordfish fillets, cut into 2- to 3-inch diagonal slices

1

tablespoon Pernod

1

tablespoon finely chopped fresh fennel

1

tablespoon chopped parsley
Chef notes
Making classic bouillabaisse is easier than you think, according to Jacques Haeringer, executive chef and proprietor of the legendary L'Auberge Chez François restaurant.
Clean the mussels individually under cold running water, scraping off any clinging barnacles or "beards." Discard any half-open shells or any unusually heavy ones, indicating internal grit.
Make-Ahead Tip: Prepare the broth ahead and refrigerate. Reheat the broth and cook the seafood just prior to serving.
Preparation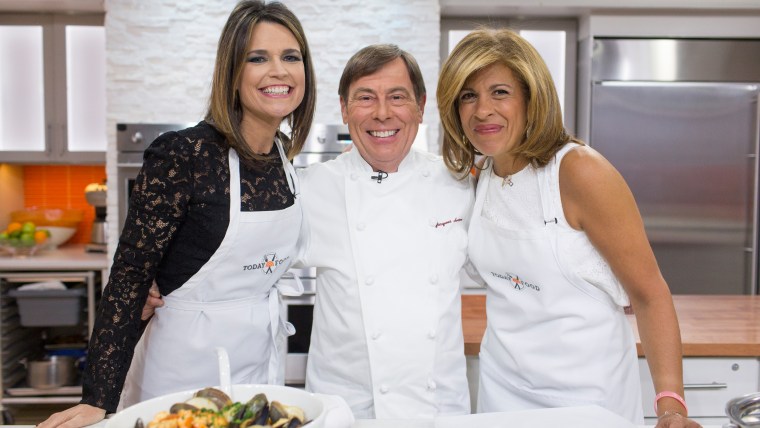 For the Garlic Croutons:
Preheat the oven to 400°. In a small saucepan that's large enough to accommodate approximately two to three bread slices, begin to melt the butter over medium-heat. Add the garlic and anise seed and cook, stirring occasionally, until the butter is completely melted.
Slice the baguette diagonally (to obtain longest possible length) into 1/2-inch to 1/3-inch thick slices.
Place each slice, lengthwise into the melted garlic butter, flip to coat the other side and place on a baking sheet.
Bake in the preheated oven until browned and crisp, about 7 to 8 minutes. Set aside.
For the Bouquet Garni:
Wrap all of the ingredients in a cheesecloth. Reserve for use in the Broth.
For the Broth:
Heat the olive oil in a large saucepan or Dutch oven. Add the onions, leeks, celery, and carrots. Cook covered until tender, about 15 minutes, stirring often.
Add the shallots, tomatoes, tomato paste, white wine, fish stock, salt and Bouquet Garni. Boil for approximately 25 minutes.
Add the saffron and simmer for 5 more minutes.
For the Bouillabaisse:
While the broth is cooking, prepare the seafood.
Bring the Broth to a boil. Add the potatoes and clams and cook for about 3 minutes. Add the mussels to the boiling broth and cook until the clams begin to open, about 3 minutes. Then add the shrimp, scallops and fish. Bring the broth back to a rolling boil until the seafood is just cooked, about 1 minute. Do not overcook the seafood.
Remove from the heat, adjust the seasoning (add more garlic or saffron according to your taste), add the Pernod, chopped fennel and parsley. Serve immediately in large warm soup platters garnished with the Garlic Croutons.