Ingredients
2

bone-in ribeye steaks, just over 1 pound each, at 1 1/2-inch thick
Olive oil for cooking

4

cloves garlic, smashed
6

sprigs fresh herb, such as thyme, rosemary, marjoram or oregano
Salt and pepper for seasoning
Chef notes
The key to making a perfect steak is to keep things as simple as possible and to choose the best quality meat you can find.
Preparation
Remove steaks from refrigerator and let come to room temperature, 30-40 minutes. 
Heat a large cast-iron skillet over high heat until very hot. Add about a tablespoon of oil and let heat 15 seconds.  
Season top side of steaks with a generous amount of salt, and place in skillet, salt-side-down. Let sear until darkly crusted, 3-4 minutes. Season other side of steaks with salt and turn over. Grind fresh black pepper over steaks.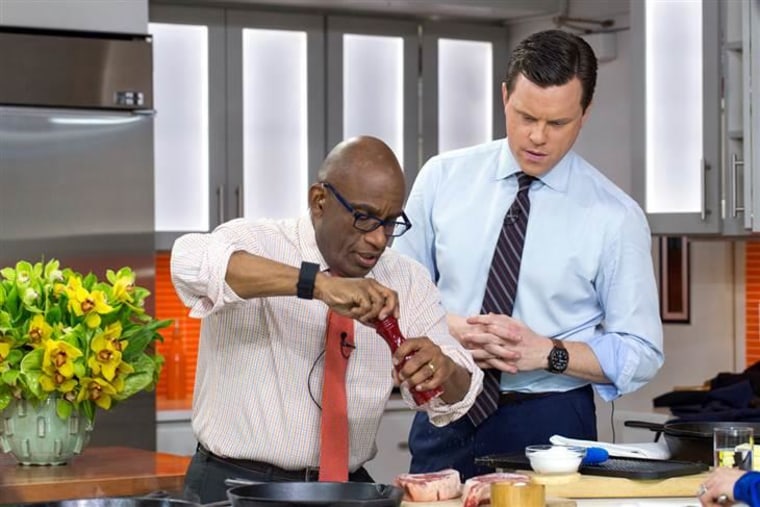 Add the smashed garlic and herb sprigs to the pan while steaks brown, another 3 minutes. Check garlic frequently so that it doesn't burn. As it browns, transfer to the top of the steaks. Tilt pan and spoon the juices over the steaks.  
At this point, if you like your steak rare, transfer to a carving board to rest for 10 minutes before slicing and serving. Reserve pan juices to drizzle over steak once plated. 
Pre-heat oven to 375F. Place pan with steaks in it into the oven for 7-8 minutes for medium-rare, or 9-10 minutes for medium. 
Transfer steak to a carving board to rest 10 minutes before slicing. Drizzle pan juices over the steak once plated.