Chef notes
There is nothing quite like a rice bowl bursting with fresh ingredients that contain diverse textures and flavors. Both delicious and healthy, this recipe hits all the marks for a nourishing comfort meal, while being plant-based and vegetarian. You can also easily swap out the sour cream for coconut yogurt for your vegan pals. It's the ideal recipe to satisfy everyone, no matter their dietary restrictions, and is a real showstopper aesthetically.
Technique tip:  When cooking rice, tie a kitchen towel around the lid of the pan to absorb any excess moisture and ensure your rice cooks properly.
Swap option: Jasmine rice may be substituted in for black forbidden rice.
Ingredients
2

cups black forbidden rice
Kosher salt and freshly ground black pepper

1

teaspoon cumin

1

teaspoon chili powder

1

teaspoon paprika

2

teaspoons garlic powder, divided

2

medium sweet potatoes, cubed into 1/2-inch-thick pieces

1

cup olive oil, divided
1

can black beans

1

bunch scallions, roots removed, thinly sliced, with white and green parts separated

1/2

cup chopped cilantro leaves and stems, plus more whole leaves for garnish

3

limes, 2 zested and juiced, 1 quartered, for serving

1

medium jalapeño, seeded and minced (about 2 tablespoons minced)

2

avocados, halved, pitted and thinly sliced

1

cup sour cream or Greek yogurt

1/4

cup store-bought salsa verde, plus more for serving
Preparation
1.
Preheat the oven to 450 F.
2.
Rinse the rice in a fine mesh strainer thoroughly with cold water until the water runs clear. Add the rice to a saucepan along with 3½ cups of water and 1 teaspoon salt. Bring to a boil over high heat, once boiling, reduce the heat to low, cover and cook at a simmer for 30 minutes. remove from heat, and let the rice sit, covered for 8 to 10 minutes more.
3.
Combine cumin, chili powder, paprika, 1 teaspoon garlic powder and 1½ teaspoons of kosher salt in a small bowl and mix together.
4.
Prepare a baking sheet with parchment paper or foil. Add the diced sweet potatoes, drizzle with ½ cup olive oil and sprinkle with spice blend, toss to coat and roast in the preheated oven until cooked through and golden-brown, about 20 to 25 minutes, tossing halfway through. Remove from the oven and push the potatoes to one side of the tray. Add the drained beans to the same tray to warm through, season black beans with kosher salt and set aside.
5.
In a large bowl, combine the juice and zest of 2 limes, 1 teaspoon garlic powder, white scallions, finely chopped jalapenos, and finely chopped cilantro. Add in remaining ½ cup olive oil and stir to combine. Add salt and pepper to taste. Add to rice, along with reserved scallion greens and toss to combine. 
6.
 In a small bowl, mix together salsa verde and sour cream until well combined. Season with salt and pepper to taste. 

7. Divide the rice amongst serving bowls, top with roasted sweet potatoes, warmed black beans, ½ an avocado, salsa verde crema, cilantro leaves, and a lime wedge. Enjoy! 
How to shop TODAY recipes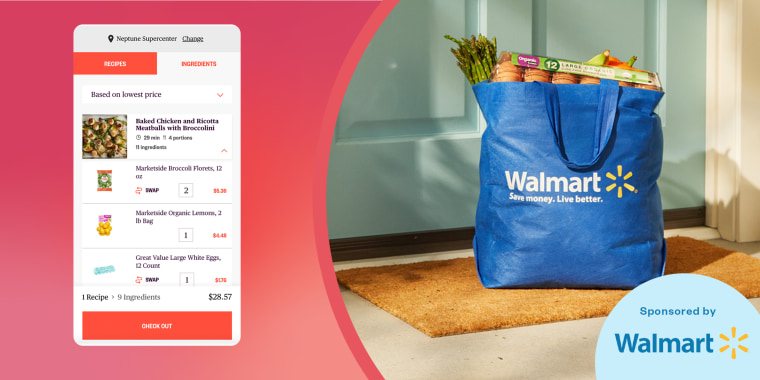 How to shop TODAY recipes
Here's everything you need to know about the cool new feature.
Learn More