Chef notes
A frittata is a versatile dish that can play many roles. It can function as a quick, clean-out-the-fridge dinner, a make-ahead dish for meal prepping easy breakfasts and lunches or a crowd-pleasing brunch star. This spinach ricotta frittata plays all of these parts equally well. As we approach Easter and soon after, Mother's Day, it especially shines as a brunch centerpiece for spring. 
This humble Italian egg dish couldn't be simpler to assemble. The fillings can vary depending on your mood or what you have on hand but here, it's a classic combination of fresh spinach and creamy ricotta cheese. You'll sauté an entire 5-ounce clamshell of baby spinach with a sweet, aromatic shallot in a cast-iron skillet until the spinach is tender and wilted, then pour in a mixture of beaten eggs and milk to form the frittata. Next, big dollops of ricotta are nestled atop the frittata's surface before the whole thing is showered with grated Parmesan cheese. The frittata cooks on the stovetop for a couple of minutes until the edges set, then it's transferred to the oven to finish cooking and for the cheese to melt and become extra luscious. 
What's especially great is you can make this frittata ahead of time — either earlier in the morning or even the night before to be refrigerated and brought out when you need it the next day. Serve it warm or at room temperature, with fresh fruit, muffins or scones, perhaps some crispy bacon, and of course, coffee and mimosas (it's a celebration after all!). 
Technique Tip: Leftover frittata can be refrigerated in an airtight container for up to 5 days and enjoyed cold, at room temperature, or rewarmed. 
Swap Option: You can use frozen spinach instead of fresh, if you prefer. Replace the baby spinach with 7 ounces of thawed frozen chopped spinach. Squeeze out as much liquid as possible from the thawed spinach before adding it to the hot skillet after you've sautéed the shallot. Sauté it for a minute to warm it up before adding the egg mixture. 
Ingredients
8

large eggs

1/3

cup whole milk

1/2

teaspoon kosher salt

1/4

teaspoon freshly ground black pepper

2

tablespoons extra-virgin olive oil
1

medium shallot, peeled and finely diced

5

ounces fresh baby spinach (about 5 packed cups)

1/2

cup whole-milk ricotta cheese

1

ounce Parmesan cheese (1/2 cup firmly packed freshly grated or 1/3 cup store-bought grated)
Preparation
1.
Arrange a rack in the top third of the oven and heat the oven to 350 F.
2.
Crack 8 large eggs into a large bowl and whisk until blended. Add the milk, salt and pepper. Whisk to combine.
3.
Heat the oil in a 10-inch cast iron or oven-safe nonstick skillet over medium heat until shimmering. Add the shallot and sauté until softened, about 2 minutes. Add 5 ounces baby spinach, a handful at a time, and sauté until just wilted, about 2 minutes.
4.
Spread the spinach mixture into an even layer, then pour the whisked eggs over the top, tilting the pan to make sure the eggs spread out evenly to the edges of the pan. Dollop the ricotta all over the surface of the eggs and sprinkle the Parmesan over the top. Cook, undisturbed, until the eggs at the edges of the pan just begin to set, about 2 minutes.
5.
Transfer the skillet to the oven and bake until the eggs are just set, 18 to 20 minutes. Pierce the center of the frittata with a paring knife: It should come out clean without any raw, wet egg. If not, continue to bake until it does.
6.
Switch the oven to broil on high. Broil until the top of the frittata is golden-brown in spots, about 3 minutes. Let cool in the pan for at least 10 minutes. Slice into wedges and serve warm or at room temperature.
How to shop TODAY recipes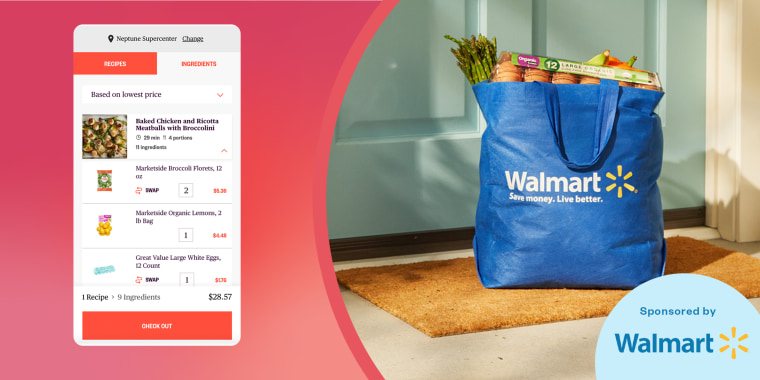 How to shop TODAY recipes
Here's everything you need to know about the cool new feature.
Learn More