Chef notes
Pumpkin spice and everything nice — that's what these muffins are made of! An homage to all things autumn, these pumpkin muffins are tender and plush, nutty from the addition of chopped pecans and extra warm and cozy thanks to a generous amount of pumpkin pie spice. Since bigger is better and more is more in the world of muffins (at least in my book), these jumbo muffins are topped with a pecan and oat streusel that turns golden brown and crisp when baked, creating the loveliest contrast to the soft muffins.  
These drool-worthy muffins will have everyone thinking you spent hours making them, but they're much easier to make than meets the eye. The batter for this recipe is straightforward — whisk the flour, leaveners, salt and pumpkin pie spice together in one bowl, whisk the wet ingredients and sugars in another bowl and then combine the two together along with chopped pecans. Using a combination of oil and butter provides the best flavor and ensures the muffins are plush and stay moist for days. Light brown sugar provides a molasses-y undertone that brings out the flavor of the pumpkin. Meanwhile, sour cream adds moisture and just the right amount of fat to keep the muffins from being dry and crumbly without thinning the batter too much, which helps to keep the streusel from sinking during baking. And just like the batter, the streusel just needs to be mixed in a bowl —no kneading or cutting in butter required. 
Because they're so easy to put together, these muffins are perfect for those crisp, slow autumn mornings. The scent of the warm spices like cinnamon and ginger will permeate the kitchen, seeping into the rest of your home, making the whole place feel extra cozy. Paired with an oversized sweater and hot cup of coffee, these muffins will make all of autumn that much sweeter. 
Technique Tip: This recipe yields 12 large bakery-style muffins. If you only have one (6 cup) jumbo muffin pan, you can bake the muffins in two batches. Just cover the bowl of batter and streusel with plastic wrap and set aside at room temperature while you bake the first batch. 
A light dusting of confectioners' sugar makes these muffins look extra special and gives them a crumb cake-feel, but feel free to omit it. They're just as delicious without it! 
Swap Option: Short on time and ingredients? You can skip the streusel altogether or swap the streusel for a sprinkling of coarse sugar (such as turbinado, demerara or sanding), more pecans or salted pepitas. For a nut-free recipe, feel free to omit the pecans.
Ingredients
For the Muffins
2¾

cups all-purpose flour

1½

tablespoons pumpkin pie spice

2

teaspoons baking soda

1

teaspoon kosher salt

1

(15-ounce) can pumpkin purée

1

cup granulated sugar

1/2

cup packed brown sugar
8

tablespoons (1 stick) unsalted butter, melted

5

tablespoons neutral oil, such as canola or vegetable

2

teaspoons pure vanilla extract

3

large eggs, room temperature

1/2

cup sour cream

1¼

cups pecan halves, chopped (optional)
For the Streusel
3/4

cup all-purpose flour

1/2

cup pecan halves, chopped

1/3

cup rolled oats

1/3

cup packed light brown sugar
3/4

teaspoon pumpkin pie spice

1/2

teaspoon kosher salt

4

tablespoons unsalted butter, melted
confectioners' sugar, for dusting (optional)
Preparation
1.
Arrange a rack in the center of the oven and preheat the oven to 375 F. Line 2 jumbo muffin tins with paper liners.
2.
Prepare the muffin batter: In a medium bowl, whisk together the flour, pumpkin pie spice, baking powder, baking soda and salt. Set aside.
3.
In a separate large bowl, whisk together the pumpkin purée, granulated sugar, light brown sugar, butter, oil and vanilla extract until well combined and no lumps of sugar remain.
4.
Whisk the eggs into the pumpkin mixture until the mixture is homogeneous. Add sour cream and mix until well combined and no streaks remain.
5.
Use a rubber spatula to fold the flour mixture into the pumpkin mixture until about 3/4 of the way combined. Add the chopped pecans and fold until the flour mixture is fully incorporated so that no dry streaks remain and the pecans are evenly distributed.
6.
Divide the batter between the muffin tins, filling each cup about halfway full, about 1/2 cup each.
7.
Make the streusel: In a medium bowl, combine all-purpose flour, pecans, oats, light brown sugar, pumpkin pie spice and salt until no clumps of sugar remain. Add the melted butter and stir, using your hands as needed, until no dry streaks of flour remain and the streusel mixture clumps when squeezed. Top each muffin with 2 tablespoons of the streusel mixture.
8.
Bake the muffins for 25 to 27 minutes until the streusel is golden brown and a toothpick inserted into the center comes out clean.
9.
Cool the muffins in their pans set over a wire rack for a couple of minutes and then transfer the muffins directly to the rack to cool completely.
10.
Dust the muffins with confectioners' sugar before serving, if desired.
How to shop TODAY recipes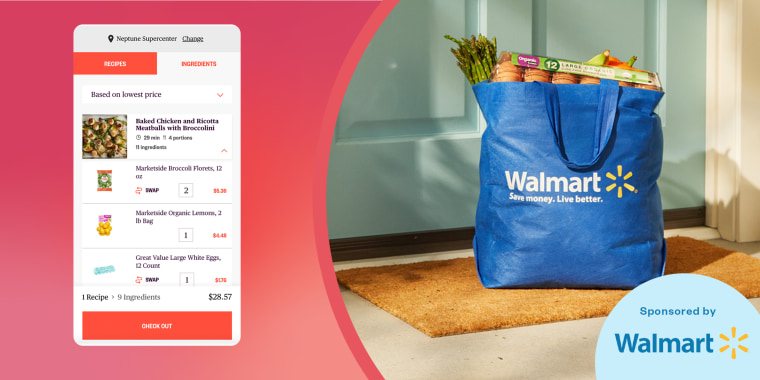 How to shop TODAY recipes
Here's everything you need to know about the cool new feature.
Learn More