Chef notes
While some may chastise the early arrival of pumpkin-flavored, well, everything, I welcome it with open arms. As a self-proclaimed basic (I wrote the holy grail on basic foods, after all), cooking and baking with the orange gourd is a year-round activity that, for me, isn't dictated by a particular season. 
But if you've held out all year and are finally looking to surrender to the sights, smells and, most importantly, tastes of autumn, look no further than these pumpkin bars with velvety cream cheese frosting. 
The beauty of pumpkin bars is in their simplicity: a soft, moist, and spicy cake is balanced with a creamy, decadent and sweet topping. They can be served as a hearty dessert or, for an a.m. indulgence, with a cup of fresh-brewed coffee. Pumpkin bars can also be completely customized to your liking — mix chocolate chips, nuts, or even raisins into the batter and top with the same ingredients for a more unique take on the timeless classic. 
Technique Tip: To avoid clumps in the frosting, make sure that the butter and cream cheese are room temperature before mixing together. This will ensure a smooth and silky consistency that is easy to spread and has a perfect mouthfeel. 
Swap Option: It's important to incorporate a balanced amount of spices alongside cinnamon, but feel free to experiment with other options like allspice and even cayenne pepper. These will add a more potent and unassuming layer of flavor. Also, If you want to swap canned pumpkin for fresh, be sure to only use the puréed flesh from pie, sugar pie or baking pumpkins. Those jack-o'-lantern guts won't do the trick (or treat)!
Ingredients
For the Pumpkin Bars
cooking spray, for greasing

2

cups all-purpose flour

2

teaspoons baking powder

1

teaspoon baking soda

3/4

teaspoon kosher salt

1¾

teaspoon ground cinnamon

1/2

teaspoon ground ginger

1/4

teaspoon ground nutmeg
4

large eggs

1

cup light brown sugar

1/4

cup granulated sugar

1/4

cup whole milk

1

(15-ounce) pumpkin purée

2/3

cup vegetable oil

2

teaspoon vanilla extract
For the Frosting
1

(8-ounce) package cream cheese, room temperature

1

stick (1/2 cup) unsalted butter, room temperature

2

teaspoons whole milk
3

cups powdered sugar

1

teaspoon vanilla extract

1/2

cup chopped walnuts (optional)
Preparation
1.
Position a rack in the middle and preheat the oven to 350 F. Grease a 10 by 15-inch baking pan with butter or cooking spray.
2.
In a large bowl, combine the flour, baking powder, baking soda, salt and spices. Set aside.
3.
In a medium bowl, whisk together eggs, brown sugar, granulated sugar, milk, pumpkin puree, oil, and vanilla until smooth.
4.
Pour wet ingredients into the large bowl with dry ingredients and mix until just combined. Transfer the batter into your greased pan and spread into an even layer. Bake for 25 minutes, or until a toothpick can be removed cleanly from the center.
5.
While the bars are baking, make the frosting. In the bowl of a stand mixer fitted with a paddle attachment, beat the cream cheese, butter, milk, powdered sugar and vanilla extract until smooth and creamy.
6.
Once the bars are completely cool, spread the frosting over the cake, garnish with optional chopped walnuts, and cut into bars.
How to shop TODAY recipes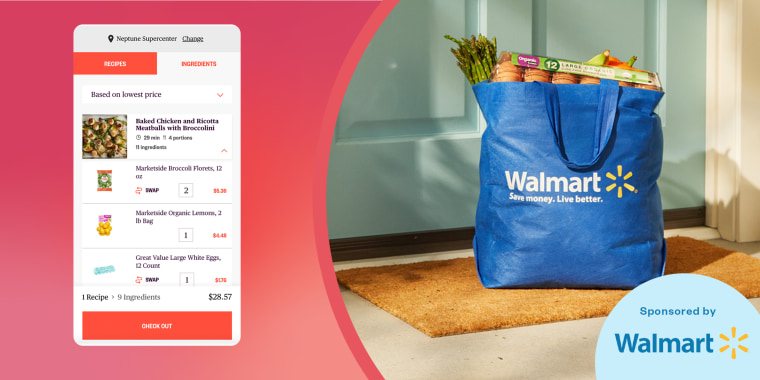 How to shop TODAY recipes
Here's everything you need to know about the cool new feature.
Learn More