Yields:
1 pound of pizza dough
Chef notes
Pizza dough is so much easier to make at home than you might expect, and it can upgrade your family's dinner in less time than it takes to pick up a pie. With the potential exception of active dry yeast, I'm even willing to bet you have the remaining ingredients in your kitchen pantry. This recipe makes about one pound of pizza dough, which is endlessly versatile for homemade pizzas, calzones, stromboli, garlic knots or cheesy bread. 
I'm not sure if it has to do with the physical process of creating dough from scratch or the anticipation of eating a delicious pizza that I didn't have to pay a delivery fee for, but homemade pizza always tastes a little better to me. There is something therapeutic about kneading pizza dough by hand. Creating a soft and tacky dough from nothing more than a few basic ingredients can make any home cook feel like a professional. 
This dough starts out a little on the sticky side, so add a bit more flour as needed to keep it from sticking to your hands as you knead. You can use the dough the same day you make it or store it in a covered container in the refrigerator for up to three days. Letting the dough rise in the refrigerator allows it to ferment more slowly than it would at room temperature – this will actually improve the flavor and the overall texture. Make sure to bring the dough back to room temperature before you stretch it out for pizza.
Technique Tip: If you have a stand mixer, knead the dough on medium speed with the dough hook. Once the dough is incorporated into a ball, it should only take 2 to 3 minutes in the mixer. 
Swap Option: Swap ½ cup of all-purpose flour for whole wheat flour – this will make the dough a little heartier and give it a bit of a nutty flavor. 
Ingredients
1

(1/4-ounce) packet active dry yeast (2¼ teaspoons)

1½

teaspoons granulated sugar, divided

3/4

cup warm water
2

cups all-purpose flour, plus more for kneading

1

teaspoon kosher salt

1

tablespoon extra-virgin olive oil, plus more for bowl
Preparation
Dissolve yeast and 1/4 teaspoon sugar in warm water in a large bowl. Let stand until yeast activates and is foamy and fragrant, about 5 minutes. Add flour, salt, oil and remaining 1¼ teaspoons sugar and stir until a dough begins to form. Dump dough onto a lightly floured surface and knead until dough is smooth and springs back when pressed with your finger, about 5 minutes (dough will be a little sticky, so add flour as needed). Transfer to a well-oiled bowl and turn to coat. Cover and let rest in a warm area until doubled in volume, about 30 minutes. Use immediately or refrigerate up to 3 days (return to room temperature before using).
How to shop TODAY recipes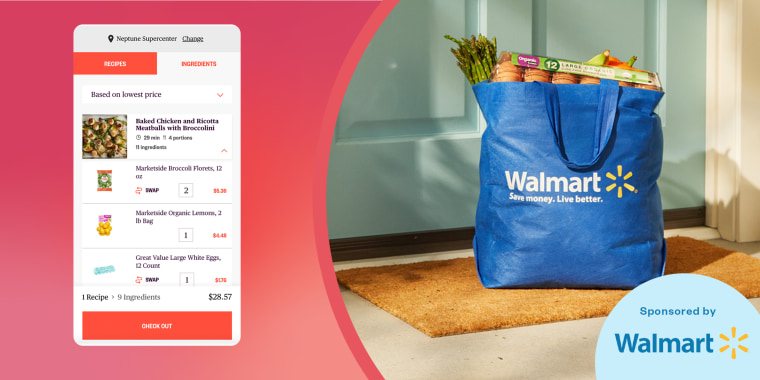 How to shop TODAY recipes
Here's everything you need to know about the cool new feature.
Learn More