Chef notes
Chocolate chip muffins are a nostalgic treat that remind me of weekend rituals growing up. My dad would often stop at our local bakery on his way home from the office Friday to pick up chocolate chip muffins for us to enjoy on Saturday morning. These muffins were gigantic — even half was a bit too big for me or my sister — and they were sprinkled with a generous amount of sugar for crunch and extra sweetness. This recipe is my version of those childhood muffins, shrunk down to normal muffin-size so that no one needs to share.
There's nothing complicated about making great chocolate chip muffins, but a few tips will set you up for success. First, it's important to not overmix the batter. Stirring it excessively results in tough muffins, which is the last thing you're after. Instead, stir it just until there are no dry spots — some small lumps in the batter are okay. Next, keep a close eye on the muffins once they're in the oven. They don't take much time at all to bake, so it's wise to not stray too far. Once the muffins spring back lightly when pressed gently and a toothpick inserted into the center of a muffin comes out clean, they're done. Pulling them at the right moment is the secret to a moist crumb.
It might go without saying, but these muffins are best enjoyed warm, while the chocolate chips are still melty and it's a slightly messy endeavor to polish off every last crumb.
Technique Tip: Store the muffins in an airtight container at room temperature for up to three days. Alternatively, they can be frozen in an airtight container or zip-top bag for up to three months and thawed at room temperature.
Swap Option: For a chocolate peanut butter twist, try replacing half of the chocolate chips with peanut butter chips. 
Ingredients
1

cup whole or reduced-fat milk

1/4

cup unsalted butter, melted and slightly cooled

2

large eggs

2

teaspoons pure vanilla extract

2

cups all-purpose flour
1/2

cup plus 2 teaspoons granulated sugar, divided

1

tablespoon baking powder

1/2

teaspoon kosher salt

1

cup semisweet chocolate chips
Preparation
1.
Arrange a rack in the middle of the oven and preheat to 375 F. Line a standard 12-well muffin pan with paper liners or coat with cooking spray.
2.
In a medium bowl, whisk milk, butter, eggs and vanilla together until combined.
3.
In a separate large bowl, whisk flour, 1/2 cup sugar, baking powder and salt together. Pour the wet ingredients into the dry ingredients and mix with a sturdy rubber spatula or wooden spoon until just combined. Some small lumps are fine. Add chocolate chips and fold until just distributed; do not overmix.
4.
Divide the batter among the prepared muffin wells and sprinkle with the remaining 2 teaspoons sugar. Bake until the muffins are golden brown and a toothpick inserted into the center of a muffin comes out clean, 18 to 20 minutes. Let cool for 5 minutes before removing the muffins from the pan.
How to shop TODAY recipes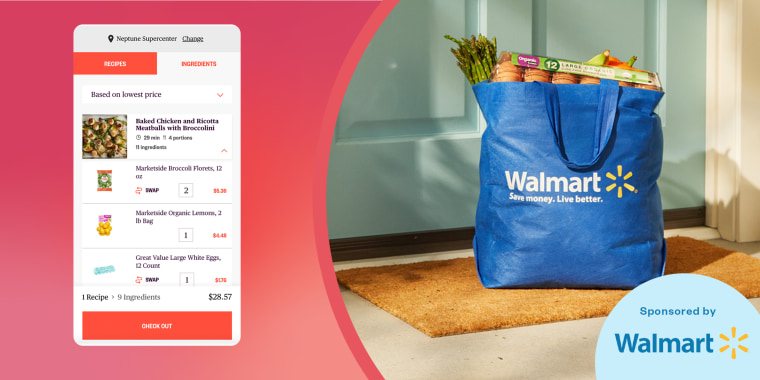 How to shop TODAY recipes
Here's everything you need to know about the cool new feature.
Learn More