Chef notes
What could be better than a loaf of banana bread? Banana cake topped with a generous swoop of smooth cream cheese frosting. Much like the ever-popular banana bread, this cake is buttery, moist, lightly spiced and packed with real banana flavor. As it bakes, the batter itself rises quite a bit, creating a thick cake layer. It is soft, but not too tender; dense, but not too heavy; sweet, but not at all overpowering. Most importantly, it is a crowd pleaser. I watched this cake disappear more quickly than anything else I have baked lately. 
Super ripe bananas are your best-kept secret here. When the bananas on your counter have languished and are no longer suitable to eat out of hand, the best thing you can do is make this cake (pat yourself on the back at the same time for not creating food waste!) There is a very fragrant floral sweetness that you can only get from over-ripe bananas, and they infuse every bite of this cake. 
And we all know frosting is the best part of any cake, especially when cream cheese is involved. The tanginess from the cream cheese is the perfect complement to a sweet cake. Plenty of fluffy frosting is plopped on top and swirled to cover every inch of cake (a small offset spatula is the best tool for the job, but a spoon will help you create beautiful swoops). Good news: you might even have a little extra frosting to lick off the spatula. An optional sprinkle of toasted walnuts on top really drives home that classic banana bread feel. 
Technique Tip: The key to silky smooth frosting is using room temperature ingredients. Set them out when you start making the cake. By the time the cake cools and is ready to frost, the cream cheese and butter will be softened. 
Swap Option: Swap 1 banana for ½ cup of diced pineapple (canned or fresh) and walnuts for pecans and you have hummingbird cake!
Ingredients
Cake
1

stick unsalted butter, room temperature, plus more for pan

2

cups all-purpose flour

1

teaspoon kosher salt

2

teaspoons baking powder

1/2

teaspoon baking soda

1/2

teaspoon ground cinnamon
1

cup granulated sugar

3

very ripe bananas, mashed

2

large eggs, room temperature

1½

teaspoons pure vanilla extract

3/4

cup milk
Frosting
8

ounces cream cheese, room temperature

6

tablespoons unsalted butter, room temperature

1/8

teaspoon kosher salt
3

cups confectioners' sugar

1/4

cup toasted walnuts, chopped (optional)
Preparation
Make the cake:
1.
Preheat the oven to 350 F. Brush a 9-inch square baking pan with butter and line with parchment paper, leaving an overhang on two sides.
2.
In a medium bowl, whisk together flour, salt, baking powder, baking soda and cinnamon. In the bowl of a stand mixer, beat butter and sugar on medium-high speed until light and fluffy, 2 to 3 minutes. Add bananas, eggs and vanilla and beat until well combined, scraping down sides of the mixer bowl as needed. With the mixer on low speed, add flour mixture and milk alternately to batter, beginning and ending with flour mixture. Continue to mix until everything is incorporated. Transfer the batter into the prepared pan and spread to the edges.
3.
Bake until the top is golden brown and a toothpick inserted into the center comes out clean, 35 to 45 minutes. Let cool for 30 minutes, then lift the cake from the pan and let cool completely on a wire rack, about 1½ hours.
Make the frosting:
In the bowl of a mixer, beat cream cheese, butter and salt on medium speed until smooth and creamy, 1 to 2 minutes. Slowly add confectioners' sugar and beat until thick and fluffy, about 2 minutes. Spread frosting onto cooled cake, then sprinkle with walnuts if desired.
How to shop TODAY recipes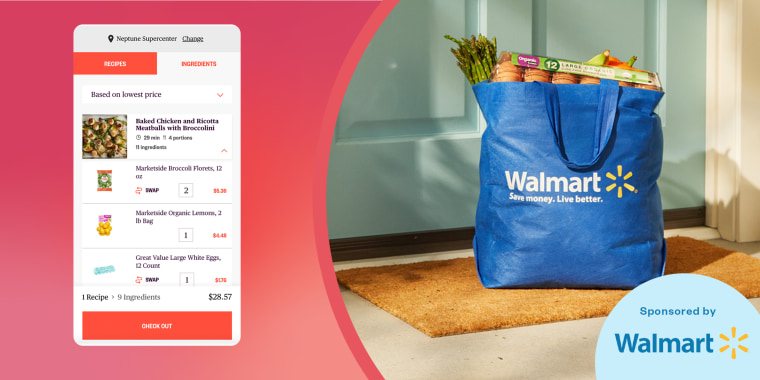 How to shop TODAY recipes
Here's everything you need to know about the cool new feature.
Learn More