Ingredients
Beef Tenderloin
2

pounds beef tenderloin
Kosher salt
Freshly ground black pepper
Blue Cheese Slaw
1/2

cup green cabbage, shaved

1/2

cup red cabbage, shaved

1/4

cup carrots, julienned

1

tablespoon green onions, green part only, thinly sliced
1

tablespoon celery leaves, thinly sliced
Blue Cheese Crema (see recipe below)

1

teaspoon salt

1/2

teaspoon pepper
Blue Cheese Crema
1/2

cup blue cheese crumbles
Juice of 1 whole lemon
Zest of 1 whole lemon

1/4

cup mayonnaise
1

pinch Kosher salt

1/2

teaspoon fresh black pepper

2

tablespoons water
Crispy Onions
2

large yellow onions, thinly sliced

2

cups buttermilk

4

cups all-purpose flour

1

tablespoon paprika

1

tablespoon cayenne pepper
1

tablespoon onion powder

1

tablespoon kosher salt

1

tablespoon black pepper

Vegetable

oil for frying
Preparation
For the beef tenderloin:
Prepare a hot charcoal or gas grill. Season the beef liberally on both sides with salt and pepper.
Place beef on hot grill and cook without moving until there are grill marks, 4-5 minutes
Turn the meat over and grill for another 2-3 minutes for medium rare, 4 minutes for medium, 5 minutes or longer for medium-well.
Remove beef from grill and let it rest for at least 3 minutes before slicing.
Cut beef tenderloin against the grain into 4-inch-long and 1/4-inch-thick slices.
For the blue cheese crema:
In a blender, add blue cheese, lemon juice, lemon zest, mayonnaise, salt, and pepper. Blend mixture on high until well combined. Add water as needed to achieve creamy consistency. Set blue cheese crema aside.
For the slaw:
In a medium-size bowl, combine green cabbage, red cabbage, and carrots. Add green onions and celery leaves. Toss with ½ cup of blue cheese crema. Season slaw with salt and pepper.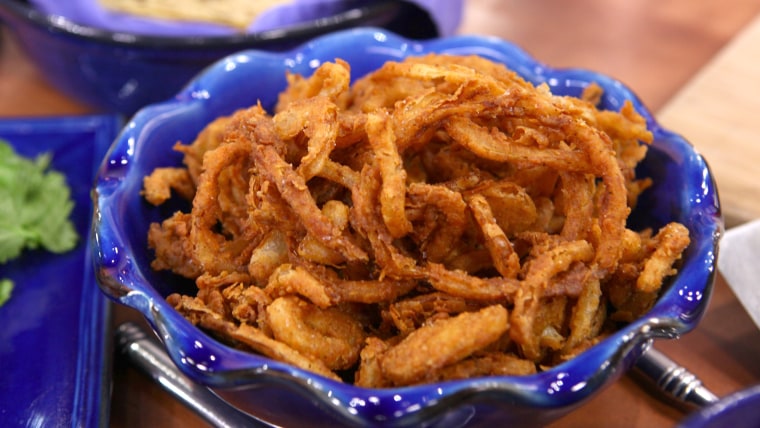 For the crispy onions:
In a medium-size bowl, place onions in buttermilk and set aside for 1 hour.
In another bowl, whisk together the flour, paprika, cayenne, onion powder, salt, and pepper
Strain onions from buttermilk and toss them in the seasoned flour until they are evenly coated. Shake off excess flour.
In a large, deep skillet or fryer, heat oil to 350 degrees F. Carefully drop the onions, in small batches, into the oil, using a slotted spoon to separate them. Fry for 3–4 minutes, until golden brown, and remove them with a slotted spoon.
Place crispy onions on paper towels to absorb excess oil. Season immediately with salt.
To assemble the taco:
Warm corn tortillas on the grill for 20 seconds. Top the warmed tortillas with the blue cheese slaw, then the sliced beef tenderloin. Crown the layers with crispy onions. Serve with salsa (optional).
Recipes reprinted with permission from Lorena Garcia's New Taco Classics, published by arrangement with Celebra, an imprint of Penguin Publishing Group, a division of Penguin Random House LLC. Copyright © 2015 by Lorena Garcia.