Chef notes
This dish represents chef Jernard Wells' Southern roots and the flavors he associates with family. Growing up, he would always look forward to nights when they'd gather around the table to eat his mother's smoked Gouda grits and his father's barbecue shrimp, and it was those family memories in the kitchen that inspired this recipe. 
The whole dish comes together in about 30 minutes, including prep and cook time, making it a perfect weeknight dinner option. Instead of reaching for a bottled barbecue sauce, follow Wells' easy instructions for creating your own sauce at home — it's easier than you might think, and the flavors are even better than store-bought versions. The addition of andouille sausage adds both a smoky flavor and an extra hit of protein. Wells also recommends using quick-cooking instant grits instead of traditional grits, to help take pressure off and give you back more time in the evening. Cooking the grits with chicken broth and smoked Gouda results in an anything-but-boring side dish. 
Technique Tip: Cook grits low and slow until there is no grittiness. You'll know they're  done when the texture is smooth and creamy. When cooking shrimp, pay close attention to the color and opaqueness to avoid overcooking: As soon as the thick part of the shrimp has turned pink and opaque, it's done.
Swap Option: You can use avocado oil instead of butter. Seared scallops or grilled fish such as catfish, sea-bass, cod or lobster tail all make great substitutions for shrimp. 
Ingredients
For the Grits
3

cups no-sodium chicken broth

1

tablespoon unsalted butter

1

cup quick grits
1

cup shredded smoked Gouda cheese, plus more for garnish
kosher salt and freshly ground black pepper, to taste
For the Shrimp
1

teaspoon olive oil

2

tablespoons unsalted butter

1/2

green bell pepper, medium diced

3

cloves garlic, minced

1

small Vidalia onion, diced
kosher salt and freshly ground black pepper, to taste

1-2

links smoked sausage, preferably andouille, sliced
1

pound jumbo shrimp, peeled and deveined, tails off

1½

teaspoons smoked paprika

1½

teaspoons Creole seasoning

1/4

cup Worcestershire sauce

1

teaspoon dark brown sugar
sliced scallions, to garnish
Preparation
For the smoked Gouda grits:
1.
In a medium saucepan, bring the chicken broth and butter to a boil over medium-high heat.
2.
Add the grits in a steady stream and whisk quickly. Turn the heat down to medium-low and cook the grits until tender and creamy, 7 to 8 minutes. Add more liquid, if needed, to achieve the desired consistency.
3.
Fold in the smoked Gouda and season with salt and pepper to taste.
For the barbecue shrimp:
1.
In a large skillet set over medium-high heat, add the olive oil and butter and cook until melted.
2.
Add the bell peppers, garlic and onion, and sauté until soft, about 5 minutes. Season with salt and pepper to taste. Add the sausage and stir to combine.
3.
Season the shrimp on each side with the smoked paprika and Creole seasoning.
4.
Make room in the pan to add the shrimp and nestle them into the peppers, onion and sausage mixture. Add Worcestershire sauce and brown sugar and stir to combine. Cook the shrimp for 4 minutes, then flip them, and continue cooking until the shrimp are pink and tender, 1 to 2 minutes more.
6.
Place grits in bowl, layer shrimp with vegetables and sauce in the center, then garnish with shredded Gouda, minced green onions, salt and pepper to taste.
How to shop TODAY recipes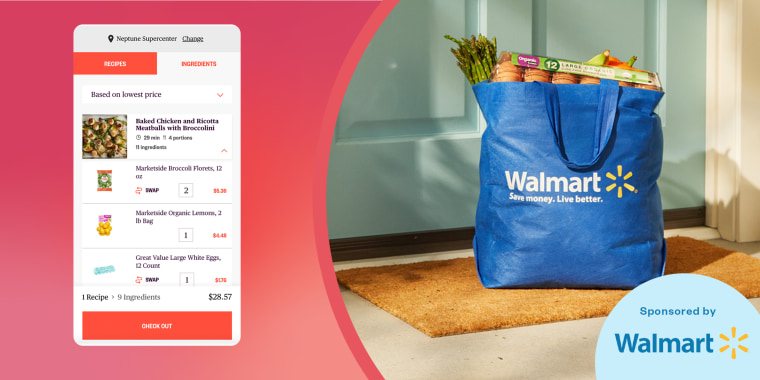 How to shop TODAY recipes
Here's everything you need to know about the cool new feature.
Learn More