Ingredients
Cauliflower Rice
1

large head cauliflower, leaves removed
Shrimp
1

pound large shrimp, peeled and deveined

1

teaspoon garlic powder

1

teaspoon onion powder

1

teaspoon smoked paprika

⅛

teaspoon sea salt
⅛

teaspoon freshly ground black pepper

1

egg, beaten

1

tablespoon arrowroot powder

1½

cups cornflakes, crushed
Spicy Mayo Sauce
½

cup reduced-fat mayonnaise

¼

cup 2% Greek yogurt

3

tablespoons Sriracha
1

tablespoon garlic, peeled and minced

2

teaspoons honey
red chili flakes (optional)
Chef notes
The benefit of air frying anything—be it frozen foods or fresh seafood such as shrimp—is that there's lighter calories than deep-fried. For a low-carb meal, use cauliflower rice rather than white or brown rice. The cornflake coating provides crunch and subtle sweetness that's a welcome addition to this dish. To make this dish even more colorful, add a side dish such as a slaw to double the amount of vegetables.
Swap Option: Use gluten-free cornflakes for a gluten-free meal. You may purchase cauliflower rice if you don't want to make it yourself.
Special Equipment Needed: You'll need an air fryer and food processor to recreate this recipe.
Preparation
1.
Fill a large pot of water about a ¼ of the way and bring to a simmer.
2.
Add chopped cauliflower and florets to a food processor and pulse until it resembles grains of rice. Note: do not blend the cauliflower, as it will be too fine. Add the cauliflower to a mesh strainer, then set it over the pot of boiling water (it should not be touching the water). Cover with a lid and allow it to steam for 10 to 15 minutes. Set aside to cool.
3.
Set an air-fryer (or oven) to 400 F.
4.
In a large bowl, add shrimp, seasonings and egg and toss to combine. Sprinkle in the arrowroot power and mix again — it should be very sticky. If not, add another teaspoon of arrowroot until it's sticky.
5.
Add crushed cornflakes to a bowl or a baking tray or shallow bowl. Coat the shrimp in the crushed cornflakes, pressing the cornflakes onto the shrimp to ensure it sticks. Transfer the shrimp to an air fryer and cook for 5 to 7 minutes, or until they are golden brown and cooked through. Depending on the size of your air fryer, you may need to cook the shrimp in batches.
6.
While the shrimp cooks, prepare the spicy mayo. In a medium bowl, add the mayonnaise, Greek yogurt, Sriracha, garlic, honey and red chili flakes (if using) and whisk to combine.
7.
Serve the shrimp over steamed cauliflower rice. Drizzle the Bang Bang sauce on top.
How to shop TODAY recipes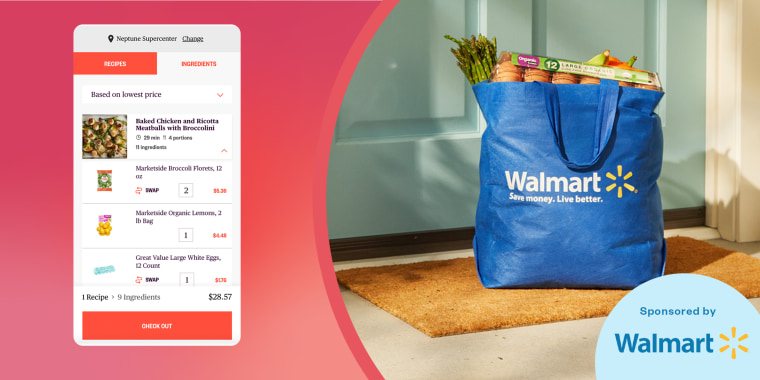 How to shop TODAY recipes
Here's everything you need to know about the cool new feature.
Learn More