Ingredients
1

pound flank steak, hanger steak or flatiron steak

1/2

cup balsamic vinegar, divided into 1/4 cup each

1/4

cup beef or chicken broth

2

cloves garlic (1 thinly sliced and 1 minced)
salt
black pepper

1/4

cup extra virgin olive oil

1

cup white vinegar
3

tablespoons granulated sugar

1

small red onion, very thinly sliced

1

9-ounce bag baby spinach or 1 large head romaine lettuce, torn into bite size pieces

1/2

cup crumbled blue cheese

1/2

cup thickly sliced red grapes

1

teaspoon vegetable oil or canola oil
crusty bread for serving (optional)
Chef notes
All of these components except the marinade can be prepped the night before.
Preparation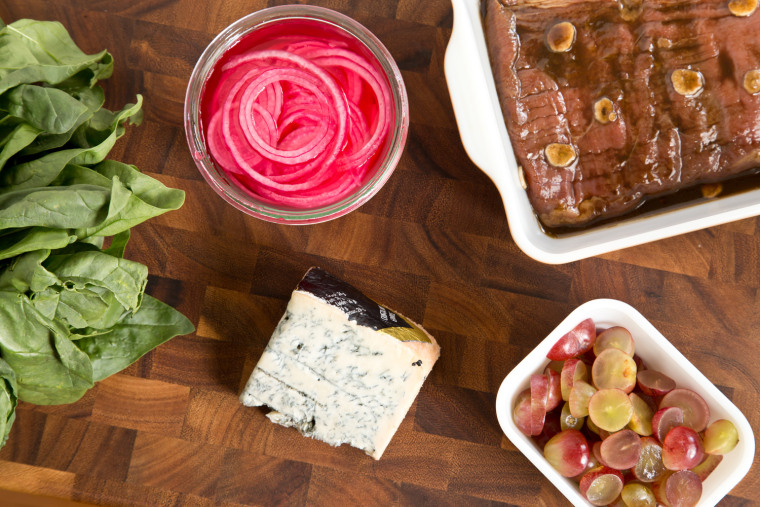 Take 15 minutes and prep this in the morning:
Marinate the steak: Place the steak in a large zip-top bag and add 1/4 cup balsamic vinegar along with the beef or chicken broth, the sliced garlic clove, and a healthy pinch each of salt and pepper. Seal tightly, pressing to remove as much of the air in the bag as possible, and massage gently to mix the marinade together. Refrigerate at least 4 and up to 12 hours.
Make the salad dressing: Shake 1/4 cup balsamic vinegar with the minced garlic clove, a healthy pinch each of salt and pepper, and the olive oil in a sealable jar like a Mason jar. Refrigerate until needed.
Quick-pickle the onions: Whisk the vinegar and sugar together until the sugar dissolves. Add the onions, making sure they're fully submerged. Cover and refrigerate until needed (at least 1 hour and up to 1 week).
Wash the greens if necessary, crumble the blue cheese and slice the grapes. Refrigerate in separate containers until needed.
 And take 15 more minutes to finish it off at night:
Remove the steak from the marinade and pat dry, making sure to remove any pieces of garlic.
Heat a large, heavy pan like a cast iron skillet over medium-high heat. Add the vegetable oil and carefully lay the steak in the pan. Cook for about 5 minutes per side, flipping once or twice, until a thermometer inserted into the thickest part of the steak registers 140 degrees F for medium-rare.
Let the steak rest for 5 minutes on a cutting board while you toss the greens, blue cheese, and grapes together and divide between 4 plates.
Thinly slice the steak and divide evenly between the 4 salads. Top each salad with a few slices of red onion and drizzle with the balsamic dressing.
Serve with crusty bread, if desired.