Ingredients
20

ounces cheese tortellini, fresh or frozen
kosher salt and pepper, to taste

1

tablespoon extra-virgin olive oil

1

small yellow onion, peeled and finely chopped

2

cloves garlic, peeled and minced

8-12

ounces Italian sausage (sweet or hot), casings removed
1½

tablespoons red wine vinegar

24

ounces marinara sauce (store-bought or homemade)

1/2

cup ricotta cheese

2

tablespoons milk or heavy cream

2

cups shredded mozzarella

1/2

cup grated Parmesan cheese
Chef notes
When it comes to baked pasta, ziti shouldn't have all the fun. Here, tortellini — small, ring-shaped stuffed pasta typically filled with meat or cheese — bring a welcome change of flavors and textures to the party. It's a dish that checks all the boxes (quick, easy, filling, comforting!), and from start to finish, can be on the table in under 40 minutes. 
The steps are simple: Sauté onion, garlic and Italian sausage in a skillet. Deglaze the pan with red wine vinegar: a small, impactful step that brings brightness and complexity to the entire dish. Add cooked tortellini and marinara sauce (store bought versions of both are encouraged!), then top with cheese and transfer to the oven until bubbling and browned on top.
A note about the cheese — arguably the most important part of any baked pasta. The trick for a flavorful but not heavy cheese topping is using three varieties: ricotta for its creaminess, mozzarella for its superior meltability and Parmesan for its sharp nuttiness. Bonus: the three cheeses together make for the best, most impressive cheese pulls. 
Make-ahead: The dish can be fully assembled, covered and refrigerated for up to a day (or frozen for a few months) before baking. Be sure to undercook the tortellini a little more than specified in the instructions below during its initial boil. As the tortellini sits in the sauce in the fridge or freezer, it'll continue to soften — and even more so once in the oven. 
Preparation
1.
Heat oven to 425 F.
2.
Bring 4 quarts of water to a boil. Add 2 tablespoons salt and tortellini; cook until just shy of al dente according to package directions – about 30 seconds less than the recommended cook time for fresh, fast-cooking tortellini; 1 to 2 minutes shy for frozen varieties. Drain the tortellini and set aside.
3.
Meanwhile, in a 12- or 14-inch ovenproof skillet, warm olive oil over medium heat. Add onion and a few pinches of salt and pepper. Cook for 4 to 6 minutes, or until the onion is mostly tender.
4.
Crumble sausage into skillet, using a spoon to break it into small pieces. Cook until starting to brown, stirring occasionally, about 5 minutes. Stir in garlic and cook 1 to 2 minutes longer. Add red wine vinegar. Cook, stirring constantly, until it has evaporated, about 30 seconds.
5.
Stir in marinara. Lower heat and let simmer for 5 minutes to marry the flavors. Add the cooked tortellini, gently stirring to fully coat in the sauce. Take the skillet off the heat.
6.
In a small bowl, stir together ricotta and mozzarella with 2 tablespoons of cream or milk to thin. (You're looking for a smooth, spreadable consistency.) Season with salt and pepper. Dollop the ricotta mixture evenly over the pasta, then top with remaining mozzarella and Parmesan.
7.
Bake for about 15 minutes, or until the sauce is bubbling around the edges and the cheese is melted and lightly browned. Serve warm.
How to shop TODAY recipes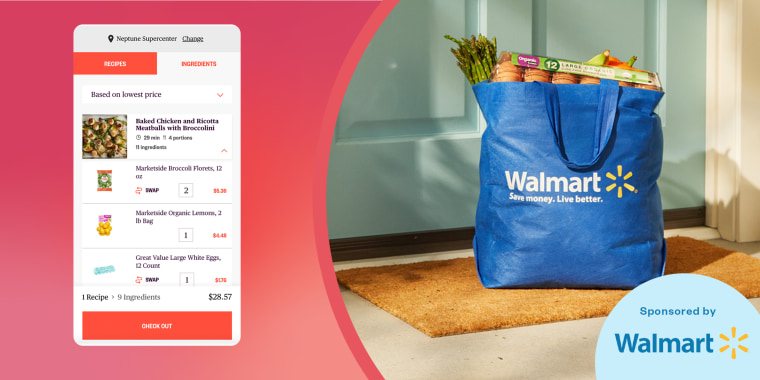 Here's everything you need to know about the cool new feature.