Ingredients
12 to 14

pound turkey

1

onion, coarsely chopped

2

medium carrots, sliced

1

head garlic, halved horizontally
Kosher salt and freshly ground pepper

1

pound sliced bacon

1/3

cup all-purpose flour

4

cups turkey stock, preferably homemade
Chef notes
As if Thanksgiving couldn't get any more decadent, this show-stopping bacon-wrapped turkey is the ultimate indulgence. The bacon blanket is not only impressive to look at, but it adds a deep, rich flavor and keeps the turkey incredibly moist. (It makes the gravy pretty tasty too!)
Preparation
Preheat the oven to 350° and arrange the shelf nearest the bottom.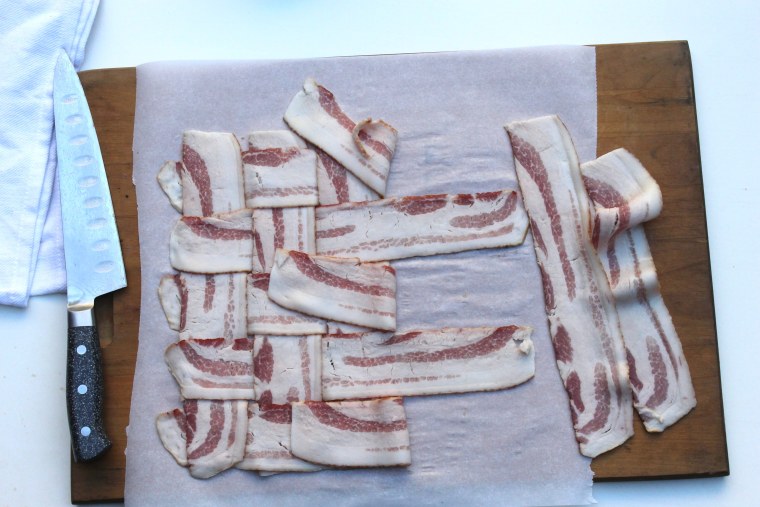 Place a large sheet of parchment paper on a work surface. Arrange half of the bacon in strips, side to side to form a square. To form a lattice, working from the left side of the square, fold back every other strip of bacon the width of a slice. Lay a new slice of bacon over the unfolded strips and return the folded bacon to the original position.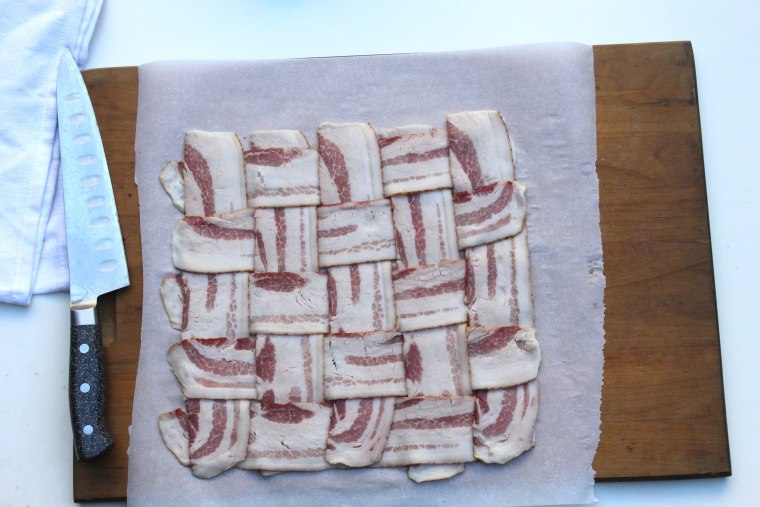 Continue weaving the remaining bacon in the same manner, until you have a woven square. Slide the parchment onto a baking sheet and transfer to the freezer for 10 minutes, until the bacon is firm.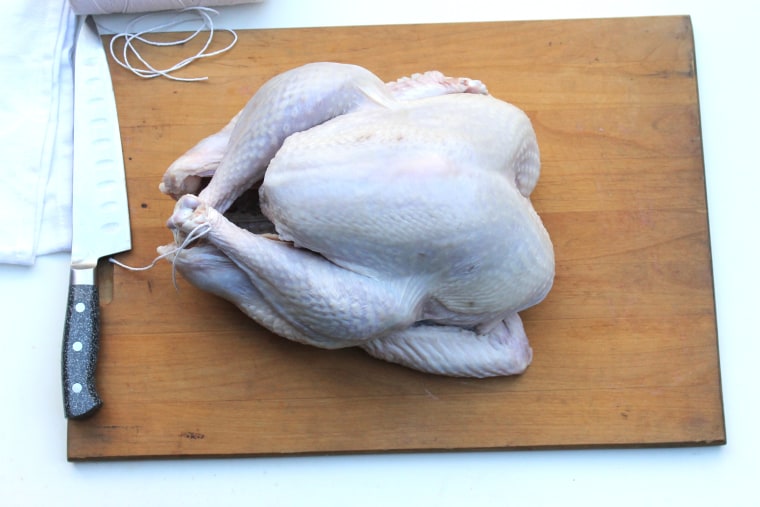 Place the turkey on a cutting board and tie the legs together.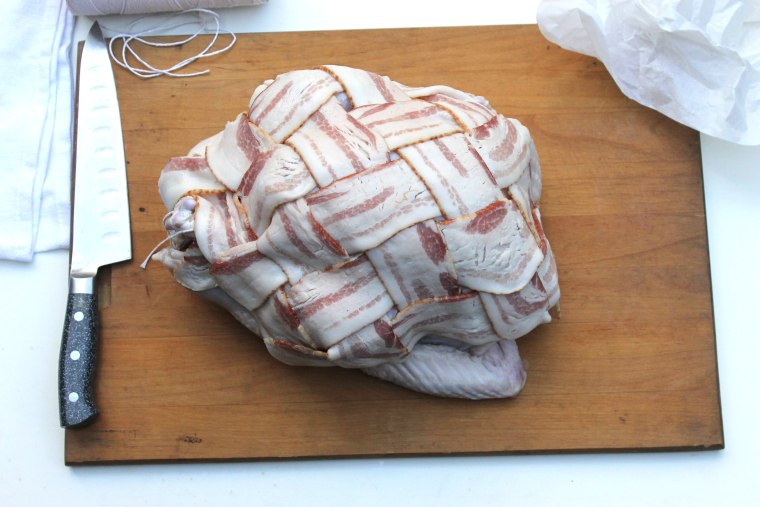 Remove the bacon from the freezer and working quickly, carefully lift it from the parchment. Arrange the bacon square so that the 4 corners are at the neck, the cavity and both wings. Tuck the bacon around the bird, covering the breast and legs. Season with pepper.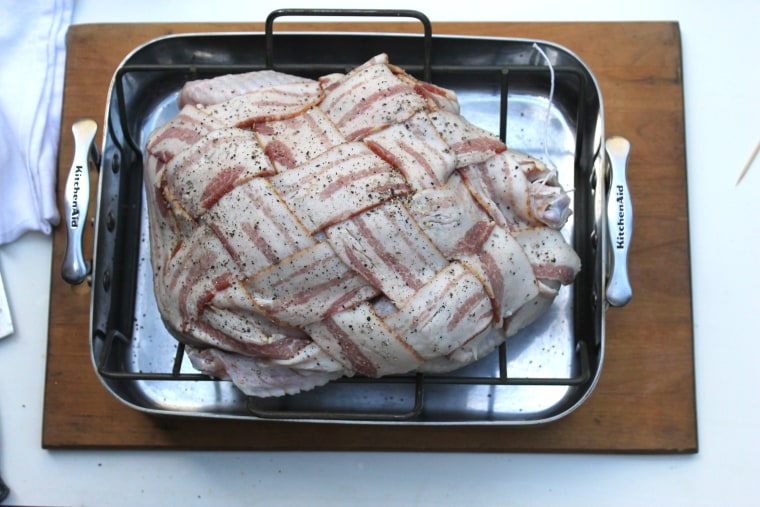 Place the turkey onto a roasting rack set in a roasting pan and scatter the vegetables, neck and giblets all around. Add 3 cups of water to the pan. Loosely cover the turkey with foil and roast for 1 ½ hours, adding water to keep the vegetables moist. Remove the foil and roast until in instant-read thermometer inserted in the thigh registers 165°, about 1 ½ hours longer. 
Carefully transfer the turkey to a cutting board while you make the gravy. Strain the pan juices into a heat-proof cup and spoon 4 tablespoons of the fat into a large saucepan. Discard the remaining fat. Whisk the flour into the fat and cook over moderately high heat until bubbling and nutty, about 4 minutes. Add the turkey stock and defatted pan juices and bring to a boil. Simmer over moderate heat until thickened, about 10 minutes. Season with salt and pepper to taste.
Carve the turkey and serve with the gravy.
Grace Parisi is a New York City-based food writer, cookbook author and food stylist. Her book, Get Saucy, was nominated for a James Beard award. Her latest book, Quick Pickles comes out in Spring 2016. Follow her on Instagram and Twitter.