Chef notes
Cabbage is one of the most underrated vegetables on the market, bar none. It can be thinly sliced and served raw in coleslaw, slowly braised for hours until tender and melted or tossed in some olive oil and roasted, like we do in this recipe.
Roasting is one of our favorite ways to enjoy this often-overlooked cruciferous vegetable. For starters, it's a hands-off technique, so you can tackle other kitchen tasks while the cabbage cooks. In addition, the recipe couldn't be simpler — there are only three ingredients (that is, if you don't count salt and pepper). Since there is such a short ingredient list, one of them is responsible for a lot of the flavor — bacon. Bacon is smoky, salty and a little bit sweet, which is a perfect complement to the mellow, earthy flavor of the cabbage wedges.
Once the dish emerges from the oven, the bacon is crisp and all of the flavorful drippings have soaked into the layers of the cabbage. The wedges themselves end up super tender, almost slicing like butter. The bacon can then be either chopped up or crumbled with your hands to sprinkle over the cabbage. 
The recipe uses the whole head of cabbage, which is great news since it can be tough to make your way through a head. These roasted cabbage wedges serve four as a hearty side dish, but the recipe can easily be scaled back if needed. If you bought a head of cabbage for coleslaw or stir-fry, chances are you have at least half of it stowed away in the back of the crisper (luckily for us all, cabbage lasts seemingly forever in the refrigerator). This recipe is a great way to make use of the rest of that nutritious vegetable.
Ingredients
1

head green cabbage, trimmed and cut into wedges

2

tablespoons extra-virgin olive oil
kosher salt and freshly ground black pepper, to taste

6

slices bacon, halved
Preparation
1.
Preheat the oven 450 F.
2.
Place the cabbage wedges in a large baking dish, drizzle with the olive oil and season generously with salt and pepper. Drape the bacon slices over the wedges and roast for 20 minutes.
3.
After 20 minutes, remove the bacon from the cabbage then flip over the cabbage bundles. Arrange the bacon on top of the cabbage again and make sure it's also been flipped upside down. Return the cabbage to the oven and continue roasting until the cabbage is tender and starting to brown around the edges, 15 to 20 minutes.
4.
Remove from oven and cool. Coarsely chop the bacon. Transfer the cabbage bundles to a serving plate, season to taste with salt and pepper and sprinkle with chopped bacon.
How to shop TODAY recipes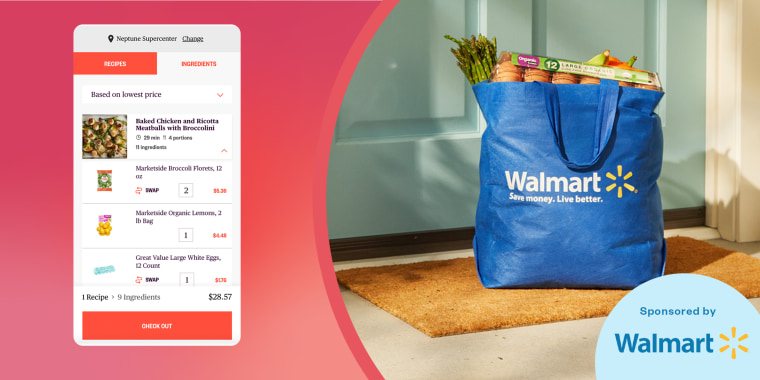 How to shop TODAY recipes
Here's everything you need to know about the cool new feature.
Learn More