Chef notes
One of my favorite pastries in San Francisco is the Rebel Within at Craftsman and Wolves. I've taken a plane, a train, an Uber, walked 10 blocks and waited in line to get my paws on this thing. I've even waited in line only to discover they sold the last one moments before. But I will never forget the first time I tasted the Rebel. From the outside, it's a modest muffin featuring bits of sausage, cheese and green onion. The magic though — and the irresistible Insta-worthy moment — is what happens when you cut into it. Pouring out like liquid gold is the bright orange yolk from a hidden egg inside. Made possible only when the egg is soft boiled just perfectly before being tucked into a light biscuit-muffin batter and baked.
Like a first love, this breakfast treat is unforgettable. When I created my version, I knew I wanted to double the meat (mine is loaded with bacon and sausage) and double the heat, but I also added a wild card ingredient: Brown sugar. This is the kind of muffin that can get you through any case of the Mondays. The Rebel Within Every Mom is dedicated to my mom, my sister, and all of my mommy friends who want to break the rules and are tired of oatmeal and smoothies and yearn for a delicious, filling breakfast they can take on the go that won't leave them hungry after carpool. 
Ingredients
7

large eggs

1

cup milk

½

cup butter + 2 tablespoons, melted

¼

cup brown sugar

1 3/4

cups all-purpose flour

1

tablespoon baking powder

½

teaspoon seasoning salt
½

pound bacon, cooked and chopped

¼

cup breakfast sausage, cooked and chopped

1

tablespoon chives, chopped

½

tablespoon jalapeno, seeds removed and chopped

1

heaping cup Monterey jack and cheddar cheese, shredded

2

tablespoons Tabasco hot sauce
Preparation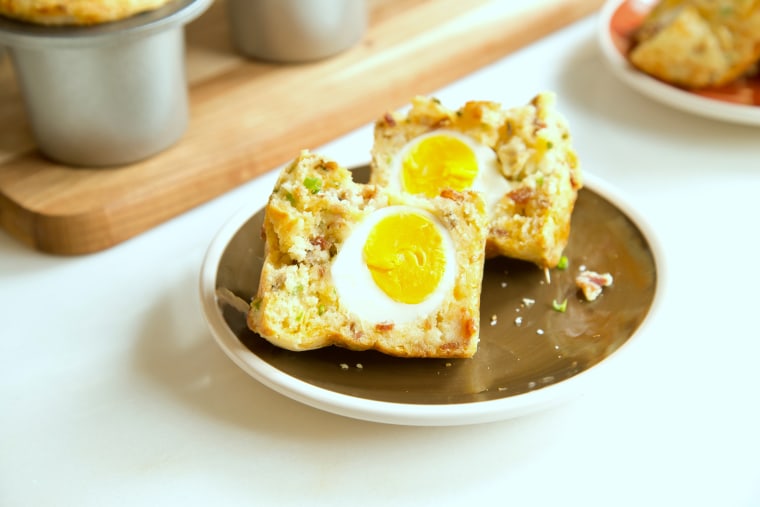 Set a large pot filled with water to high heat. Once at a rolling boil, reduce to medium high and gently place 6 eggs in the water. Boil for exactly 6 minutes.  Meanwhile, fill a large bowl with half ice and half water — enough to submerge all 6 eggs. As soon as the eggs are done boiling, remove them from the boiling water and carefully place in the ice bath. Leave them for 10 minutes until completely cooled. Next, slowly peel and remove shells from the eggs, being careful not to break the egg. Set eggs in a bowl and set aside.
Preheat oven to 450 degrees F and spray a popover pan (you can also use a muffin pan) with non-stick cooking spray.
In a medium mixing bowl, whisk together the egg, milk, ½ cup of butter and brown sugar until combined. Add flour, baking powder, salt and mix. Fold in bacon, sausage, chives, jalapeno and cheese. Place batter in piping bag and cut the tip about 1" wide (big enough for the meat to go through).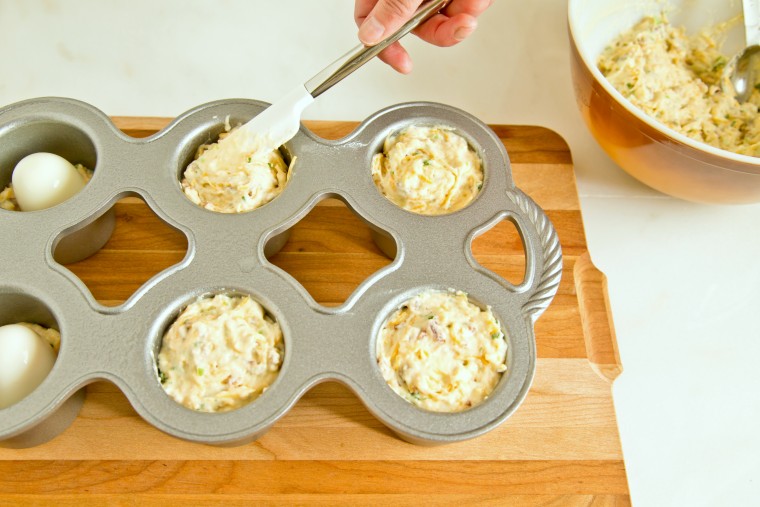 Fill each popover tin with a couple tablespoons of batter. Next, carefully place soft-boiled eggs upright in the center of each tin and then fill in the sides and tops of tin with batter. Use the back of a spoon to smooth the top of the batter. Repeat this process to fill in all 6 tins.
Bake for 14-16 minutes or until the tops are golden brown and remove from oven to cool. 
While muffins are cooling, into a small bowl, mix the 2 tablespoons of reserved butter with Tabasco sauce. Brush the spicy butter mixture on top of each muffin. Serve warm or room temperature with Maldon sea salt and a bottle of Stumptown Cold Brew Coffee.