Chef notes
Before we talk about these bacon and cheddar buttermilk biscuits, I have an important confession. It would be irresponsible, in fact, if I didn't fess up. I was born and raised in Connecticut, a state decidedly not known for their biscuits. I grew up, not on biscuits made with White Lily flour and handmade by my grandmother using a generations-old recipe, but biscuits from KFC. If you grew up in the South and are reading this, please don't click away. I promise I did my homework. Despite my nutmeg roots, I now know a good biscuit when I see one. A good — no, a great — biscuit should be lofty and light with buttery, peel-apart layers. You should be able to count the layers just by looking at the side of the biscuit and then, inevitably lose count of said layers. The top should be golden brown, thanks to the magic of either heavy cream, melted butter or, my preference, more buttermilk. 
These biscuits were inspired by a quintessential New York City treat — a bacon, egg and cheese sandwich. You can eat them as is, or tuck a fried egg with a slice of melted American cheese into the middle for the best breakfast sandwich ever. (Though you might want to have your cardiologist's phone number handy).
Great buttermilk biscuits start with good ingredients. Here, I use uncured, hickory-smoked bacon and sharp cheddar cheese — the sharper, the better. While you may be tempted to use rich European butter thinking it will result in even richer, butterier biscuits, don't. The higher water content in American butter is actually preferable, since water steams and steam helps biscuits to rise.
I recommend freezing both the butter and a block of cheddar cheese before grating them. Doing so will make it easier to grate them, which means that you'll also get a more even distribution of cheese and butter throughout the dough, as opposed to larger chunks. Additionally, as the cold dairy heats up in the oven, it'll create more steam which means more layers.
Cold ingredients are the name of the game here, which is why I insist that you chill the cut, unbaked biscuits for at least 30 minutes before baking.
These biscuits are best when consumed about 15 minutes after they come out of the oven, but they'll keep for up to three days. Reheat them in a 375 F degree oven for about 10 minutes before serving.
Ingredients
16

ounces uncured bacon (about 16 strips)

4¼

cups all-purpose flour, plus more for dusting

2

tablespoons baking powder

2

teaspoons baking soda

3

tablespoons light brown sugar
2

teaspoons kosher salt

2

sticks unsalted butter, frozen, grated and chilled

2½

cups grated sharp cheddar cheese, chilled

2¼

cups buttermilk, chilled, plus more for brushing
Preparation
1.
Preheat the oven to 450 F. Lay bacon on an unlined 18-by-13-inch baking sheet lined with a wire rack. Bake for 12 to 14 minutes, flipping halfway through, or until browned and crispy. Set aside to cool, about 10 minutes. Transfer bacon to a cutting board and finely mince. Discard most of the bacon grease from the baking sheet.
2.
In a large bowl, whisk together flour, baking powder, baking soda, brown sugar and salt. Add butter, cheddar cheese and cooked bacon, and toss gently with your fingers to combine. Create a well in the middle of the dry ingredients, add buttermilk and, using a wooden spoon, incorporate until the dough just starts to come together. It will be tacky and a bit crumbly, but don't worry — it will come together as you work the dough on the cutting board.
3.
Transfer the dough to a floured wooden cutting board and flatten into a 1-inch-thick rectangle. Fold the bottom third of the dough up to meet the middle and fold the pull third of the dough down until it meets the middle. Next, fold the right third of the dough until it meets the middle and then fold the left side over until it meets the middle. Flatten to an 8-inch square that's about 3 inches tall. Trim the edges to create a neat square and, using a sharp knife, cut into 12 square biscuits. Transfer the biscuits to the bacon-greased baking sheet and space them no more than a 1/2 inch apart. Cover with plastic wrap and transfer to the refrigerator to chill for at least 30 minutes.
4.
Once chilled, remove the plastic wrap and brush the tops of each biscuit with buttermilk. Bake at 450 F for 13 to 15 minutes. Rotate the sheet tray, reduce the oven temperature to 400 F and bake for an additional 10 to 12 minutes. Let the biscuits rest for 10 to 15 minutes before serving.
How to shop TODAY recipes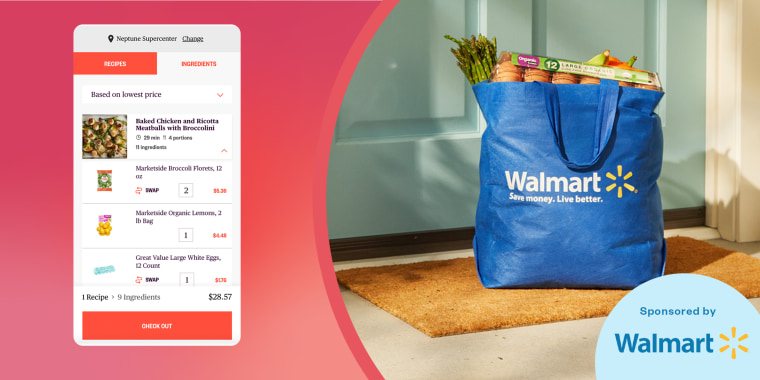 How to shop TODAY recipes
Here's everything you need to know about the cool new feature.
Learn More