Chef notes
Madison, Wisconsin-based food blogger and TODAY Food Club member Alice Choi focuses on recipes using fresh, local and seasonal ingredients. She entered our TODAY Food Club stars challenge and got her chance to be featured on TODAY! Want to join the TODAY Food Club? Click here!
Cook's note: I simply leave my frozen puff pastry in the refrigerator to defrost overnight. Then, it's ready to use the next day. If you don't have the honey dijon mustard with balsamic vinegar, use 1 to 2 tablespoons of dijon mustard and a splash of balsamic vinegar or balsamic glaze when serving.
Ingredients
1

sheet frozen puff pastry, defrosted

1-2

tablespoons honey dijon mustard with balsamic vinegar (or just mix Dijon mustard with a splash of balsamic vinegar)

2

cups Gruyere cheese, freshly grated

1½

pounds medium asparagus, trimmed

1

tablespoon extra virgin olive oil
Salt and pepper

1

cup peas

1

handful pea shoots

1

lemon, zested
Balsamic glaze, optional; for serving
Preparation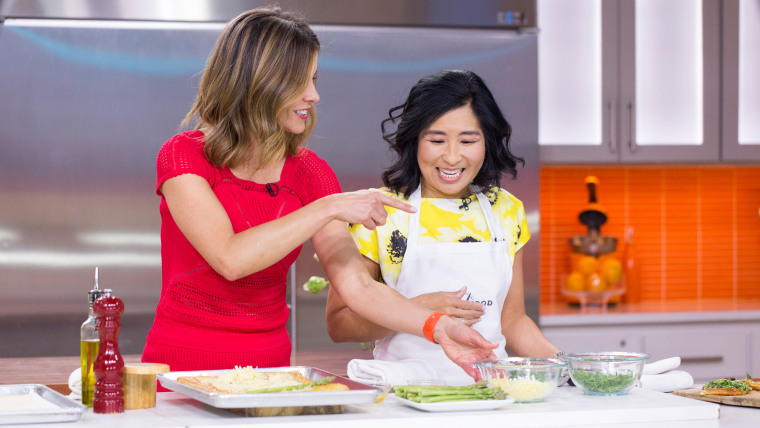 Preheat oven to 400 degrees. Working on a well-floured work surface, roll out the defrosted puff pastry sheet into about a 16" x 10" rectangle. Transfer to the prepared baking sheet and, using a sharp knife, lightly score the pastry dough 1 inch in from the edges all around to mark a rectangle. Then, using a fork, pierce the dough all around in the center, (not the edges). Bake the pastry dough until golden, for about 12 to 15 minutes.
Remove the pastry shell from the oven, let it sit for few minutes, pressing down the slightly puffed up tart if needed with a spoon and then spread on the honey dijon mustard with balsamic vinegar (or dijon mustard if that's what you have) and then sprinkle on the Gruyere cheese to cover the top.
Arrange the asparagus spears in a single layer over the Gruyere cheese, alternating the ends and tips. Trim the bottoms of the asparagus spears more if needed to fit crosswise inside the tart shell, and top with peas. Brush with olive oil and salt and pepper. After baking, drizzle with balsamic glaze and garnish with lemon zest and pea shoots.
Bake until the asparagus spears are tender, for about 20 to 25 minutes. Remove from oven and let cool for a few minutes. Slice and serve with balsamic glaze if desired.