Chef notes
Ask anyone what their favorite kind of pie is. Despite dozens of options, they'll say apple pie nine times out of ten. And who can blame them? Few things are more comforting than a slice of apple pie, with its buttery, flaky crusts and perfectly spiced fruit filling. These sweet little treats are what happens when you combine everyone's beloved apple pie with pierogi. 
As far as dumplings go, making pierogi is definitely one of the easier techniques to master — no crimping necessary. In Poland, these dumplings are considered a classic comfort food. That's still the case with this apple pie-inspired version, but instead of a mash of potatoes and cheese, the soft dough is wrapped around a sweet, gooey filling made with apples, brown sugar and warming spices like cinnamon, ginger and allspice. Anything you would serve alongside a slice of apple pie can be added to these pierogi as well, whether that be a drizzle of caramel sauce, a generous scoop of vanilla ice cream, a dollop (or two) of whipped cream or a light dusting of powdered sugar.
We think of this as a cute new way to serve apple pie. And dare we say, we prefer the crust-to-filling ratio of the pierogi. It's almost like wrapping the pie dough around the apple filling instead of piling the apples into a crust. They are a fun task to tackle during the fall season, whether or not they make it onto your Thanksgiving table. So gather your family and friends and get to work making these sweet apple dumplings. 
Make Ahead Instructions: Once assembled, the pierogi can be frozen and stored for up to 3 months. Freeze the pierogi directly on the waxed paper-lined baking sheet until solid, about an hour, then transfer to a zip-top bag. Boil frozen pierogi as noted above.
Technique Tip: Resist the temptation to re-roll dough scraps for additional rounds. It seems wasteful, but the dough won't be as tender the second time around.
Ingredients
For the Filling
1

tablespoon unsalted butter

1

medium crisp apple (at least 1/2 pound in weight) peeled, cored, and cut into 1/4-inch cubes

2

tablespoons packed light brown sugar

1

teaspoon vanilla extract
1/4

teaspoon ground cinnamon

1/4

teaspoon ground ginger

1/4

teaspoon ground allspice
For the Dough
1

large egg

1/2

cup sour cream or plain Greek yogurt

3

tablespoons unsalted butter, melted and slightly cooled
1

tablespoon granulated sugar

1/4

teaspoon kosher salt

2

cup all-purpose flour
For the Egg Wash
1

large egg whisked with 1 tablespoon water
For the Toppings
caramel sauce (optional)
whipped cream (optional)
powdered sugar (optional)
Preparation
Make the filling:
1.
Melt the butter in a small saucepan over medium-low heat.
2.
Stir in the chopped apples, cover, and cook for about 5 minutes until the apples begin to soften. Uncover and stir in the sugar, vanilla, cinnamon, ginger, and allspice. Cook, stirring occasionally, for about 10 minutes until the apples are very soft and liquid is mostly absorbed, about 10 minutes.
3.
Transfer to a bowl and refrigerate for at least 1 hour or overnight.
Make the dough:
1.
In a medium bow, whisk together the egg, sour cream or yogurt, butter, sugar and salt.
2.
In a separate large bowl, add the flour, then add the went ingredients and gently stir to combine. The dough will initially be very dry and shaggy, seeming as if it will never come together, but have no fear: Keep stirring, and it will pull itself into shape. nce the dough starts to come together, press and smash it against the sides of the bowl with your palms, picking up dough bits and essentially kneading it within the bowl until it forms a ball.
3.
Tip the dough and any remaining shaggy flakes out onto a clean work surface. Knead until smooth, about 1 minute. Cover the dough with the bowl and let rest 15 minutes.
4.
Reserve the egg wash for assembling the pierogi.
Assemble the Pierogi:
1.
Line a rimmed baking sheet with waxed paper or parchment paper.
2.
Divide the rested dough into 4 equal pieces with a bench scraper or knife. Set aside 3 dough pieces and cover with the mixing bowl. Roll the remaining dough as thinly as possible into a rough 8-by-12-inch rectangle.
3.
Using a 3-inch round cookie cutter, cut out 6 rounds of dough. If the dough isn't quartered evenly, you may get 5 rounds from one piece and 7 from another. Spoon 1 teaspoon filling into the center of dough rounds. Using your finger, swipe a very scant amount of egg wash around the edge of the dough round.
4.
Fold into a half-moon shape: Either fold the dough over the filling on the work surface—I call this "the blanket"—or gently cup the pierogi in your hand in a U shape—I call this "the taco." Gently but firmly seal the pierogi by pinching and squeezing the edges together with your thumb and pointer finger. Start with one pinch at the top, then move to one "corner" of the pierogi and pinch along the edge back to the top. Repeat on the opposite side to finish sealing the pierogi.
5.
Transfer to the baking sheet and repeat with remaining dough rounds and filling. Freeze on the baking sheet, refrigerate up to 3 hours, or cook immediately.
Cook the Pierogi:
1.
Boil a pot of water over medium-high heat. Add pierogies and cook until floating, 2 to 3 minutes for fresh and 4 to 5 minutes for frozen.
2.
Toss the pierogi in melted butter and serve, or pan-fry: Heat 1 tablespoon neutral oil (like canola or vegetable) or melt 1 tablespoon unsalted butter in a skillet over medium heat. Add as many pierogi as will fit in a single layer without crowding. Cook until pierogi are brown and crispy, about 2 minutes per side. Repeat with additional oil or butter and pierogi.
How to shop TODAY recipes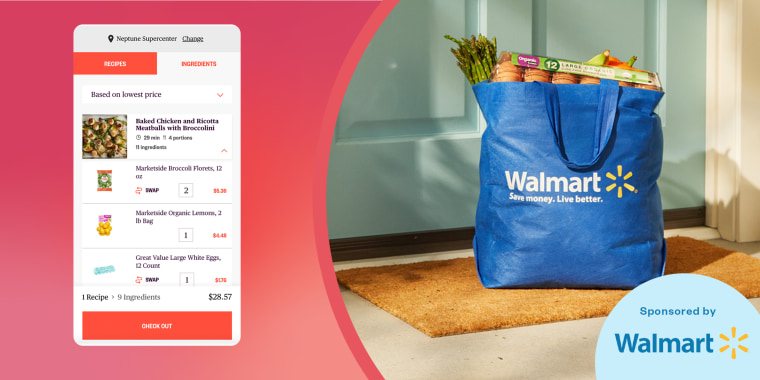 How to shop TODAY recipes
Here's everything you need to know about the cool new feature.
Learn More