Chef notes
As summer starts to fade away, I start to turn my culinary enthusiasm towards the bounty that fall has to offer. The real star of autumn are apples — from all the different varieties to preparations, apples offer an endless stream of inspiration. And of all the apple-centric desserts, apple cobbler ranks at the top for me. There's nothing quite like scooping into a just-from-the-oven cobbler, which combines the sweetness of stewed apples with a pillowy topping. 
Not to be confused with apple crisp, in which the fruit is topped with an oat streusel, cobbler envelopes apples in a shaggy biscuit dough. The name cobbler comes from the cobbled appearance the biscuits create once they meld together in the oven. 
To start, I toss sliced apples in a mixture of melted butter, sugar, lemon zest and juice, and spices. In the oven, the apples soften a bit but still have enough bite that they don't become mushy. The dough starts out similar to a pie dough, with hunks of cold butter incorporated into flour and sugar until they resemble the size of peas. Then, buttermilk is added until just combined. While some recipes call for pouring the batter overtop of the apples, I love that this recipe offers craggy mounds, providing more texture. I sprinkle the whole thing with cinnamon sugar for a crispy, crackly topping. I usually bake this cobbler in a 9-by-13-inch pan, but a large skillet or cast iron works as well.  
Technique Tip: If you don't have buttermilk on hand, you can make a DIY version by adding 1 tablespoon of lemon juice or white distilled vinegar to 1 cup of whole milk. Let the mixture sit until it begins to curdle, about 5 minutes. Alternatively, you can use whole milk or heavy cream in place of buttermilk in this recipe.  
Swap Option: While I love a classic apple cobbler, this recipe can also be made with any assortment of stone fruit (fresh or frozen).
Ingredients
For the Filling
3

tablespoons unsalted butter, melted, plus more for greasing

1/3

cup packed light brown sugar

1/3

cup granulated sugar

3

tablespoons all-purpose flour
zest and juice of 1 lemon
1

teaspoon ground cinnamon

1

teaspoon vanilla extract

1/2

teaspoon ground nutmeg

1/4

teaspoon kosher salt

8

medium baking apples, such as Granny Smith, Gala, or Pink Lady, cored, peeled, and thinly sliced
For the Topping
1¼

cups all-purpose flour

1/2

cup plus 1 tablespoon sugar, divided

1½

teaspoons baking powder

1/4

teaspoon baking soda
1/4

teaspoon kosher salt

1/2

cup unsalted butter (8 tablespoons), cold and cubed

3/4

cup buttermilk

1/2

teaspoon ground cinnamon
Preparation
1.
Preheat the oven to 375 F. Grease a 9-by-13-inch baking pan with butter.
2.
Make the filling: In a large bowl, add the brown sugar, sugar, flour, melted butter, lemon zest and juice, cinnamon, vanilla, nutmeg and salt and whisk until smooth. Add the apples and stir until fully coated.
3.
Transfer the filling to the greased baking pan.
4.
Make the topping: In a medium bowl, add the flour, 1/2 cup of sugar, baking powder, baking soda and salt and whisk to combine. Add the butter and use your hands to break it up until the butter is the size of peas. Add the buttermilk and stir until just combined. The dough will be shaggy and a bit sticky.
5.
In a small bowl, add the remaining 1 tablespoon of sugar and cinnamon and stir to combine.
6.
Add dollops of the topping over the apple filling. It's okay if some of the apples are still peaking through — they will be covered by the batter while it bakes. Sprinkle the top with the cinnamon sugar mixture overtop and transfer to the oven. Bake until the topping is golden brown and the cobbler is deeply aromatic, about 40 minutes. 
7.
Let cool for at least 15 minutes before serving.
How to shop TODAY recipes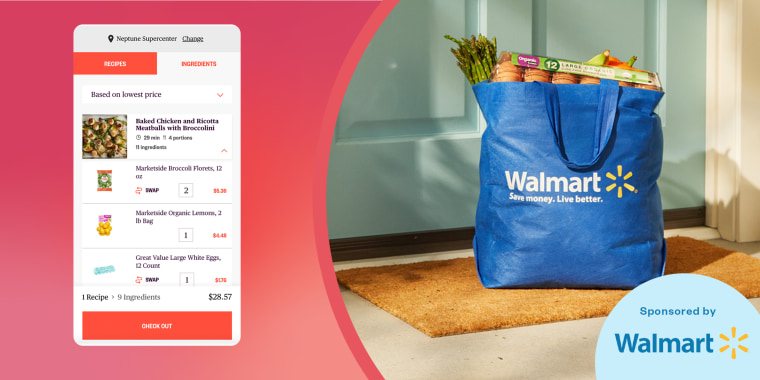 How to shop TODAY recipes
Here's everything you need to know about the cool new feature.
Learn More