Ingredients
2¾

cups all-purpose flour

1

tablespoon granulated sugar

1½

teaspoons kosher salt
12

tablespoons (1½ sticks) cold unsalted butter, cut into ½-inch pieces

8-10

tablespoons ice water
Chef notes
A good pie dough recipe is something that every home cook should have in their collection. This all-butter pie dough recipe will help you make double-crusted pies, tarts and galettes that come out perfectly flaky and tender every time. Making the dough  really is as easy as pie. 
A good rule of thumb when making pie dough is to keep all of your ingredients very cold. If possible, place the dry ingredients (flour and granulated sugar) in the refrigerator for a few hours before you start mixing. This is especially important when mixing the pie dough by hand, which I do most of the time – there is no need to dirty a machine when you are only making one or two crusts. The heat from your hands will start to warm the dough as you mix, so working quickly and with cold ingredients will ensure your dough comes out right. Of course, the butter and water should be ice-cold as well. Flour absorbs cold water more slowly than warm water, so the colder your ingredients are, the more tender your final baked pie crust will be. 
Finally, be sure not to overmix the dough. The pieces of butter flaked throughout the dough should not be smaller than the size of a pea, nor bigger than the size of a dried black bean. You will know you have added enough water when you can squeeze a clump of dough together in your hands without it crumbling apart or feeling too dry. 
Bonus: when I was growing up, we didn't let any scraps go to waste. My grandma would tear up the trimmed edges of the dough, sprinkle them liberally with cinnamon sugar, and bake until puffed and golden brown. 
Technique Tip: Your water should be ice-cold, but make sure you don't get any actual ice in the dough. This could create air pockets or gaps in the final crust. 
Preparation
1.
In a large bowl, stir together flour, sugar and salt. Add butter and toss to coat in flour mixture. Press butter between your fingers to incorporate into dry ingredients, breaking it up into pea-size pieces. Drizzle with water and stir with a fork until mixture holds together when pinched between your fingers.
2.
Transfer to a surface and divide in half. Knead each half to bring together, then shape into flat disks and wrap tightly in plastic. Refrigerate until firm, at least 1 hour and up to 2 days. (Dough can be placed in a sealable plastic bag and frozen for up to 3 months).
How to shop TODAY recipes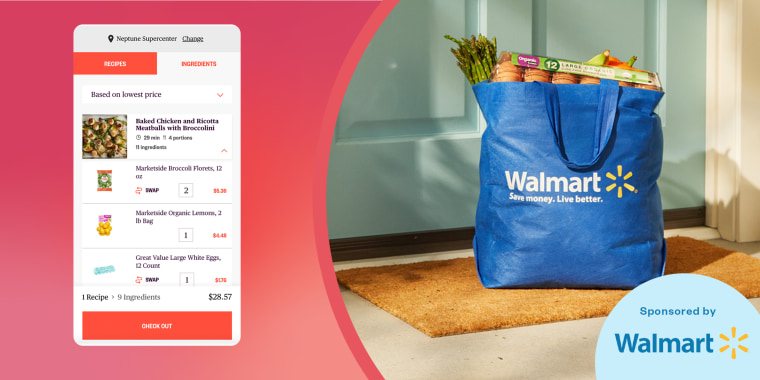 How to shop TODAY recipes
Here's everything you need to know about the cool new feature.
Learn More