Chef notes
This pork chop recipe is quickly becoming a staple in my household, with its presence requested weekly by my husband. I couldn't be happier because it is so simple to make! Pork chops are a delicious and cost-effective cut of meat that only needs a little love to be delicious. The air-fryer is the ideal home for a pork chop because of the consistent and accurate temperature that ensures you won't overcook this leaner cut. 
These smoky pork chops are reminiscent of barbecued meats, featuring sweet and savory flavors in the rub. The dry rub has only three ingredients: smoked paprika, brown sugar and salt. The brown sugar ensures quick caramelization on this lean cut, while the paprika brings the smoky flavors to the party. The pork chops are coated down with this rub, then hang out in the fridge for at least 30 minutes to allow for some flavor penetration. You'll then bring the pork chops to room temperature before making its way into the air fryer.
During its time in the air fryer, the fat cap of the pork chop renders out and becomes a tender bite that you'll want to savor. Once they're done cooking , let them rest for five to ten minutes to stay so that the juices redistribute throughout the meat. I know the glistening paprika and brown sugar crust will tempt you to skip the resting time, but I highly encourage some patience here! 
Technique Tip: You can prep the rubbed pork chops up to 12 hours in advance of cooking them, as long as they are kept in the fridge. 
Swap Option: You can use regular paprika but you'll be missing out on some of the smoky flavor. 
Ingredients
2

bone-in pork chops, 1½-2 inches thick

2

tablespoons dark brown sugar
1

teaspoon smoked paprika

1

teaspoon kosher salt
Preparation
1.
Place a wire rack over a sheet pan. Pat the pork chops dry and place them on the prepared wire rack.
2.
In a small bowl combine the brown sugar, smoked paprika and kosher salt. Coat the pork chops in the rub, covering as much surface area as possible.
3.
Return the seasoned pork chops to the wire rack and let them marinate, uncovered, in the fridge for at least 30 minutes or up to 12 hours.
4.
Preheat the air fryer to 375 F. Remove the pork chops from the refrigerator and bring them to room temperature. Cook for 15 minutes, flipping halfway through.
5.
Remove the pork chops from the air fryer basket and let them rest for at least 5 minutes before serving.
How to shop TODAY recipes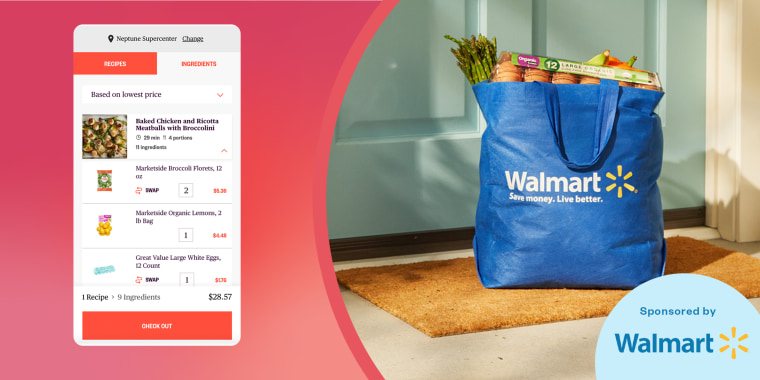 How to shop TODAY recipes
Here's everything you need to know about the cool new feature.
Learn More