Ingredients
1/4

cup low-sodium chicken broth

2

tablespoons low sodium soy sauce

1

tablespoon oyster sauce or ½ teaspoon sugar

1

teaspoon sambal oelek or hot sauce, plus more for serving

1/2

teaspoon Asian sesame oil

4

thick-cut slices bacon, cut into 1/2¬–inch pieces
2

large eggs, beaten

2

tablespoons peanut or vegetable oil

1

tablespoon minced peeled ginger

3

cups cold left-over rice

3

scallions, sliced

1/2

cup frozen peas, rinsed
Chef notes
What makes this dish so special is not that it uses every day ingredients, or that it brilliantly uses up leftover rice, or that it comes together in less than 15 minutes, but that it's extraordinarily delicious! Next time you make plain white rice, make a double batch and use the leftovers for later in the week. Or pick up a container from a Chinese restaurant on your way into work and refrigerate it until you get home. In a pinch, packaged ready-rice from the supermarket is heaven–sent. Just don't use hot, fresh-cooked rice or the texture will be mushy and clumpy. Cold rice is perfect for fried rice because the grains stay separate and fluffy.
Serving Suggestion: Serve with 15-Minute Chinese Chicken and Sausages with Snow Peas
Preparation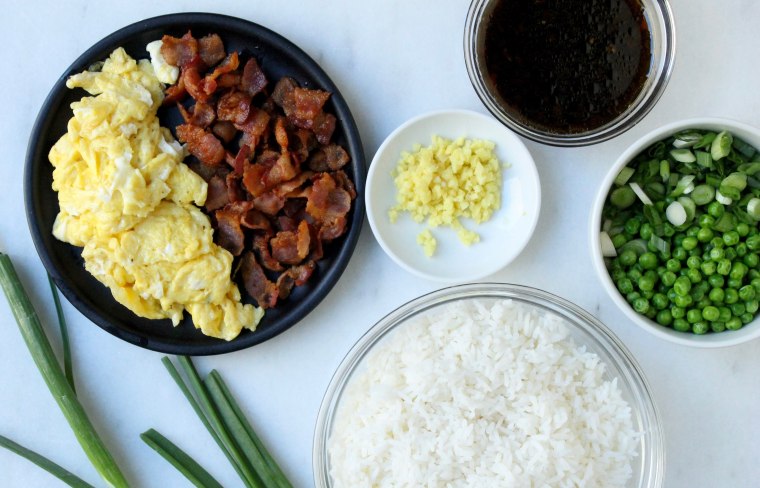 1.
In a small bowl, combine the broth, soy sauce, oyster sauce, sambal and sesame oil.
2.
Cook the bacon in a large nonstick skillet over high heat until crispy, about 5 minutes. Using a slotted spoon, transfer to a plate, reserving 1 tablespoon of the fat in the pan. Add the eggs and cook over high heat, stirring occasionally, until large curds are set. Transfer to the plate with the bacon.
3.
Add the peanut oil to the skillet, along with the ginger and cook over high heat until fragrant, about 30 seconds. Add the rice and cook, stirring and tossing occasionally, until sizzling, about 1 minute.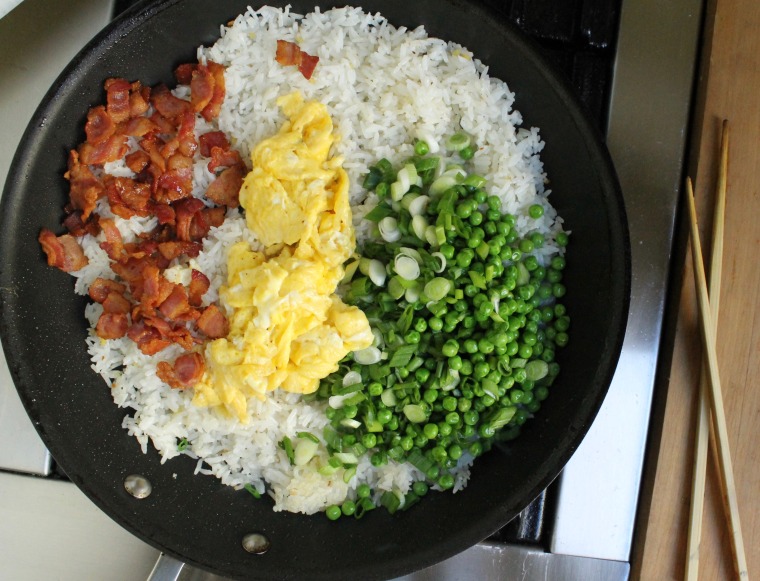 4.
Add the bacon, eggs, scallions and peas.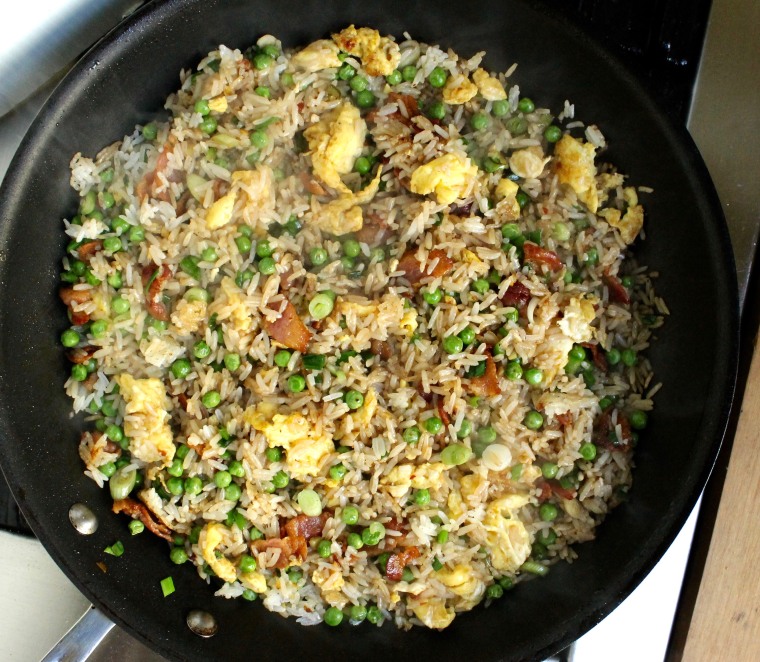 5.
Stir the sauce ingredients, add it to the skillet and cook, stirring occasionally, until the liquid is absorbed and the rice is crispy in spots, 3 to 4 minutes.
6.
Serve right away passing more sambal on the side.
Grace Parisi is a New York City-based food writer, cookbook author and food stylist. Her book, Get Saucy, was nominated for a James Beard award. Her latest book, Quick Pickles comes out in Fall 2016. Follow her on Instagram and Twitter.